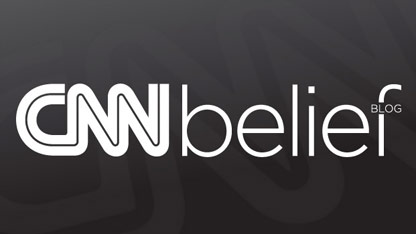 By Arielle Hawkins, CNN
Here's the Belief Blog's morning rundown of the top faith-angle stories from around the United States and around the world. Click the headlines for the full stories.
From the Blog: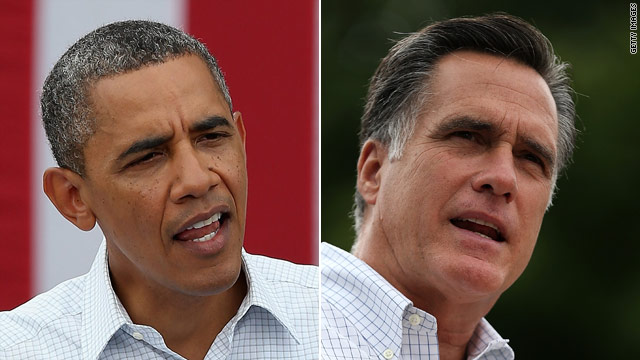 CNN: Secular coalition grades presidential candidates
When judged on their ability to relate to the desires of secular Americans, the presidential candidates aren't making the grade, according to a large coalition of secular organizations. Looking at their positions on everything from faith's place in the presidency to where it fits in education, health care and other American priorities, GOP candidate Mitt Romney got an F, President Barack Obama barely got by, earning a C, and Libertarian candidate Gary Johnson came out at the top of the class, receiving a B.
Tweet of the Day:
[tweet https://twitter.com/HuffPostRelig/status/258794535432384513%5D
Enlightening Reads:
Huffington Post: Louie Gohmert: Slavery Was 'A Blot On Our Existence,' But We're Farther From God Now
Rep. Louie Gohmert (R-Texas) stated on Tuesday that the legacy of slavery in the United States was a particularly ugly moment in the nation's history, but that the situation now is even worse. Speaking on a conference call with far-right pastor Rick Scarborough, Gohmert warned listeners that the nation could be coming "toward the end of [its] existence," as evidenced by its leaders and citizens allegedly neglecting to remain true to biblical teachings.
Catholic News Service: Pope sends cardinals to Syria to promote peace, show solidarity
A papal delegation of bishops, including Cardinal Timothy M. Dolan of New York, will travel to the capital of war-torn Syria in late October to show solidarity with victims and encourage peace negotiations. Cardinal Tarcisio Bertone, Vatican secretary of state, made the announcement Oct. 16 at the evening session of the world Synod of Bishops.
The Boston Globe: Dalai Lama visits Medford center for Buddhist Studies
Geshe Tenley, clad in the crimson and saffron robes of a Tibetan monk, paused for a moment in a quiet room of the Kurukulla Center for Buddhist Studies late Tuesday afternoon. The crowd of nearly 2,000 had mostly dispersed. Sacred chanting still echoed though the building, and in the gompa, the teaching and meditation room, a few people stayed to pray near an ornate throne where the Dalai Lama had sat. The Dalai Lama had ¬returned to Medford, bestowing his blessings upon the ¬Kurukulla Center and, in doing so, fulfilling the dying wish of the monk's uncle, Geshe Tsulga, who preceded him as the center's resident teacher and had hosted His Holiness here nine years earlier.
AFP: Decade on from riots, Modi eyes main stage
He was in power during India's worst religious riots since independence. But Narendra Modi, chief minister of Gujarat state [and a Hindu], insists his region is now a role model for the rest of India as he positions himself for a widely expected tilt at the premiership.
Catholic News Service: Ignorance of faith risks creating cafeteria Catholics, pope says
Ignorance of the faith puts Christians at risk of following a "do-it-yourself" religion, Pope Benedict XVI said. People need to become more familiar with the creed because it is there that the "Christian moral life is planted and ... one finds its foundation and justification," the pope said Oct. 17 at his weekly general audience.
Religion News Service: Jewish and Christian groups at impasse over U.S. aid to Israel
An established interfaith group is in danger of disintegrating as major American Jewish groups and prominent mainline Protestant churches differ over U.S. aid for Israel - a long-standing argument that the group was established, in part, to diffuse. Leaders of Reform and Conservative Judaism, the American Jewish Committee, and other Jewish groups sent a letter Wednesday (Oct. 17) to their Christian counterparts on the Christian-Jewish Roundtable saying they would not be attending a long-planned Oct. 22-23 meeting.
Join the conversation…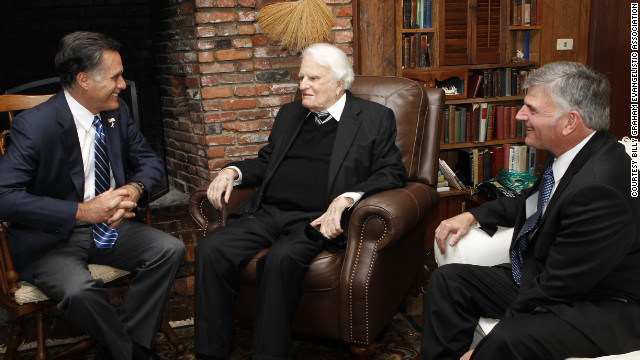 Mitt Romney meets with the Rev. Billy Graham and his son Franklin Graham.
CNN: Billy Graham site removes Mormon 'cult' reference after Romney meeting
Shortly after Republican presidential candidate Mitt Romney enjoyed cookies and soft drinks with the Rev. Billy Graham and his son Franklin Graham on Thursday at the elder Graham's mountaintop retreat, a reference to Mormonism as a cult was scrubbed from the website of the Billy Graham Evangelistic Association.