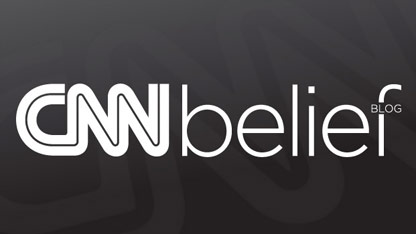 By Arielle Hawkins , CNN
Here's the Belief Blog's morning rundown of the top faith-angle stories from around the United States and around the world. Click the headlines for the full stories.
From the Blog:
CNN: Billy Graham buys election ads after Romney meeting
The most famous and revered pastor in America, Billy Graham, is calling on voters to cast a ballot for their faith in full-page ads in the Wall Street Journal, USA Today and other newspapers. Graham's picture appears prominently in the ads, next to copy that reads, "As I approach my 94th birthday, I realize this election could be my last."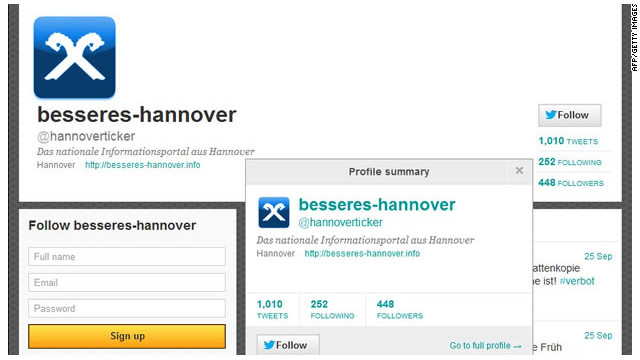 CNN: Twitter blocks content of German neo-Nazi group
Twitter will withhold content from a neo-Nazi account at the request of German authorities, the first time it has put into action a policy of local censorship it adopted in January and a step that will probably reignite debate over freedom of expression on the Internet. Alex Macgillivray, Twitter's general counsel, tweeted the company's decision Thursday: "We announced the ability to withhold content back in Jan. We're using it now for the first time re: a group deemed illegal in Germany."
CNN: Dinesh D'Souza resigns as Christian college chief in face of questions about marriage
Conservative writer and activist Dinesh D'Souza, who attracted wide attention with his recent anti-Obama film "2016: Obama's America," resigned Thursday as president of a Christian college in New York after questions were raised about his marriage. D'Souza had led The King's College, a small but prestigious evangelical school in Manhattan, for the past two years.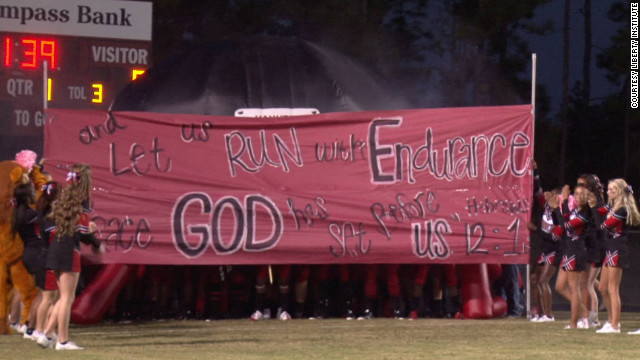 CNN: Cheerleaders win temporary injunction in high-profile free speech case
Cheerleaders from a small eastern Texas town have won the first battle in their crusade to display Christian religious messages on banners at their high school's football games. State District Judge Steve Thomas of Hardin County implemented a temporary injunction Thursday in favor of the Kountze High School cheerleaders, and by setting a trial date of June 24, 2013, Thomas effectively allows the cheerleaders to keep displaying Bible-quoting signs at Kountze athletic events through the end of this current school year.
Tweet of the Day:
[tweet https://twitter.com/jaweedkaleem/status/259106124089946112%5D
Belief on TV:
Enlightening Reads:
Huffington Post: In Same-Sex Marriage Fight, Catholic Church Gives More Than $1 Million, Human Rights Campaign Reports
Continuing its efforts to fight same-sex marriage in four ballot measures around the United States, the Catholic Church is now the top donor to the cause among religious institutions, according to a new report from the Human Rights Campaign. This fall in Washington, Maryland and Maine, voters will decide whether same-sex marriage should be legal, and in Minnesota, voters will weigh in on a ballot measure amending the state's constitution to define marriage as a union between a man and a woman.
Reuters: Mormon feminists? Yes they exist, and they're for Obama
One group was not surprised to hear Republican presidential candidate Mitt Romney's comments about "binders of women" at the presidential debate this week – Mormon feminists. Yes, there are Mormon feminists, and no, they do not think it is impossible to believe in women's rights and be devout members of the Church of Jesus Christ of Latter-day Saints, a religion that once allowed polygamy and places a heavy emphasis on the role of women in the home.
Religion News Service: South Carolina diocese defecting from the Episcopal Church
The Diocese of South Carolina announced on Wednesday (Oct. 17) that it has disaffiliated from the Episcopal Church, escalating a long-running skirmish and setting the stage to become the fifth diocese to secede from the denomination. South Carolina said the split was triggered by disciplinary action taken against Bishop Mark Lawrence, its conservative leader.
Huffington Post: Study Shows How Prayer, Meditation Affect Brain Activity
How does prayer and meditation affect brain activity? Dr. Andrew Newberg, MD is the Director of Research at the Myrna Brind Center for Integrative Medicine at Thomson Jefferson University Hospital and Medical College and he has studied the neuroscientific effect of religious and spiritual experiences for decades.
Quote of the Day:
It's written in scripture that tribulation produces perseverance, and perseverance, character, and character hope. This country has fought through some very tough years together. And while we still have a lot of work ahead, we've come as far as we have mainly because of the perseverance and character of ordinary Americans.
President Barack Obama at the annual Alfred E. Smith Memorial Dinner Thursday
I've already seen reports from tonight's dinner. Headline: Obama embraced by Catholics, Romney dines with rich people …Of course the president has put his own stamp on relations with the church. There have been some awkward moments. Like when the president pulled Pope Benedict aside to share some advice on how to deal with his critics. He said, 'Look Holy Father, whatever the problem is, just blame it on Pope John Paul II.'
Republican challenger Mitt Romney took a comedic jab at President Barack Obama at the annual Alfred E. Smith Memorial Dinner Thursday.
Opinion of the Day: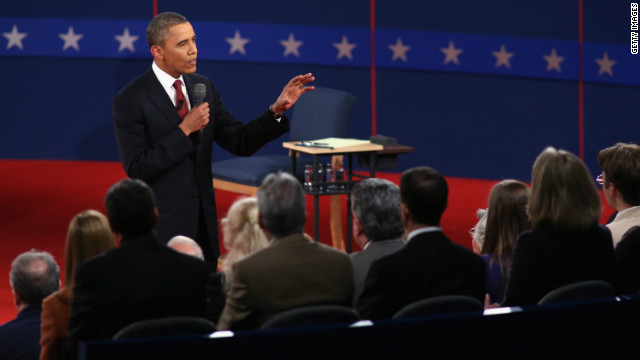 CNN: My Take: Hard truths matter; I'm Mormon, and I'm voting for Obama
There are two moments and two moments only that made my soul sit upright during Tuesday night's presidential debate: President Obama, speaking about the loss of manufacturing jobs to low-wage economies like China: "There are some jobs that are not coming back." Obama, speaking about four lives lost in the attack on the U.S. consulate in Benghazi, Libya: "I am the one who has to meet those coffins when they come home." Morbid? Not at all. I'm just a believer in the gospel of hard truths.
Join the conversation…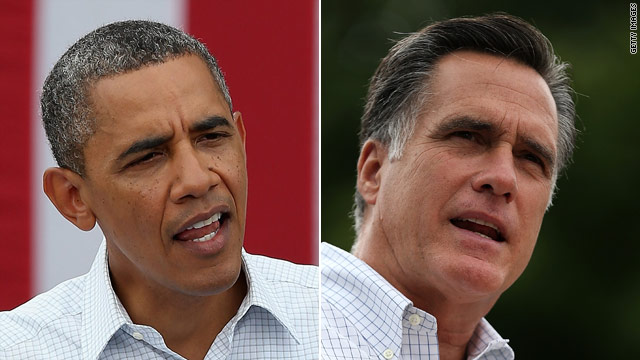 CNN: Secular coalition grades presidential candidates
When judged on their ability to relate to the desires of secular Americans, the presidential candidates aren't making the grade, according to a large coalition of secular organizations. Looking at their positions on everything from faith's place in the presidency to where it fits in education, health care and other American priorities, GOP candidate Mitt Romney got an F, President Barack Obama barely got by, earning a C, and Libertarian candidate Gary Johnson came out at the top of the class, receiving a B.