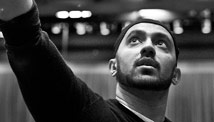 Editor's Note: Imam Khalid Latif is a chaplain for New York University and executive director of the school's Islamic Center.
By Khalid Latif, Special to CNN
My wife and I were on our way into Bed, Bath and Beyond in late August when I decided to check my office voicemail from my cell phone. I told her I'd meet her inside. When I did, she asked whether I had any messages.
"Just one," I told her. "I was asked to deliver an invocation at this year's Republican National Convention." She responded with a smile on her face, "Of course you were," and then showed me the pillows she'd selected.
I didn't get a chance to decide whether I would accept the invitation, as Hurricane Isaac changed the RNC schedule and made the decision for me. But before the impending storm blew me off the schedule, I sought advice from friends and colleagues. What were the implications of my participating at the RNC? Would it make sense?
One conservative, evangelical Republican friend told me that it would have been a great way to start a conversation with members of his party who are fed up with the current platform and, amongst other things, the party's highly anti-Muslim and Islamophobic rhetoric. Now, it seemed, that conversation wouldn't happen.
Follow the CNN Belief Blog on Twitter
But I couldn't understand why it must take a Muslim standing on an RNC stage to get people talking. Is that really the only way a Muslim voice can be heard in the political arena? Realistically, it's not. The other options just require more time, strategy and patience.
Like all other citizens, American Muslims can be heard through our right to vote. We, as a community, can amplify our voice by building coalitions more broadly with other groups. And we can speak the loudest by encouraging our best and brightest to be a part of the system.
Most American Muslims aren't hearing a discourse that tells them to be civically engaged on a local or grassroots level, which is a huge problem. The presidential election is not the only election that takes place in our country; the impact that one can have on local communities is just as important.
We are starting to get this. In comparison to 10 years ago, today we see more Muslim mayors, city council members and commissioners, law enforcement agents, policymakers and others. But there is still a long way to go. Refraining from being part of the process really isn't an option anymore.
CNN's Belief Blog: The faith angles behind the biggest stories
In deciding who to work with or which candidate to support on any level, be it local or national, it's important to be informed beyond one's own needs. Most Muslims keep from building relationships with other groups unless there is some direct impact on us.
We don't stand up for others' rights as well as we should. Then, when we want others to be there for us and validate our community, we don't get what we need so readily because we weren't there for their communities or still don't understand issues beyond our own.
Do you know what conversations are taking place in your local government? Decisions are being made that will affect people who live in your town, your city, your state, your entire country.
If the Muslim community wants people to stand with us when a hateful person protests the building of our mosques, we need to stand with them at their time of need, or even at times when there is no pressing need at all. The myopic perspective that keeps us from thinking strategically and, more importantly, humanely, needs to go.
I watched the presidential debates at the Islamic Center at New York University, where I was joined by my students and community members. I watched so that I could be better informed of the candidates' stances on all issues - including the ones that affect me directly and those that touch people around me.
I will keep telling my students, whom I encouraged to register to vote, that they must think beyond the presidential election and get involved locally. New York City will elect a new mayor next year, along with many other officials, and they should be a part of that process, too.
And I will keep telling them that civic engagement is not just about having your voice heard. It's also about having confidence that you have something to offer that will make society better.
My students, like many other American Muslims, can and should help the growth and development of our country. The time is here for them to see not only how their being Muslim benefits them individually but also how their being Muslim benefits the world around them.
The opinions expressed in this commentary are solely those of Khalid Latif.