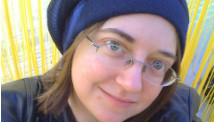 Editor's note: Christine Hoff Kraemer is managing editor of the Patheos.com Pagan Channel and an instructor in Theology and Religious History at Cherry Hill Seminary.
By Christine Hoff Kraemer, Special to CNN
(CNN) - As Halloween approaches, Americans rush to malls and shopping centers, credit cards in hand. Children are outfitted as ghosts, Disney characters, princesses and superheroes, while adults dress to impress with "sexy" witch, vampire or pirate garb. Cookies shaped like jack o'lanterns fly off the shelves along with bag after bag of packaged candy.
In American culture, Halloween has mostly become a reason for a good party.
So it may surprise you to learn that the roots of Halloween are religious. In fact, for Americans who practice contemporary Paganism, Halloween is one of the two most important religious holidays of the year. Known as Samhain (pronounced SOW-un), the holiday is modeled after the ancient Celtic festival that marked the beginning of winter.
In Ireland, Scotland and parts of what is now France, ancient people believed that on the night of Samhain, the veil between the living world and that of the dead grew thin. The festival was a time to honor one's ancestors and to remember deceased family members, as well as to prepare for winter.
In some communities, windows and doors would be left open to invite the dead to visit. Herds would be culled and a feast prepared, with a portion set aside as a gift for the spirits. Those who were grieving spouses, parents, children or friends would hope, on that night, to receive a special communication from their loved ones, some message of love from the other side of the veil.
This ancient festival comes down to Americans through the Christian church. In Mexican Catholicism, it is still celebrated as El Día de los Muertos (the Day of the Dead, observed on November 2).
The Samhain trend grows globally
On this day, family members build altars with photographs of deceased loved ones, bright marigolds, special food items, candles and images of playful skeletons in bright costumes. Families visit the graves of their loved ones, often holding picnics in the cemeteries so that the spirits of the dead can join the feast.
American Pagans are inspired both by the ancient Celtic Samhain and the Mexican Day of the Dead. In Paganism, death is seen as part of a natural cycle. Every fall, farmers harvest the crops that feed us, and then the plants begin to die. The death of the crops in winter is necessary to help fertilize the land and prepare for another year's growth. This cycle of growth and death sustains human life.
Human life and death are often seen similarly, as part of a natural cycle. We are born, we make contributions to our families and communities, we raise children and then we pass away so that those children can make the world their own.
CNN's Belief Blog: The faith angles behind the biggest stories
Samhain is a time to contemplate mortality. But when Pagans remember their dead, they also affirm that those who have died are not wholly lost. As one Samhain prayer says, "What is remembered, lives." Through remembering our ancestors and our loved ones, we maintain a connection to the past and to those we loved so dearly.
As a Pagan, I gather with friends and family on or near the night of October 31 to tell stories of our deceased loved ones. My beloved dead continue to teach me through the stories of their lives.
In years when I am grieving, I tell stories of my grandfather, who was orphaned as a teenager and lost his first wife to tuberculosis, but who learned to love again. In years when I am having adventures and taking risks, I remember my great-grandfather, who as a child once escaped from a locked schoolroom closet by tying the coats together and climbing out the window. And when I am nurturing my independence, I remember my grandmother, who lost her husband too early, but found her bliss in a close and loving group of friends.
Follow the CNN Belief Blog on Twitter
Halloween need not be a whirlwind of frantic social obligations and expensive purchases. Nor do you have to be Pagan to remember those who have passed over, or to make peace with your own mortality. This Samhain, I invite you to decorate not just with ghosts or witches, but also with photographs of your beloved dead.
Buy a bouquet of your grandmother's favorite flowers, and invite friends to cook old family recipes for a Halloween potluck. Tell the family stories that your children or your spouse may have never heard; light candles, dim the lamps and listen to the wind. This year, let Halloween once again be a time for family and friends, and for welcoming the dark.
The opinions expressed in this commentary are solely those of Christine Hoff Kraemer.