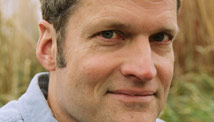 Editor's note: Stephen Prothero, a Boston University religion scholar and author of "The American Bible: How Our Words Unite, Divide, and Define a Nation," is a regular CNN Belief Blog contributor.
By Stephen Prothero, Special to CNN
(CNN) - Nearly three centuries ago, in Colonial New England in the midst of a religious revival now remembered as the Great Awakening, settled ministers in local congregations complained bitterly about itinerant revivalists sweeping into town and whipping their parishioners into a frenzy.
They had reason to be worried.
Most ministers at the time wrote their endless sermons in Latinate language and read them from the pulpit in monotone, with little effort to entertain their congregations (which they did not regard as audiences). Revivalists such as the "Grand Itinerant" George Whitefield, by contrast, often preached extemporaneously, in the open air, and in the salty language of everyday affairs.
Follow the CNN Belief Blog on Twitter
The First Great Awakening was a classic moment of what economist Joseph Schumpeter referred to as "creative destruction." In this case, however, what was being laid to rest was not an old economic order but an old religious one.
Itinerant revivalists were threatening not only the income of the settled ministers (who relied economically on pew sales, for example) but also their exclusive authority to interpret the word of God. And guess who won?
Something similar is happening today in American politics. The revivalists in this case are "quants," who, by introducing statistics into an arena previously ruled by hunches have already changed the way that baseball is played and stocks are traded.
And the new George Whitefield is Nate Silver, whose FiveThirtyEight blog at The New York Times has consistently predicted that President Barack Obama will likely be elected to a second term.
Over the past week, the punditocracy has pushed back, with what some are calling "the war on Nate Silver."
Politico's Dylan Byers, for example, called Silver a possible "one-term celebrity." Sure, he correctly predicted how 49 of 50 states would go in the 2008 presidential election. But if he swings and misses in 2012, he may be sent back to the minor leagues.
David Brooks devoted a whole column to defending the proposition that "experts with fancy computer models are terrible at predicting human behavior."
In the latest turn of the screw, MSNBC's Joe Scarborough went on an extended rant against Silver, arguing that both sides think it is a coin toss, adding that "anybody that thinks that this race is anything but a tossup right now is such an ideologue, they should be kept away from typewriters, computers, laptops and microphones for the next 10 days, because they're jokes."
This prompted Silver to challenge Scarborough to put his money where his mouth is. "If you think it's a toss-up, let's bet," he tweeted to Scarborough. "If Obama wins, you donate $1,000 to the American Red Cross. If Romney wins, I do. Deal?"
Scarborough demurred, tweeting back, "Why don't we both agree to donate $1,000 to the Red Cross right now? Americans need our help now."
What is going on here?
CNN's Belief Blog: The faith angles behind the biggest stories
What we are witnessing is in my view a major shift in American political life not unlike the shift in American religious life brought on by the First Great Awakening.
In this case, the lofty perch of pundits, who for generations have taken to radio, television and the Internet to prognosticate about politics, are being displaced by "quants" who claim to have a better mousetrap.
How this plays out will depend of course on the result of this election. It shouldn't, since even Silver admits that Mitt Romney now has a 1-in-4 chance of winning. But if Romney wins, "gut" will have won a major victory over "data." If Obama wins, well, score one for the new revivalists.
As for me, I believe in math. I also believe, to paraphrase Brooks, that television pundits "are terrible at predicting human behavior." So I rather like the idea of the Church of Joe Scarborough bending its knee to the Church of Nate Silver.
I also know a good bet when I see one. But Silver's $1,000 wager doesn't seem sufficiently presidential to me. How about a more Romneyesque number? To quote a former Massachusetts governor, "10,000 bucks? $10,000 bet?"
The opinions expressed in this commentary are solely those of Stephen Prothero.