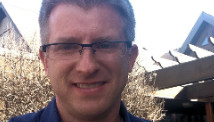 Editor's Note: Mark Schloneger is pastor of North Goshen Mennonite Church in Goshen, Indiana.

By Mark Schloneger, Special to CNN
It seems frivolous, even foolish.
On Tuesday, as the world turns its attention to who will occupy the most powerful office of the world's most powerful nation, hundreds of churches will gather across the United States to worship a servant.
As votes are counted to elect a president, thousands of Christians will take the bread and the cup to remember their crucified Lord.
As winners are projected and the electoral map is updated, Christians of many denominations will sing their praises and proclaim their loyalty to Jesus.
It seems ridiculous, even silly.