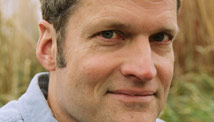 Editor's note: Stephen Prothero, a Boston University religion scholar and author of "The American Bible: How Our Words Unite, Divide, and Define a Nation," is a regular CNN Belief Blog contributor.
By Stephen Prothero, Special to CNN
(CNN) - Over the last few days I have fielded hundreds of angry e-mails from pro-Mitt Romney evangelicals about a recent Belief Blog post in which I took Billy Graham and other white evangelicals to task for turning Jesus into a water boy for the Republican Party.
A disturbing number of these complaints about my alleged "evangelical bashing" have been hateful, ill-informed and explicitly racist. But the more intelligent responses have taken two tacks.
First, readers have told me that they are voting for Romney not because Mormonism is proper Christianity but because Romney is the lesser of two evils. Some in this camp, convinced (wrongly) that President Barack Obama is a Muslim, say they would rather vote for a Mormon than a Muslim.
Second, readers have argued that Romney's political views are more biblical. And repeatedly they have referred me to two central issues: abortion and same-sex marriage.
One pastor who reports he is working on a doctorate in theology says he believes "that the Bible is the literal word of God." Because of this belief, he will vote for Romney: " If you claim Christ as your king, how on earth can you justify the murder of God given life through abortion or any other means?" he writes. "If you accept Christ as your king, how on earth can you accept the moral deviancy of homosexuality as normal?"
In my book "American Jesus," I demonstrated how American views of Jesus, rather than adhering strictly to the unchanging biblical witness, have shifted with the cultural and political winds. Over the course of U.S. history Jesus has been a socialist and a capitalist, a pacifist and a warrior.
In other words, he has been used, by both the left and the right. Or, as I put it, "The American Jesus is more a pawn than a king, pushed around in a complex game of cultural (and countercultural) chess, sacrificed here for this cause and there for another."
This problem of mistaking your God for the God - the problem, that is, of idolatry - was captured beautifully by Albert Schweitzer, who suggested that scholars on a quest for the "historical Jesus" were looking down into a deep well and seeing not the real Jesus but reflections of themselves.
This is what is happening, in my view, to my angry evangelical readers. In this case, however, they are looking down the well and seeing some mashup of Ronald Reagan and Romney. Instead of the biblical Christ, they are seeing the Republican Jesus.
There are many ways to support my argument that the preoccupations of the Christian Right today are not the preoccupations of the Bible.
One is to point out that abortion is never even mentioned in the Bible. (Yes, Jeremiah 1:5 reads, "Before I formed you in the womb I knew you," but when did that formation happen? At conception? At quickening? At birth?)
Another is to point out that American evangelicals didn't care about the abortion question until the GOP taught them to care.
As Jonathan Dudley observes in a recent Belief Blog post, U.S. Catholic leaders began to take on abortion right after Roe v. Wade legalized it in 1973, but American evangelical leaders continued to teach that life begins at birth until the late 1970s and early 1980s. If the Bible clearly teaches us that our politics should center on the abortion question, why did it take nearly 2,000 years for Bible believers to figure this out?
Here is my basic proposition: Bible-believing Christians who want to base their politics on the Bible ought to get the Bible straight, which is to say (a) correct and (b) directly from the page, rather than filtered through the spin of the GOP.
To this end, I would like to challenge them to look at an amazing website, part of "The Official King James Bible Online," which lists each and every word in that translation of the Bible in order of popularity.
Not surprisingly, "and" and "the" are the top two.  But how do more meaningful words rank?
Abortion, of course, is not on the list. Neither is homosexuality, though there are, I will admit, perhaps a couple dozen references to what we now call male homosexuality (and either one or zero to lesbianism, depending on how you read Romans 1:26).
So these issues are not central. But which issues are? Well, faith, grace and salvation, for starters. (They appear 231, 159 and 158 times, respectively.)
But if you turn to the political questions that beset us today, what does this quantitative approach to the Bible yield? First and foremost, a preoccupation with "war" (280 times) and "peace" (470). Second, a preoccupation with economics, and especially with the rich (109) and the poor (233).
The Bible also seems far more concerned with "prison" and "prisoners" (109) than we are in U.S. politics today. And, I might add, with famine (101).
Finally, the Bible mentions Israel a lot (2,509 times) - even more than heaven (644). So that seems to be something that both candidates got right in the third debate.
To conclude, I have no problem with evangelical Christians voting for Romney. My complaint arises when they say they are doing so because the Bible commands them to vote for the candidate who is opposed to abortion rights and opposes same-sex marriage.
The Bible itself is relatively unconcerned with these matters. It is far more concerned with questions of poverty and wealth, war and peace, and (need I add?) theology.
If you think otherwise, it's not the Bible speaking. It's the political operative at the bottom of the well.
The opinions expressed in this commentary are solely those of Stephen Prothero.