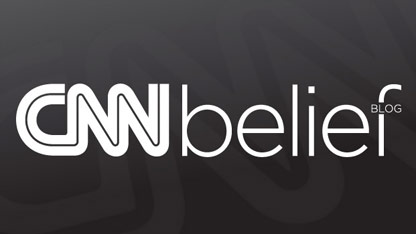 By Arielle Hawkins, CNN
Here's the Belief Blog's morning rundown of the top faith-angle stories from around the United States and around the world. Click the headlines for the full stories.
From the Blog: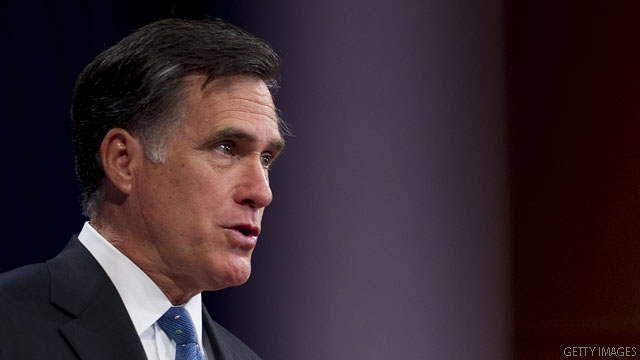 CNN: Viral video shows Romney in testy exchange over his faith
In campaign time, it's ancient history: a 2007 video showing a testy off-air exchange between Mitt Romney and a radio host over the candidate's faith and his stance on abortion. But the back-and-forth has resurfaced in the days before Election Day. Video of the exchange posted on YouTube on October 31 had garnered nearly 1.8 million page views as of noon ET Monday.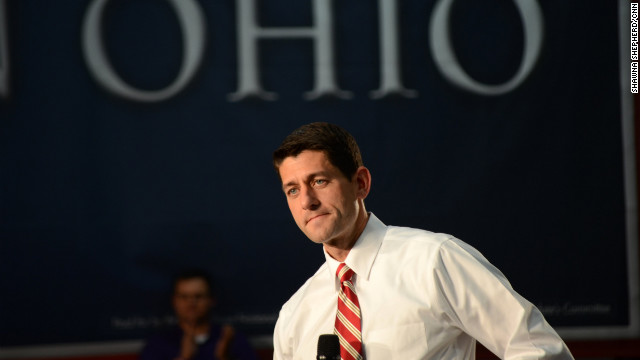 CNN: Paul Ryan asks for blessing day before election
Mitt Romney's running mate Paul Ryan, a Roman Catholic, asked a priest he met at a restaurant Monday to bless a rosary he carries with him. The Republican vice presidential nominee was in the middle of a five-state battleground blitz through Nevada, Colorado, Iowa, Ohio, and Wisconsin, the day before Election Day when he met Father Greg Ames prior to his second rally in Johnstown, Colorado.
CNN: Egypt's Coptic Christians pick new pope
Egypt's Coptic Christians picked a new leader Sunday, a process that involved a blindfolded boy choosing one of three names in a crystal chalice. Bishop Tawadros Theodorus II – the nation's 118th Coptic Pope – replaces the former leader who died in March. The death of Pope Shenouda III sparked anxiety in the embattled minority group in Egypt's Muslim majority. Thousands of people flooded into a Cairo Cathedral in March to bid farewell to the 88-year-old pope who led the nation's Coptic Christians for about four decades.
Photos of the Day: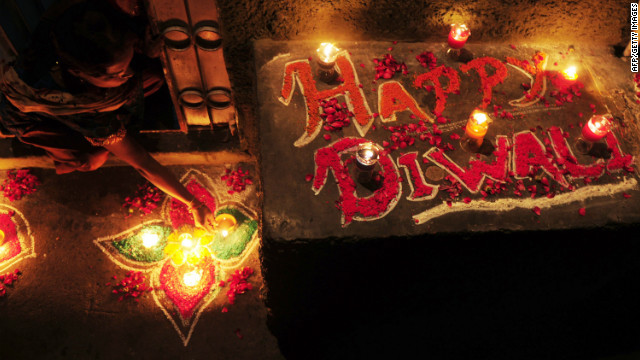 Diwali is a five-day Hindu festival, known as the Festival of Lights, that takes place this year from November 11-15. It is a contraction of the word Deepavali, which means row of lights in Sanskrit.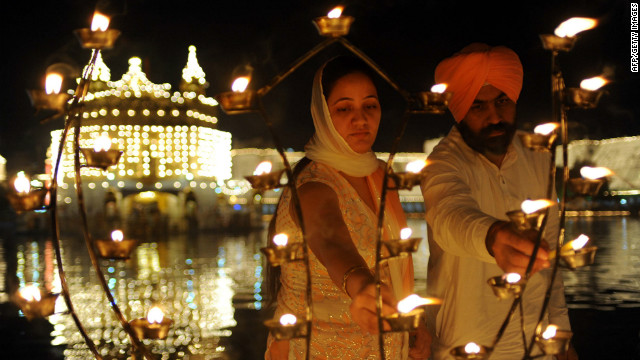 Diwali is not only celebrated by Hindus, it is also an occasion for celebration by Jains and Sikhs (pictured). The Sikhs celebrate Diwali to mark the return of the Sixth Guru, Guru Hargobind Ji, who was freed from imprisonment and also managed to release 52 political prisoners at the same time from Gwalior fort by Mughal Emperor Jahangir in 1619.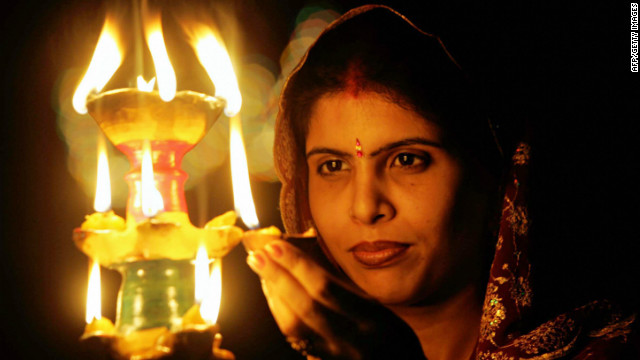 These small clay oil lamps are known as diyas. Hindus in India adorn their homes with lots of these lamps during Diwali to commemorate the Hindu legend of the return of Lord Rama from his 14 year-long exile after murdering the ten-headed demon Ravana.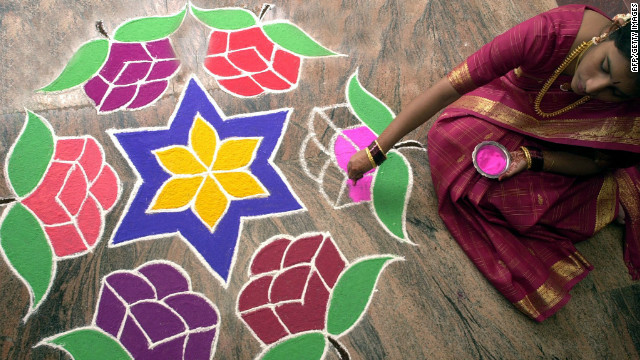 Brightly-colored rangolis are drawn on the ground at the entrances to homes and offices during Diwali, using the fingers and colored flour, rice power, rice grains, flower petals, powders and chalk. In villages the rangolis are drawn on top of fresh cow dung. The purpose of the rangoli is to welcome guests and to encourage the Hindu goddess Lakshmi inside.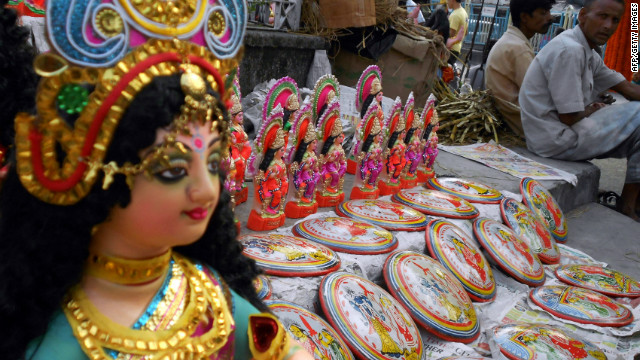 Lakshmi is the Hindu goddess of wealth and prosperity, both material and spiritual. She is the household goddess of most Hindu families, and a favorite of women. Both the oil lamps and the rangolis are used to try and encourage Lakshmi to come inside the home, and of course to welcome guests..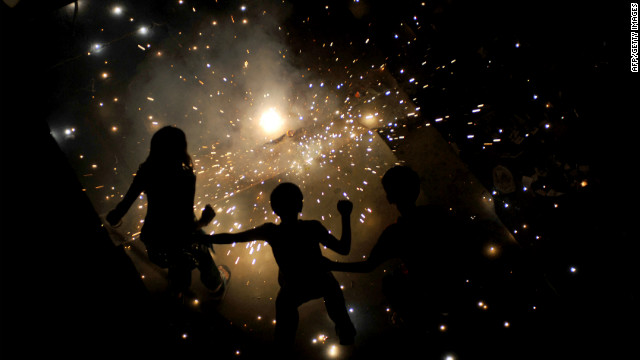 During Diwali it is common to set off fire crackers as the noise is believed to herald the defeat of evil and catch the attention of the gods.
Enlightening Reads:
Huffington Post: Indiana Church Sign 'Vandalized' With Anti-Romney Message: 'Romney Hates Women'
In October, the pastor of an Indiana Church of Christ congregation woke up to find his church had been the target of some politically motivated vandals. Minister Luke Jackson was as surprised as anyone to learn that overnight his church's message board had become an anti-Romney political ad, WANE reports. One side of the South Broadway Church of Christ marquee read "Christ voted Democrat" and the other read "Romney hates women." Perhaps unsurprisingly, many church members quickly called Jackson to complain.
Religion News Service: Buddhists aim to bring mindfulness to the ballot box
The mindfulness movement has seeped into Silicon Valley, Capitol Hill, and even the United States Military Academy at West Point. Next stop: the voting booth. A new California-based group wants the estimated 5 million Americans who practice mindfulness to move off their meditation cushions and into the polls on Tuesday (Nov. 6). If meditation can calm hyperactive kids, ease the pain of drug addicts and tame the egos of Fortune 500 CEOs, it can surely help a stressed-out and polarized country choose a president, says the Rev. Angel Kyodo Williams.
Catholic News Agency: Vatican computer technician goes on trial over press leaks
Despite his lawyer's appeal to drop the case on the opening morning of hearings, a Vatican judge ruled that the trial for the second man accused in the so-called Vatileaks scandal will continue. Claudio Sciarpelletti, the Vatican Secretariat of State's computer programmer, is accused of aiding and abetting the Pope's former butler, Paolo Gabriele, in stealing documents from Benedict XVI.
Reuters: Strong Swiss franc forces Reformed church group out of Calvin's city Geneva
The Swiss city of Geneva has a long history of affording refuge to religious dissenters, most notably the 16th-century reformer John Calvin, but the strong Swiss franc currency has made it hard on his followers. The exchange rate of the Swiss franc to other currencies has forced the World Communion of Reformed Churches (WCRC) to move its global headquarters, which has a staff of seven, to Germany from the city known as "the Protestant Rome" when Calvin ruled it as a strict theocracy. A WCRC statement on Monday said the group, which represents about 80 million Christians in Reformed, Presbyterian and other churches around the world, would move its office to Hanover by December 2013.
Huffington Post: 2012 Sikh International Film Festival Guide: Sikhs Explore Pride, Prejudice in Films
What makes a Sikh film? Our annual film festival considers the film's point of view, subjects or background of the filmmaker. Sikh films comprise a small but growing segment of the hundreds of popular South Asian films, but these works illuminate a fascinating, little-known people, culture and faith.
Quote of the Day:
Following Jesus, I strongly believe, does mean marriage between a man and a woman for those who have placed the values of God above political values and the standards of our world. But it also means not demonizing or judging those who have chosen a different lifestyle. The greatest commandment: 'to love God and every neighbor as you love yourself,' calls evangelical Christians to a higher standard of manifesting God's love to everyone.
- Dr. Barbara Williams-Skinner, lawyer, ordained minister with a Doctorate of Ministry, and president of the Skinner Leadership Institute.
Opinion of the Day: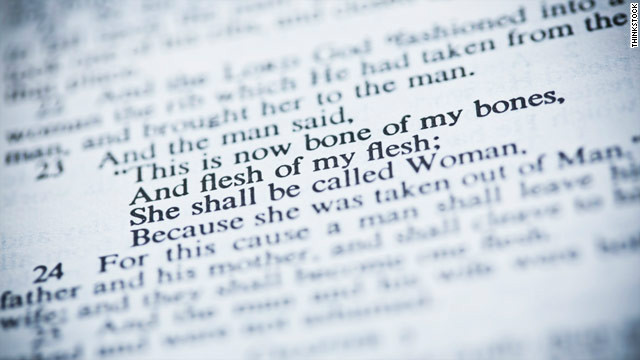 How many times do hot-button issues come up in the Bible?
CNN: My Take: Counting the Bible's words doesn't yield a Republican Jesus
Stephen Prothero, Boston University religion scholar and author of "The American Bible: How Our Words Unite, Divide, and Define a Nation," responds to angry emails he received after writing a Belief Blog post in which he takes issue with evangelicals using Jesus as a political tool to benefit the Republican Party.
Join the conversation…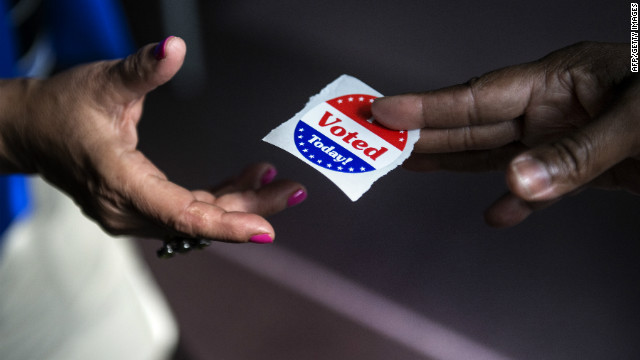 CNN: My Take: On Election Day, proclaiming my loyalty to Jesus
Mark Schloneger, pastor of North Goshen Mennonite Church in Goshen, Indiana, says that he "initiated the Election Day Communion Campaign out of a concern that Christians in the United States are being shaped more by the tactics and ideologies of political parties than by our identity and unity in Christ." He goes on explain that "Gathering for Communion on Election Day seems fitting, for the practice of Communion is an inherently political act. It is both a pledge of allegiance to Jesus and a declaration of independence from all other powers making claims on our bodies, minds and souls."