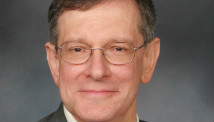 Editor's note: The Rev. Barry W. Lynn is executive director of Americans United for Separation of Church and State.
By Barry W. Lynn, Special to CNN
I live in Maryland, where we have a lot of controversial questions on Tuesday's ballot, including referenda on marriage equality, the rights of immigrants and the expansion of gambling.
Many churches and other houses of worship have taken stands on these issues and lots of others, which is their prerogative. Although federal law prohibits churches from endorsing or opposing candidates, they have the right to speak out on ballot referenda and on other issues, from abortion to zoning.
All of this church-based political activity makes me uneasy about casting ballots in houses of worship, especially those festooned with political signs. And yet today, hundreds, perhaps thousands, of churches around the country are being pressed into service as polling places.
At Americans United for Separation of Church and State, we get a steady stream of calls about this phenomenon every election season. Some complain of being forced to cast their ballot in a house of worship when there's a nearby public school, library or community center that could just as easily act as a polling place.
Casting a ballot in a church? Tweet us about it
We shouldn't dismiss these concerns as whining from an overly sensitive band of people who are religion-phobic. These concerns are legitimate. And some intriguing studies even suggest that voting in a church might influence voters.
The American Humanist Association, which filed an unsuccessful lawsuit against voting in churches in Florida, cited a recent Baylor University study published in the International Journal for the Psychology of Religion that found that people in the Netherlands and England reported more conservative views to a pollster when in the vicinity of a church.
"[The] important finding here," said the study's co-author, Wade Rowatt, "is that people near a religious building reported slightly but significantly more conservative social and political attitudes than similar people near a government building."
My Take: On Election Day, I'm proclaiming loyalty to Jesus
An earlier study by Stanford University reported a similar effect. "Voting in a church could activate norms of following church doctrine," said Jonah Berger, a Stanford researcher. "Such effects may even occur outside an individual's awareness."
In Maryland, this might mean that an on-the-fence voter facing the marriage equality question might be pushed to vote no by something as simple as a sign or pamphlet in the church/polling place. Such material might even affect a soft voter's candidate choices.
How is this possible? Psychologists call it "priming," the idea that even subtle visual or verbal cues can affect human behavior.
More studies need to be done to validate and explain this phenomenon. In the meantime it would make sense to avoid using churches as polling places. Neutral sites should always be preferred.
CNN's Belief Blog: The faith angles behind the biggest stories
There are other reasons to skip casting ballots in the basilica.
I've talked with people who describe their unease voting on an abortion-related referendum in a Catholic church, where they may be surrounded by posters depicting abortion as a grisly holocaust. Others say they don't want to back an abortion-rights candidate in a church that is known for anti-abortion activism.
No public library, public school or town hall would display such material next to the voting machines. No government building would have a towering cross in the voting area.
My Take: Charting Bible's 'GOP' words
Many of those who have contacted us about this have reported that churches will not remove this material and that pastors argue that they have a right to keep it up.
As churches become more aggressive in the political arena, the argument that they can be neutral sites for voting, a concept that has been embraced by some courts, comes up short.
I've even talked with atheists, Jews, Muslims and other non-Christians who don't want to exercise a basic constitutional right in a church. These people have nothing against Christianity; they simply don't believe that a fundamental democratic right should hinge on their willingness to enter a church. (And yes, most of the houses of worship used as polling places are Christian churches.)
People who support using churches as polling places often point to the need to maximize the number of polling locations to increase turnout. That's a laudable goal, but there are many ways to do this that don't rely on using churches, like early voting and voting by mail.
Imagining the first Mormon White House
For those who prefer to show up in person on Election Day, there are plenty of schools, libraries, town halls and civic centers to meet the need for polling centers. In small towns and rural areas, well-known commercial sites would make better polling places than churches.
If there is absolutely no other option than voting in churches, I recommend that election officials make it clear to officials at the church that they must play by the same rules as every other site.
That means no politicking inside a certain zone. And the area where the voting occurs should be cleansed of all religious symbols and political material. The voting area should be as neutral as possible.
Voting is every Americans right, some would say duty. Let's do all we can to avoid making people feel unwelcome at the ballot box.
The opinions expressed in this commentary are solely those of Barry W. Lynn.