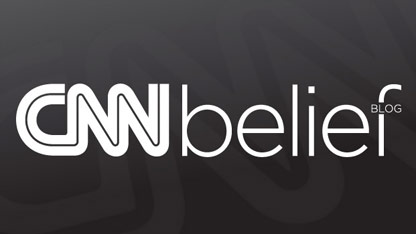 By Arielle Hawkins, CNN
Here's the Belief Blog's morning rundown of the top faith-angle stories from around the United States and around the world. Click the headlines for the full stories.
From the Blog: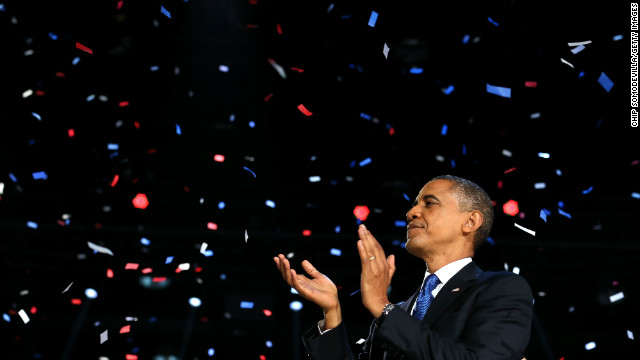 CNN: Election results raise questions about Christian right's influence
For many conservative Christian leaders, it was a nightmare scenario: Barack Obama decisively re-elected. Same-sex marriage adopted by voters in some states. Rigorously anti-abortion candidates defeated in conservative red states.
CNN: Bahrain strips Shiite activists of citizenship amid unrest
Bahrain has revoked the citizenship of 31 Shiite activists, the latest clampdown on the opposition amid continued unrest in the Persian Gulf kingdom. The state-run Bahrain TV announced the move Tuesday evening, citing an interior ministry statement. The television anchor read out the names of the 31 activists, which included Jawad Fairouz, a former member of Parliament for the Shiite opposition group Al-Wefaq, and his brother, Jalal. Bahrain's ruling Khalifa family is Sunni Muslim, but about two-thirds of the country's people are Shiite.
Tweet of the Day:
[tweet https://twitter.com/MarsHill/status/266441177853743104%5D
Enlightening Reads:
The Pew Forum on Religion and Public Life: How the Faithful Voted: 2012 Preliminary Analysis
In his re-election victory, Democrat Barack Obama narrowly defeated Republican Mitt Romney in the national popular vote (50% to 48%). Obama's margin of victory was much smaller than in 2008 when he defeated John McCain by a 53% to 46% margin, and he lost ground among white evangelical Protestants and white Catholics. But the basic religious contours of the 2012 electorate resemble recent elections – traditionally Republican groups such as white evangelicals and weekly churchgoers strongly backed Romney, while traditionally Democratic groups such as black Protestants, Hispanic Catholics, Jews and the religiously unaffiliated backed Obama by large margins.
Religion News Service: Buddhist, Hindu make history in new Congress
Congress will become a shade more religiously diverse this January, after Tuesday's (Nov. 6) election of the first Hindu representative and first Buddhist senator. Tulsi Gabbard, a Democrat from Hawaii, will become the first Hindu-American congresswoman, after defeating her Republican rival on Tuesday. Ami Bera, a California doctor who was raised Hindu but now identifies as a Unitarian Universalist, according to the Hindu American Foundation, narrowly leads the race for California's 7th congressional district.
Reuters: Saudi sharia judges decry "Westernizing stench" of king's legal reforms
Saudi judges who enforce sharia (Islamic law) have condemned what they see as "the stench of Western ideas" in sweeping legal reforms pushed by King Abdullah, underscoring friction between government modernizers and religious hardliners. In a letter to Justice Minister Mohammed al-Issa seen by Reuters, eight judges complained about foreign trainers who shave their beards contrary to purist Islam, the minister's meetings with diplomats of "infidel" states and plans to let women practice as lawyers.
The Guardian: Justin Welby set to be named as new archbishop of Canterbury
Justin Welby, the bishop of Durham, is expected to be unveiled as the next archbishop of Canterbury within days as Lambeth Palace prepares to break weeks of silence on the identity of Rowan Williams's successor. After a selection process shrouded in secrecy and mired in internal wrangling, the 56-year-old evangelical Old Etonian appears set to take over the leadership of the Church of England from Williams, who will step down at the end of the year.
Catholic News Service: Dispute over $2.3 million water bill could hurt Jerusalem holy site
A dispute over an unpaid water bill reportedly running to $2.3 million could threaten the daily functioning of the Church of the Holy Sepulcher, one of Christendom's most holy sites. A well-informed source who did not want to be named said the dispute stems from a unilateral cancellation of a long-term agreement - dating to Turkish rule - which exempted the Church of the Holy Sepulcher from paying for the water it used. The church has a copy of a signed 1969 letter outlining the agreement, he said, and has made copies available to the municipality.
Religion News Service: 'Mormon moment' ends with a loss – but Romney's religion still won
Mormons in Utah and across the nation were thrilled by the prospect that one of their own might occupy the highest office in the land. That won't happen now. But Mitt Romney came closer than any other Latter-day Saint since that once-beleaguered brand of Christianity burst onto the American scene in 1830. "For many Latter-day Saints, it was a surprise that a Mormon candidate was able to make it as far as Mitt," said Stuart Reid, a Mormon and a Republican state senator from Ogden, Utah.
Quote of the Day:
We invite Americans everywhere, whatever their political persuasion, to pray for the President, for his administration and the new Congress as they lead us through difficult and turbulent times.
The Church of Jesus Christ of Latter-day Saints congratulated President Obama saying in a written statement to the press.
Opinion of the Day: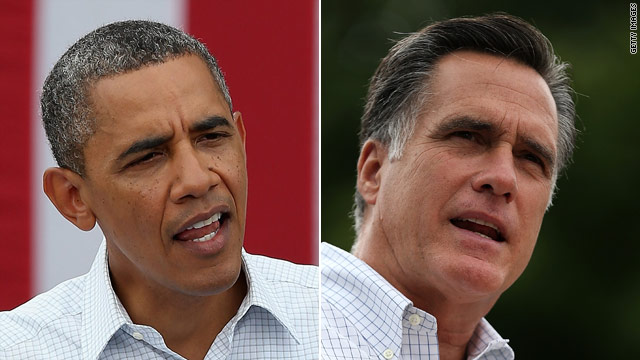 CNN: My Take: Elections are the rite of our American republic
Stephen Prothero, Boston University religion scholar and author of "The American Bible: How Our Words Unite, Divide, and Define a Nation," American rituals hold the people of this country together because while "Americans may agree on certain values such as 'liberty' and 'quality' but we disagree fiercely about what these keywords mean and how to weigh one against the other."
Join the conversation…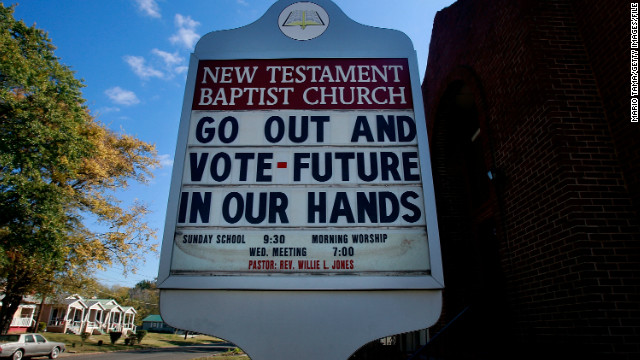 CNN: My Take: Stop using churches as polling places
Rev. Barry W. Lynn, executive director of Americans United for Separation of Church and State, explains how voting in a place of worship can influence voters.