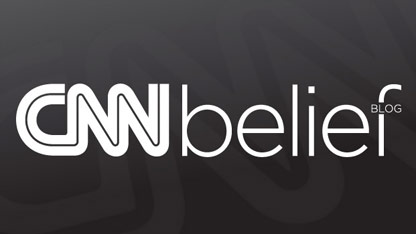 By Arielle Hawkins, CNN
Here's the Belief Blog's morning rundown of the top faith-angle stories from around the United States and around the world. Click the headlines for the full stories.
From the Blog:
CNN: First Hindu elected to Congress
In an election that broke boundaries, Hawaii elected the nation's first practicing Hindu to the U.S. House of Representatives. Congresswoman-elect Tulsi Gabbard, who will represent the state's second district, told CNN Monday that her election "shows the respect, diversity and love and aloha that people have in Hawaii that would allow for something like this to happen." The 31-year-old Democrat said she will take her oath of office on the Hindu religious text Bhagavad Gita in January.
CNN: Salafis call for Islamic law in Egypt protest
Thousands of supporters of various Egyptian Salafi groups gathered in Cairo's Tahrir Square on Friday calling for the immediate implementation of Islamic law. Before midday prayers, speakers called on the government of President Mohamed Morsy to move quickly to implement Sharia. Morsy won the office as the candidate for the Muslim Brotherhood-affiliated Freedom and Justice Party. About 10,000 demonstrators advocating for Sharia filled the square, chanting in unison, "The people want God's law applied."
Belief on TV:
Photo of the Day: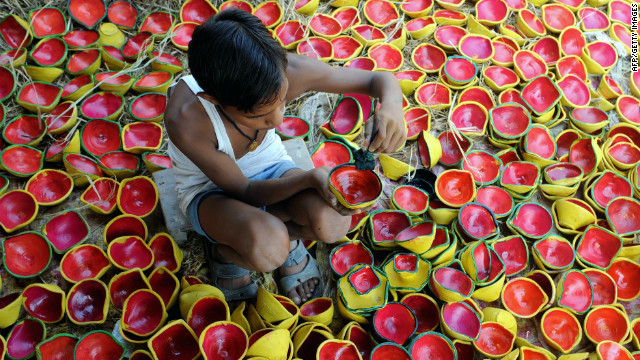 These small clay oil lamps are known as diyas. Hindus in India adorn their homes with lots of these lamps during the holiday Diwali to commemorate the Hindu legend of the return of Lord Rama from his 14 year-long exile after murdering the ten-headed demon Ravana. Today is the first day of Diwali.
Enlightening Reads:
Reuters: Dalai Lama presses China to investigate Tibetan self-immolations
Exiled Tibetan spiritual leader the Dalai Lama on Tuesday urged Japanese parliamentarians to visit Tibet, and for China to investigate the dozens of self-immolations by Tibetans. "The Dalai Lama is a political exile who has long engaged in anti-China separatist activities in the guise of religion," Chinese Foreign Ministry spokesman Hong Lei said at a daily news briefing.
JTA: Canadian lawmaker calls for recognition of Jewish refugees
A Canadian lawmaker has proposed a motion in the country's Parliament calling for formal government recognition of some 850,000 Jews forcibly displaced from Arab lands since Israel's creation in 1948. In his Nov. 8 motion, Liberal Parly lawmaker Irwin Cotler, a former Canadian justice minister, noted that by rejecting the United Nation's Partition Resolution of 1947-1948, Arab states "launched their double aggression of a war against the nascent Jewish state and assaults on their own Jewish nationals, resulting in two refugee populations, Palestinian refugees and Jewish refugees from Arab countries."
Catholic News Agency: Pope's representative calls on US Church for New Evangelization
The Church in the United States and its bishops should play a major role in the New Evangelization by presenting the gospel values they maintain amidst a secular culture, the Pope's representative to the U.S. said.
Catholic News Agency: Bishops to consider sainthood cause of Dorothy Day
The U.S. bishops will vote this week on advancing the cause for the canonization of Dorothy Day, a 20th century Catholic social activist and tireless advocate for the poor. The move is being sought by Cardinal Timothy M. Dolan, Archbishop of New York, as his archdiocese was Day's home from 1916 until her death in 1980.
The Guardian: Ding dang … Notre Dame moves to scrap out-of-tune bells
Their names sound pretty enough – Angélique-Françoise, Antoinette-Charlotte, Hyacinthe-Jeanne and Denise-David – but the noise they make together has been described as "discordant" and enough to drive Quasimodo deaf all over again. Some have gone as far as to call them cheap, old and ugly. Thus, there were expected to be few tears shed when the four bells, whose tolling has marked the march of time and a funereal adieu for the great and good at Notre Dame cathedral for 156 years, were taken from their belfry and consigned to the scrapheap.
Religion News Service: 'Scandalous' evangelist Aimee Semple McPherson gets star turn on Broadway
Boadway openings often feature a first - the debut of a new star, the premiere of a new playwright's work. On Thursday (Nov. 15), theatergoers at the opening night performance of "Scandalous" will witness a never-before-seen trifecta. "Scandalous: The Life and Trials of Aimee Semple McPherson" is the first Broadway musical about the showbiz-savvy revivalist whose ministry was rocked by scandal in the 1920s. It's also the first Broadway show with a book and lyrics written by "Today" show co-host Kathie Lee Gifford. And it marks the first time the Foursquare Foundation, which supports Pentecostal ministries, has invested in a Broadway show.
Join the conversation…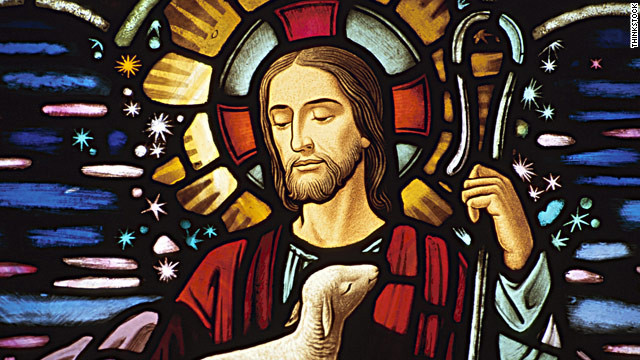 CNN: My Take: What all those Jesus jokes tell us
Edward J. Blum, a historian of race and religion at San Diego State University, and Paul Harvey, a history professor at the University of Colorado at Colorado Springs and editor of the blog Religion in American History, explain how Jesus Christ "a figure sacred to so many Americans has become the punch line of so many jokes" and why it is "acceptable to poke fun at Jesus when other sacred figures are deemed off limits".