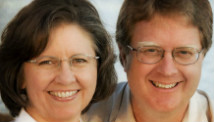 Editor's Note: John and Bonnie Nystrom are the authors of "Sleeping Coconuts," the true story of how a devastating tsunami changed the face of Bible translation in Papua New Guinea.
By John Nystrom and Bonnie Nystrom, Special to CNN
(CNN) - As images of the Superstorm Sandy's devastation have filled our TV screen and computer monitor these last three weeks, our thoughts have often been of friends in Arop, a tiny fishing village in Papua New Guinea.
When it became clear that Hurricane Sandy would hit the Northeast United States hard, our thoughts went back to our friends in Arop, a tiny coastal community that faced an unimaginable tragedy of its own.
In July 1998, earthquakes off the Pacific island's shore sent three 30-foot waves roaring toward the coast. Most of Arop's huts were built on stilts, but they never stood a chance against such a force of nature. The tsunami destroyed everything and claimed the lives of more than a third of the 2,400 people who called Arop home.
Whenever a natural disaster makes the news, we think of them.