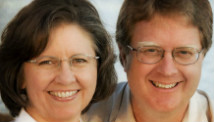 Editor's Note: John and Bonnie Nystrom are the authors of "Sleeping Coconuts," the true story of how a devastating tsunami changed the face of Bible translation in Papua New Guinea.
By John Nystrom and Bonnie Nystrom, Special to CNN
(CNN) - As images of the Superstorm Sandy's devastation have filled our TV screen and computer monitor these last three weeks, our thoughts have often been of friends in Arop, a tiny fishing village in Papua New Guinea.
When it became clear that Hurricane Sandy would hit the Northeast United States hard, our thoughts went back to our friends in Arop, a tiny coastal community that faced an unimaginable tragedy of its own.
In July 1998, earthquakes off the Pacific island's shore sent three 30-foot waves roaring toward the coast. Most of Arop's huts were built on stilts, but they never stood a chance against such a force of nature. The tsunami destroyed everything and claimed the lives of more than a third of the 2,400 people who called Arop home.
Whenever a natural disaster makes the news, we think of them.
Before the tsunami we had worked among the Arops for 10 years as linguists with Wycliffe Bible Translators. Our mission was to translate the Bible into their language, which previously had no written form.
Follow the CNN Belief Blog on Twitter
Because we lived and worked in a community that overcame such inconceivable tragedy, people often ask us how Christians "keep the faith" in the wake of tragedy.
Unfortunately, we usually wait until after disaster strikes to determine how we will respond.
It is very difficult to think clearly about God, or anything else, when your world has been turned upside down.
But if we understand who God is and why evil and suffering exist, we can experience God as the "Father of compassion and the God of all comfort, who comforts us in all our troubles," as the apostle Paul calls him in 2 Corinthians. He says that God comforts us "so that we can comfort those in any trouble with the comfort we ourselves have received from God."
For us the question is not, "Where is God in this tragedy?," but "How will we respond to it, how will we experience God's comfort in it, and how can we share that comfort with others?"
God never promises any of us a trouble-free life. The world we live in is far more troubled than many of us realize.
As difficult as it can be, we should not see tragedies as faith-shaking events, but as opportunities. When the 1998 tsunami hit our Arop friends, we weren't wondering where God was. He was where he always is: in sovereign control and with a much bigger purpose than we could ever conceive.
We were not in Arop when the tsunami hit. But immediately after hearing about the tragedy, our question was, "Lord, how can we be part of whatever you are doing in the aftermath of this?"
As we returned to Arop immediately after the storm hit to help our organization fly in supplies and fly victims out, we also started to think differently about the monumental task of creating a written form of the Arop language and helping them translate Scriptures into it.
Papua New Guinea is home to over 800 languages. The disaster gave us much greater compassion for other language groups nearby that still had no Scripture in their language to go to for comfort. Their traditional religion lacked a category for innocent suffering so it offered no way to explain or cope with such a tragedy.
CNN's Belief Blog: The faith angles behind the biggest stories
With the Arop-speaking translators we had trained taking the lead, we formed a community of translators with church leaders from 10 neighboring language groups who also wanted to translate the Scriptures into their languages. Together we developed a team approach to translation that proved to be more efficient than our pre-tsunami single-language approach.
This method has revolutionized the way Wycliffe approaches translation in that region, but we never would have considered it if not for the tsunami.
Our faith and the faith of those around us can be strengthened in a crisis if we choose to see it as an opportunity to rethink what we're doing with our lives and how we can be more effective in serving others.
The opinions expressed in this commentary are solely those of John Nystrom and Bonnie Nystrom.