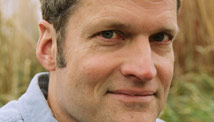 Editor's Note: Stephen Prothero, a Boston University religion scholar and author of "The American Bible: How Our Words Unite, Divide, and Define a Nation," is a regular CNN Belief Blog contributor.
By Stephen Prothero, Special to CNN
(CNN) - A few years ago, I came across a high school textbook on U.S. history that stumbled badly when it tried to describe the first Thanksgiving. Because of a serious misunderstanding of the First Amendment, the authors thought they couldn't even refer to God in their textbook. So they ended up telling their readers that the Pilgrims were giving thanks to the Indians. (Huh?)
Personally, I think Thanksgiving is (and was) about giving thanks to God, but I am too eclectic nowadays to confine my giving of thanks to the capricious Calvinist God of the Pilgrims. So in the spirit of Pascal, who placed a wager on the Christian god, I'm putting a marker down, too. But why confine your wager to one divinity? Here is my own Thanksgiving litany to the gods.