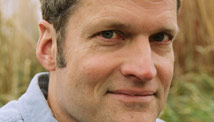 Editor's Note: Stephen Prothero, a Boston University religion scholar and author of "The American Bible: How Our Words Unite, Divide, and Define a Nation," is a regular CNN Belief Blog contributor.
By Stephen Prothero, Special to CNN
(CNN) - A few years ago, I came across a high school textbook on U.S. history that stumbled badly when it tried to describe the first Thanksgiving. Because of a serious misunderstanding of the First Amendment, the authors thought they couldn't even refer to God in their textbook. So they ended up telling their readers that the Pilgrims were giving thanks to the Indians. (Huh?)
Personally, I think Thanksgiving is (and was) about giving thanks to God, but I am too eclectic nowadays to confine my giving of thanks to the capricious Calvinist God of the Pilgrims. So in the spirit of Pascal, who placed a wager on the Christian god, I'm putting a marker down, too. But why confine your wager to one divinity? Here is my own Thanksgiving litany to the gods.
To Kali, black goddess of fierce justice, thanks for scaring me to death. I know the skulls around your neck and the blood dripping from your mouth frighten a lot of people, but somebody has to lord over the cremation grounds, and I'm happy to have it be you (really).
Follow the CNN Belief Blog on Twitter
To Christopher Hitchens (the closest my atheist friends get to a divinity nowadays), thanks for channeling Kali and for not converting on your deathbed (right?). "I hate the pack of gods," wrote Marx. You showed us what that passion sounds like.
To Allah, thanks for reminding us of the gap between God and human beings. And for being the word Arab Christians use for "God," too. And for this Thanksgiving day verse from the Quran: "Give food, for the love of Him, to the needy, the orphan, the captive" (76:8).
To the God of Abraham, Isaac and Jacob, thanks for the rhythm of exile and return, for teaching us how to argue and for the biblical book of Ecclesiastes (Oh, and Bob Dylan and Woody Allen, of course).
To Jesus, thanks for taking on a human body and for loving Mary and for "Godspell" and for saving that wedding day by turning that water into wine. I will raise a glass (or two) to you this Thanksgiving.
To the Amida Buddha of Infinite Light, thanks for spinning the Pure Land out of your grace and your imagination, and for being at the end of the tunnel in those near-death experiences. Luther said all we need is faith. Thanks for not even requiring that.
CNN's Belief Blog: The faith angles behind the biggest stories
To Krishna, thanks for reminding us that the gods can be playful (and mischievous), too. And for this grand promise from the Hindu scripture the "Bhagavad Gita" (4:11): "In whatsoever way any come to Me, in that same way I grant them favor."
Finally, to the unknown gods (and anti-gods) of East and West, thanks for your mysterious silence (and for keeping the comments below relatively civil).
Om, Amen, Ahhhh!
The opinions expressed in this commentary are solely those of Stephen Prothero.