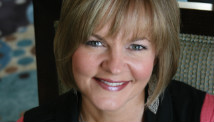 Editor's Note: Shannon Ethridge is an advocate for spiritual and sexual integrity. She is a counselor, speaker, author and certified life and relationship coach. Her 19 books include the million-selling Every Woman's Battle book series, "The Sexually Confident Wife" and her latest book, "The Fantasy Fallacy," a response to the "Fifty Shades of Grey" phenomenon, a discussion of the roots and role of sexual fantasies.
By Shannon Ethridge, Special to CNN
(CNN) - When a friend alerted me to the "Fifty Shades" trilogy in April, none of us had any idea it would sell in excess of 40 million copies within months, or that sales of whips, chains and other BDSM paraphernalia would skyrocket as a result, or that a European hotel would replace its Gideon's Bibles with "Fifty Shades of Grey."
Many legitimate possibilities have been offered for the seeming success of "mommy porn." Women are more sexually liberated than ever before. Couples are longing for ways to spice up their sex lives. Many women have a deep inner longing to be dominated by a man who's absolutely obsessed with them.