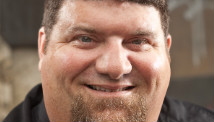 Editor's note: Rick McKinley is pastor of the Imago Dei Community in Portland, Oregon, and author of "A Kingdom Called Desire" and "Advent Conspiracy."
By Rick McKinley, Special to CNN
No one knew there was an underwear shortage in this country until Friday, when thousands of shoppers lined up in front of Victoria's Secret stores like young girls waiting for Justin Bieber's autograph.
As I watched the scene on TV, I imagined my grandfather fighting his way through the mob as the doors opened and the mad rush began. Though we may never remember that pair of underwear that Grandpa bought for Grandma, we will never forget the punctured lung he received when he was trampled upon by the crowd.
Some Christmas memories are just that special.
Thankfully, that was only my imaginings. But guns were pulled at a Sears in Texas, and two people were shot outside a Walmart in Florida in a scuffle over a parking space.
Follow the CNN Belief Blog on Twitter
We see the scenes every Black Friday: shoppers standing in line for hours, the doors bursting open, elbows and expletives flying, pushing, shoving, waved weapons, threatened lives. Once again, America is ready for the Season of Peace, Love and Good Will toward all.
But there is a groundswell toward opting out of crazed consumption and breaking free from the anxiety and chaos it creates, so people can tell a better story. Evidence of this includes the Twitter movement called #GivingTuesday.
It's a simple concept that calls us into a better story.
I am a pastor, not a sociologist, but I can compare the scenes of people running over each other at the mall with those of people waiting in line at a refugee camp as they anticipate a U.N. food drop.
CNN's Belief Blog: The faith angles behind the biggest stories
The scene is totally different in one sense, but the anxiety that drives it is the same. We live in anxiety over the fear of scarcity. Which means we are afraid there will not be enough.
From bags of rice and beans to underwear, when the scarcity alarm goes off inside of us, the anxiety comes rushing to the surface, along with our fears.
In that moment, we are all capable of throwing an elbow or two.
The story of scarcity is a sad story. There is a better one.
As a follower of Jesus, I believe that the only thing that breaks us free from the fear of scarcity is a radical act of generosity.
That is the Christmas story of the manger. At a different time and different place in our history, God performed the most radical act of generosity the world had ever seen or will ever see.
He gave a son, born into the world by an unwed teenage girl in a hillside cave and laid to sleep that first night in a feed trough.
The son who God gave would grow up to become a carpenter-turned-itinerant preacher with a heart of compassion for the people the world had trampled as it fed its scarcity fears.
This generous love drove him to a cross, where he hung and died for people whom he loved and who didn't love him back, and to overcome with new life that he offered to pour over us and into us with grace and forgiveness.
This is the story of Christmas. It is a story of abundance. There is love enough and grace enough and forgiveness enough and healing enough for everyone who believes. Generosity breaks people free from the lie of scarcity.
A group of us started to dream of what it would look like to live in the Jesus story, and we started something called the Advent Conspiracy.
We decided that we would worship more, spend less, give more and love all. We replaced consumption with compassion because we believe that Christmas is about Christ. The Advent Conspiracy is now a global movement of faith communities.
We have watched people around the world scale down spending and redirect dollars to build wells in Liberia and other parts of the world.
In June, when no one at our church remembered what they got for Christmas, we watched video of Liberian children dancing in streams of clean water. We heard village elders say with tears in their eyes that their children are no longer dying.
Saving kids with clean water - that's a better story.
In Portland, the faith community has worked with the city to build rescue homes for victims of sex trafficking. Now, girls who are running literally for their lives can come and be rescued and given hope, safety and a future.
Kids enslaved being set free - that's a better story.
There are thousands of other stories like this, from people working with those in Vietnam who are dying of HIV/AIDS to people who are simply having Christmas dinner with a friends who live on the street.
These people are doing more than charity; they are breaking the cycle of fear and scarcity through radical acts of generosity. That's a better story.
The opinions expressed in this commentary are solely those of Rick McKinley.