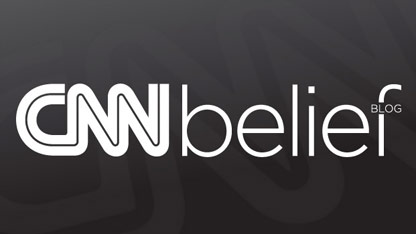 By Arielle Hawkins, CNN
Here's the Belief Blog's morning rundown of the top faith-angle stories from around the United States and around the world. Click the headlines for the full stories.
From the Blog: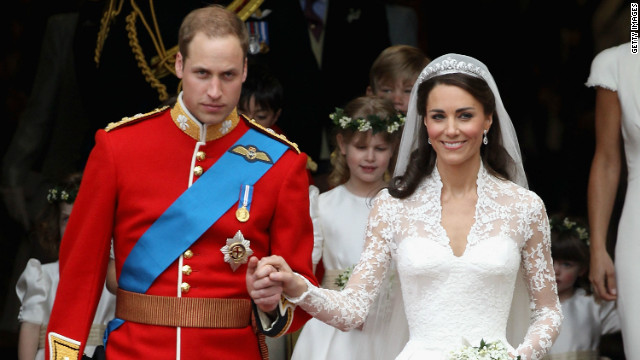 Prince William and his wife Catherine, Duchess of Cambridge married on April 29, 2011. Future royal weddings could see a Catholic marrying into the royal family.
CNN: Catholics to be allowed into the royal club (sort of)
Britain is about to change a 300-year-old rule. British kings and queens – who serve as the official leaders of the Church of England – will soon be allowed to marry Roman Catholics. The historic change will end a centuries-long ban on such interdenominational nuptials.
CNN: Medical advice from the Dalai Lama's doctor
Dr. Tsewang Tamdin, a world-renowned expert in Tibetan medicine, visited Emory University in Atlanta on Monday as part of his effort to reach more American medical practitioners. He wants to develop collaborative projects between the Tibetan medicine system, which is more than 2,500 years old, and Western medicine. "While others might consider the holistic practice of Tibetan medicine 'alternative medicine' or a kind of side practice, I would like for others outside of our system to consider the Tibetan healing system full-fledged healing," Tamdin said. "Tibetan medical knowledge has tremendous potential to add to modern medicine."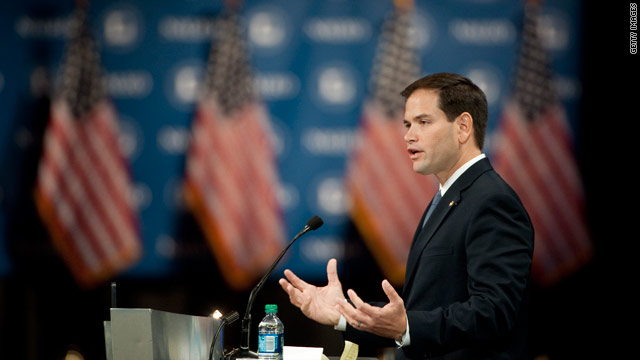 CNN: Rubio clarifies age of the earth answer
Republican Sen. Marco Rubio of Florida attempted to clear up Wednesday his controversial answer to a question about the earth's age last month. "Science says (the earth) is about 4.5 billion years old. My faith teaches that's not inconsistent," Rubio said at a Politico Playbook Breakfast in Washington. "God created the heavens and the earth, and science has given us insight into when he did it and how he did it." "The more science learns," he continued, "the more I am convinced that God is real."
Tweet of the Day:
[tweet https://twitter.com/iamepiscopalian/status/276526376524320768%5D
Photo of the Day:

Photo credit: Arif Ali/AFP/Getty Images
Pakistani Christians carry photographs of Swedish Christian charity worker Bargetta Almby, who was injured in an attack by gunmen, as they offer prayers for her early recovery at a Church in Lahore on December 5, 2012. Gunmen shot Almby, 72, a female Christian charity worker from Sweden, leaving her hospitalized, police said. Almby, who is managing director in Pakistan of Full Gospel Assemblies, which describes itself as a 'church fellowship' founded in the United States with congregations worldwide, was attacked when she arrived in front of her home in the Model Town neighborhood in Lahore on December 3, 2012.
Enlightening Reads:
Huffington Post: All Saints Church, Hosting Muslim Public Affairs Council Convention, Receives Threats, Hate Mail
For the first time in its history, the Muslim Public Affairs Council (MPAC) is holding its annual convention at a Christian church. But now the council's host, All Saints Episcopal Church in Pasadena, Calif., is facing vitriolic backlash. The church has received over 25 hate emails and threats since Friday, Rev. Susan Russell, senior associate for communications at All Saints, told The Huffington Post Wednesday. She blogged about the MPAC event for HuffPost Tuesday, and spoke to the negative reception the church has faced so far.
Reuters: Dutch blasphemy law to fall and Irish one may follow
Laws criminalising blasphemy are set to be struck down soon in the Netherlands and may disappear in Ireland, but rising tensions in economically battered Greece seem to be reviving pressure to prosecute offences against God. Blasphemy appears more frequently in headlines from the Muslim world, where countries such as Pakistan or Saudi Arabia readily punish perceived critics of Islam, but a lesser known trend is a general movement in Europe away from such laws.
The Guardian: Newham council rejects plans for one of Britain's largest mosques
Controversial plans by an Islamic missionary group to build one of Britain's largest mosques have been rejected. Proposals to build the religious center with three times the floor space of St Paul's Cathedral and room for nearly 10,000 worshippers in east London were dismissed at a council meeting on Wednesday.
Reuters: Israel gets same-sex divorce even before it has same-sex marriage
An Israeli court has awarded the country's first divorce to a gay couple, which experts called an ironic milestone since same-sex marriages cannot be legally conducted in the Jewish state. A decision this week by a family court in the Tel Aviv area "determined that the marriage should be ended" between former Israeli lawmaker Uzi Even, 72, and his partner of 23 years, Amit Kama, 52, their lawyer, Judith Meisels, said on Tuesday.
The Guardian: Bristol University Christian Union performs U-turn on female speakers
A university Christian union that came under attack for not allowing women to teach at its main meetings has now said it will allow both sexes to preach at all events. Bristol University Christian Union (BUCU) is being investigated after a memo emerged revealing women could not teach at its weekly meetings, and could only teach in some other settings with a husband.
Religion News Service: Jerusalem restaurants sue over rabbis' kosher certification rules
Five Jerusalem restaurant owners have filed suit against the city's Chief Rabbinate, saying the rules for kosher certification are expensive, onerous and inconsistent. The lawsuit represents the latest legal challenge against what many Israelis say is an increasingly coercive ultra-Orthodox religious establishment. The restaurants are among almost a dozen establishments that recently severed their ties with the Rabbinate's kosher supervisors, who are charged with ensuring that the food being prepared meets strict Jewish dietary laws.
Quote of the Day: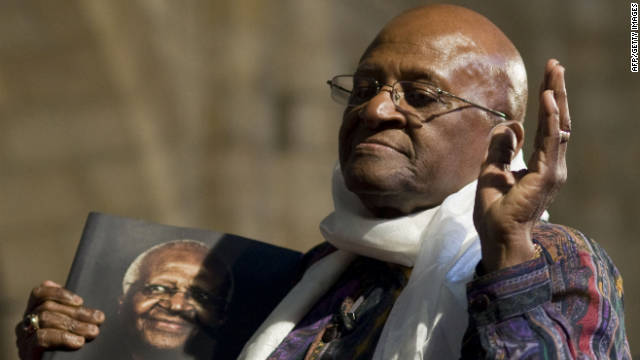 My brothers and sisters, you stood with people who were oppressed because of their skin color. If you are going to be true to the Lord you worship, you are also going to be there for the people who are being oppressed for something they can do nothing about: their sexual orientation.
- On Tuesday, December 04, 2012 Nobel Laureate Archbishop Desmond Tutu urged Ugandan government officials to nullify a draft law that would imprison gays and lesbians and possibly put them at risk of the death penalty.
Opinion of the Day: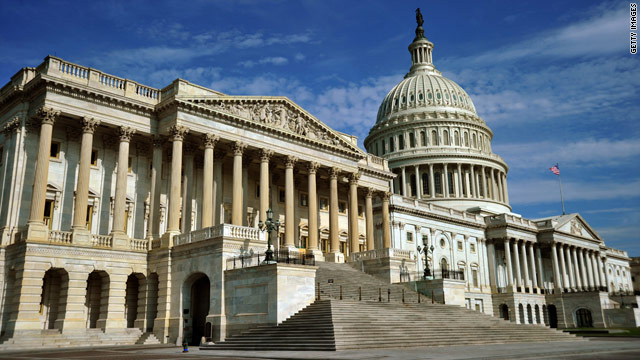 My Take: The religious roots of our political gridlock
Mark Osler, a professor of law at the University of St. Thomas in Minneapolis, explains how the divide between Democrats and Republicans on issues like the fiscal cliff is "tangled up in the faith differences of our legislators."
Join the conversation…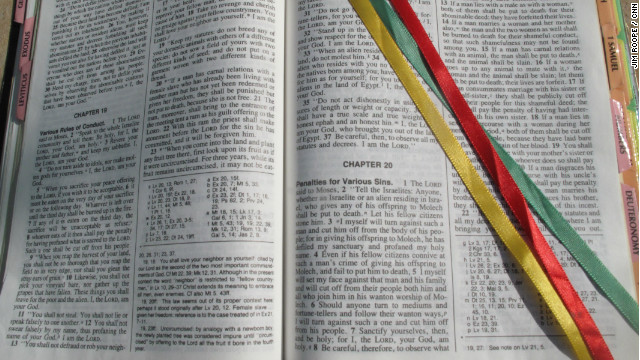 CNN: WWJD...about taxes?
Dig under the rhetoric over taxes in Washington now, and you'll find one question: should the wealthy pay more in taxes than other people? It's a question that goes back to the Bible. Geoffrey Miller is a law professor at New York University who's written about taxation in the Bible. He writes about the Temple Tax, the one God told Moses to impose in Exodus 30. It's the one where each person, rich and poor, pays half a shekel – for the Temple – and God.