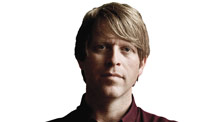 Editor's note: Gabe Lyons is author of "The Next Christians: Seven Ways You Can Live the Gospel and Restore the World" and founder of the Q, a learning community that mobilizes Christians to advance the common good in society.

By Gabe Lyons, Special to CNN
(CNN)–Can gay people become straight? Is human sexuality modifiable? Are we really still discussing this?
Yes, according to U.S. District Court Judge William Shubb, who ruled last week that three licensed psychotherapists have the right to practice therapy that attempts to change the sexual orientations of gay and lesbian minors.
In a culturally counterintuitive move, he ruled that First Amendment rights of mental health professionals who engage in "reparative" or "conversion" therapy outweigh concern that the practice poses a danger to their clients. This ruling, albeit temporary, adds a new plank to the debate over gay rights, traditional American liberties and what constitutes good therapy.