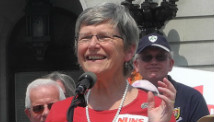 Editor's note: Sister Simone Campbell is Executive Director of the Catholic social justice lobby NETWORK and leader of the "Nuns on the Bus."
By Simone Campbell, Special to CNN
(CNN) - The debate raging in Congress over the fate of our federal budget reminds me of the great judgment of Solomon. Here we are, sharp sword overhead, poised to cut the baby in half, just waiting for the voice of reason and a willingness to sacrifice.
Instead, we're confronted with arguments framed as a hard, false choice between sound economic policies and social programs, between fiscal realities and compassionate acts. It's time to stay the sword.
The truth is, at some point in life and regardless of income, virtually every American will benefit in some way from a social safety-net program, whether through a social security check, an unemployment benefit or a school lunch. Programs like these are called safety nets for a reason – yank them away and people get hurt, today more than ever.
Take the special ed teacher's aide I recently met. She has a full-time job that pays all of $17,000 a year. She works a second job to pay all the bills, but still must rely on a safety net to help feed her two kids. Because she does not earn a living wage, she has no choice.
Yet some conservatives label her a "taker" and view her with contempt, judgments that are neither just nor wise.
As we debate what to cut and keep as part of the spending reductions that will accompany coming tax increases, it's time to be as wise as Solomon. The truth is, study after study has proven that basic, responsible social service programs like food stamps, housing credits and after-school programs actually work.
Take child care. This single subsidy is a great multiplier that provides terrific return-on-investment as a service cost reducer and a job creator. Moms return to work and families earn – and spend – more. Employers get a more reliable workforce and children are safe. And we all benefit as taxpayers because it pumps money into the economy.
Such programs are not a handout, they are a hand up.
Safety-net programs that help low and moderate-income working families, as well as those among us who are elderly, poor, disabled and neglected, account for only 13% of the total 2011 federal budget. These aren't Cadillac programs funding big-screen TVs across America. These are programs that help pay for education, affordable apartments and oil to heat cold rooms.
More important to the fiscal hawks among us, these are also programs that help move the working poor into the middle class. I speak from the heart, but it's my head and basic math that tell me that in our interconnected society, by helping one, we can help all.
For the last 10 years, the so-called "job creators" have enjoyed significant tax cuts and tax breaks – thanks to a beneficent government – and we have yet to see the jobs.
Perhaps the corporate titans should take a tip from one of their own, Henry Ford, founder of the Ford Motor Co. One of the richest men in the nation, but hardly a soft-hearted liberal, Ford doubled his employees' wages in 1914, paying them enough to actually afford the cars they were making.
Truth is, Ford knew he didn't have to make a false choice between being a good businessman or a benevolent soul. He paid his employees a living wage because it was the shrewd thing to do, knowing that workers who have money spend money, and that helped ensure everyone's well being, including Henry Ford's.
Imagine the impact on today's gross domestic product if millions of low-wage working Americans, who got short-term help from a social service program with long-range goals, started earning a few more extra dollars. Like Ford's workers, I bet they'd spend it.
My organization, NETWORK, founded by Catholic Sisters 40 years ago, lobbies Congress for economic justice. Over the summer, we crisscrossed the country on a mission – dubbed "Nuns on the Bus" – to make elected officials aware of the danger in further enriching the wealthiest Americans at the expense of struggling, impoverished families.
Our "Faithful Budget" calls for supporting public transit, job training, affordable housing near work – the sorts of programs that increase productivity and engagement in the economy.
Ultimately, we need to pay living wages so far fewer working people rely on safety nets. But until that happens, the richest country on earth has enough loaves and fishes for all. It's both compassionate and pragmatic to make sure that low-wage workers and their families eat, have places to live, and access to basic healthcare services to be productive members in our economy.
When it comes to the debate before us, if enough voices of reason speak out – and both sides offer up something to sacrifice without harming people in need – we can all join together to help save both our nation's fiscal security and its benevolent soul.
The opinions expressed in this commentary are solely those of Simone Campbell.