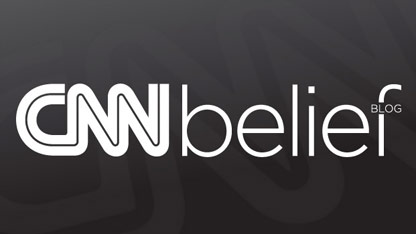 By Arielle Hawkins, CNN
Here's the Belief Blog's morning rundown of the top faith-angle stories from around the United States and around the world. Click the headlines for the full stories.
From the Blog: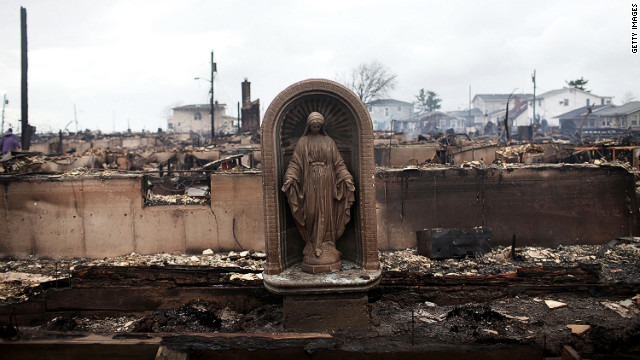 A Virgin Mary statue stands in the Breezy Point neighborhood of Queens, New York, after Superstorm Sandy destroyed at least 80 homes.
CNN: Survey: One in three Americans see extreme weather as a sign of biblical end times
More than a third of Americans see recent extreme weather as a sign that the world is in biblical "end times," according to a survey released Thursday. Thirty-six percent of Americans say that the severity of recent natural disasters indicate that we are at the precipice of Jesus' second coming and the end of the world, according to the survey, released by Public Religion Research Institute. The survey found that 15% of Americans believe the world will end, as predicated in the book of Revelation, in their lifetime.
CNN:#AskPontifex: Twitter questions for the pope touch on faith, sex scandal and lunch
Pope Benedict XVI's first tweet from his new personal Twitter account on Wednesday was simple: "Dear friends, I am pleased to get in touch with you through Twitter. Thank you for your generous response. I bless all of you from my heart." But the social media response to the pope's first day of active tweeting has been anything but straightforward. The pope's Twitter account quickly swelled to over a million followers and tweets about @pontifex – meaning "bridge builder" – swirled around the Internet. Thousands of the pontiff's Twitter followers replied to his message, which was retweeted more than 50,000 times.
Tweet of the Day:
[tweet https://twitter.com/RickWarren/status/279255855453597696%5D
Belief on TV:
Photos of the Day

Photo credit: Jonathan Nackstrand/AFP/Getty Images
Swedish children take part in a Lucia concert in a church at the open air museum of Skansen on December 13, 2012 in Stockholm. On December 13, Sweden, Estonia, Denmark, Norway, and Finland, celebrate Saint Lucia, a celebration of light that sees every school and day care picking one Lucia. Concerts with choirs of children dressed in white dresses and holding candles are typical.
Enlightening Reads:
Reuters: Ten Commandments join Isaac Newton's notes online
A copy of The Ten Commandments dating back two millennia and the earliest written Gaelic are just two of a number of incredibly rare manuscripts now freely available online to the world as part of a Cambridge University digital project. The Nash Papyrus - one of the oldest known manuscripts containing text from the Hebrew Bible - has become one of the latest treasures of humanity to join Isaac Newton's notebooks, the Nuremberg Chronicle and other rare texts as part of the Cambridge Digital Library, the university said on Wednesday.
Religion News Service: Fate of accused abusive pastor in the hands of his flock
The Rev. Travis Smith paced First Baptist Church's sanctuary while addressing his congregation about forgiveness. Since Smith's arrest in October on sexual abuse and statutory rape charges, which follow similar allegations from 2010, forgiveness from his congregation has become critical to his survival as its pastor. It is this group of about 100 souls — not a bishop, nor a disciplinary committee nor national church leaders — who will decide Smith's future in the Southern Baptist Convention. Unlike members of many denominations — such as Catholics, Lutherans, Methodists, Episcopalian and Presbyterians — Southern Baptists don't conform to a centralized, hierarchical structure.
Huffington Post: End Of World 2012: Mayan 'Doomsday' Part Of Long-Standing Interest In End Times, Apocalypse
Lonny Sundvall doesn't know what will happen on Dec. 21, but he's ready for the worst. He's amassed a year's worth of canned and dry food, dozens of gallons of water, hundreds of water purification tablets, and a small cache of weapons in a old U-Haul truck outside his western Oregon home in preparation for "doomsday," the end-times scenario based upon the ancient Mayan calendar hitting a symbolic turning point this month.
JTA: Jordan warns Israeli tourists on Jewish symbols
The Jordanian tourism ministry warned Israelis not to wear Jewish symbols when visiting the country. The ministry also suggested that visitors to Jordan not perform any Jewish rituals there. In June, six Israeli tourists were assaulted in a southern Jordan market because they were wearing kippot.
New York Times: Secularism in Search of a Nation
In 1976, India made an amendment to its Constitution that inserted the word "secular" to describe the great republic. It was a national aspiration and still is, and is glorified as a national characteristic, which it is not from the evidence in plain sight. By "secular," India did not mean that it was atheistic or agnostic or that it rejected all religious practices. By "secular," the people who framed the amendment meant that in India all faiths are accepted, and that Indians are expected to tolerate all religions. Every Indian has grown up listening to the idea of India as a "secular" republic. It is a ceaseless background hum, like all moral lessons. One cannot escape its persistence.
Religion News service: Atheists find holiday refuge in Ha Ha Heathens comedy show
It's just another night of stand-up at the Punch Line, the comedy club where Robin Williams, Dana Carvey, Ellen DeGeneres and other luminaries of laughter got their start. Then, to applause and laughter, Jesus takes the microphone. "Man, this is weird for me too," says comedian Matt Gubser, his long brown hair flowing freely over a white robe, scarlet sash and a pair of shower shoes. "To be in a room where I don't recognize a single person. And you call yourself a Christian nation." Welcome to "Holiday Heathens," a December comedy show staged by Ha Ha Heathens, a comedy group featuring humor by atheists for atheists.
Join the conversation…
CNN: Police charge man with throwing chemical at rabbi
New York police have arrested a man for throwing a chemical, believed to be bleach, on a rabbi who advocates for sexual abuse victims. Meilech Schnitzler, 36, turned himself in to police Wednesday and was charged with assault, menacing, criminal mischief, and criminal possession of a weapon. He is accused of attacking Rabbi Nuchem Rosenberg in Brooklyn's tightknit Orthodox Jewish neighborhood of Williamsburg on Tuesday. Schnitzler allegedly threw a chemical on Rosenberg's face, causing his eyes and face to burn. Rosenberg runs a website and telephone call-in line that publicizes claims of sexual abuse in the Hasidic community, and he believes this attack was an attempt to "silence" him, according to Abe George, the rabbi's attorney.