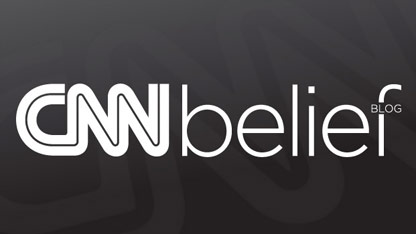 By Arielle Hawkins, CNN
Here's the Belief Blog's morning rundown of the top faith-angle stories from around the United States and around the world. Click the headlines for the full stories.
From the Blog: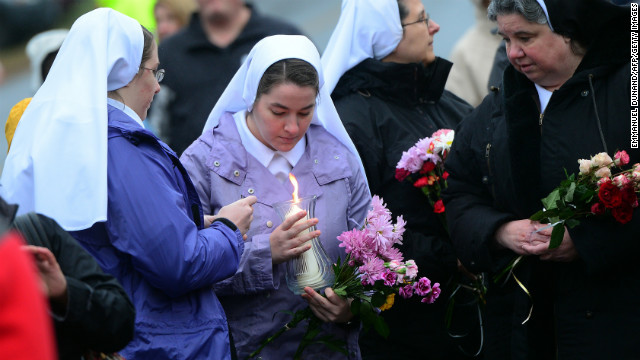 Nuns pay their respects at a makeshift memorial to the victims on December 16.
CNN: Massacre of children leaves many asking, 'Where's God?'
As he waited with parents who feared that their kids were among the 20 children killed at a Connecticut elementary school on Friday, Rabbi Shaul Praver said the main thing he could do for parents was to merely be present. From the first moments after Friday's massacre, which also left six adults and the shooter dead, religious leaders were among the first people to whom worried and grieving families turned for help. Over the weekend, countless more Americans will look to clergy as they struggle to process a tragedy in which so many of the victims were children.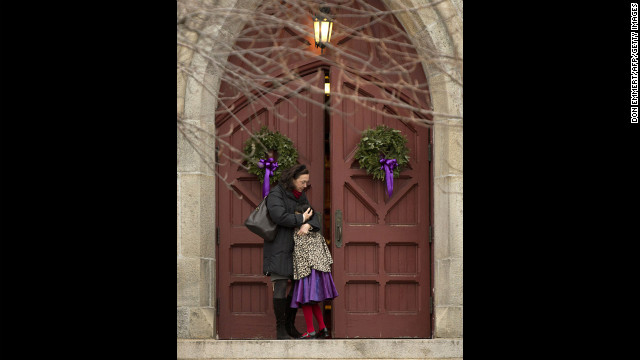 CNN: God will 'wrestle the light from darkness,' pastor tells heartbroken congregation
The bulletins were printed on Thursday for the third Sunday of Advent for Trinity Episcopal Church in Newtown. There was no mention of Friday in the pages' long order for worship. By Sunday morning, the church was hosting its fourth service since the shooting at Sandy Hook Elementary, and the sanctuary had been open for 72 straight hours keeping vigil. Speaking to a crowd still raw and still suffering, Pastor Kathleen Adams-Sheperd told them of the sermon she had prepared and how it was long gone, asking them to be patient with her as she preached with no notes.
CNN: National Cathedral dean: Let's 'mobilize the faith community for gun control'
On the first Sunday after the school shooting in Newtown, Connecticut, the Rev. Gary Hall of the Washington National Cathedral called on religious communities to take a stance against gun violence. "The Christian community, indeed, the entire American faith community, can no longer tolerate this persisting and escalating gun violence against our people. Enough is enough," said Hall, who is the dean of the cathedral.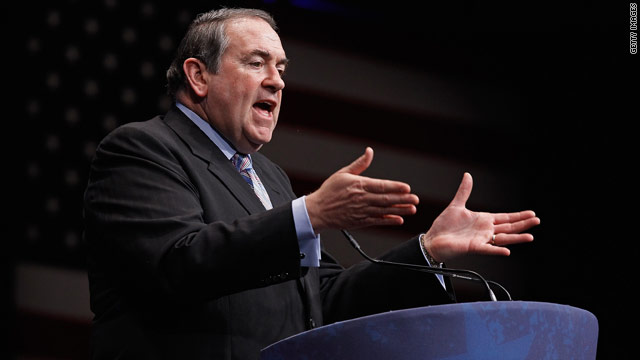 CNN: Huckabee: Lack of religion in classroom leads to violence in schools
Responding to the deadly mass shooting Friday in Newtown, Connecticut, former Arkansas Gov. Mike Huckabee said new laws regulating guns won't deter such shootings, linking a lack of religious discussion in the classroom to increased violence in schools.
Tweet of the Day:
[tweet https://twitter.com/SteveChalke/status/280578679137001472%5D
Belief on TV:
Photo of the Day:

Photo credit: Essdras M Suarez/The Boston Globe via Getty Images
A group of Sikh men were among those came to Newtown to attend an interfaith service at Newtown High School on December 16, 2012 which was also attended by President Barack Obama. The service was held two days after gunman Ryan Lanza walked into Sandy Hook Elementary School in Newtown, Conn. and opened fire killing 20 children and several adults on December 14, 2012.
Enlightening Reads:
The Times of Israel: Newtown: twenty grieving Hannahs
Today my county, my state and my country are in a state of deep shock, following the massacre at Newtown. For a rabbi, especially one living in such close proximity to the murders, it has been reminiscent of the days following 9/11, when we had to discard all our Rosh Hashanah sermons and sift timeless messages through the filter of what suddenly was a very different world. That's what I faced as Shabbat approached on Friday. How could I somehow find a message to convey that would filter Hanukkah through the horrors of Newtown. I immediately thought of the grief of Hannah.
Religion News Service: At Christmas, the babe in the manger isn't always white
When the Rev. Kip Banks' family pulls out its nativity scene each Christmas, the African features of the baby Jesus provide lessons on both the Bible and self-esteem. Banks' 8-year-old son, Kip Jr., has told his father that the Christ child is both "black and white." His father gently corrects him, telling him that the gospel story of Mary and Joseph's flight into Egypt with their young son shows that Jesus couldn't have been white. "If Jesus was white, with blond hair and blue eyes, then he'd have a very hard time hiding in Egypt," said Banks, the father of three and the minister of public policy for the Washington-based Progressive National Baptist Convention.
Catholic News Agency: France's new monitoring policy deemed religious liberty threat
Religious freedom experts are decrying a recent announcement by the French government that it will deport and dissolve groups that are labeled extreme and appear to suffer from "religious pathology." "It is a gross violation, in fact a negation, of basic religious freedom for the state to determine which religious beliefs are mainstream and which are radical for the purposes of banning the latter," said Nina Shea, director of the Hudson Institute's Center for Religious Freedom in Washington, D.C.
JTA: At White House, Chanukah's light comes from Sandy-ravaged shul's menorah
It has become something of a White House Chanukah tradition. For the second time, the Obama White House used a menorah from a hurricane-hit region to mark the holiday. This Chanukah, Rabbi David Bauman brought to the White House one of two 90-year-old menorahs that survived when Hurricane Sandy ravaged Temple Israel in Long Beach, N.Y. The menorah used in 2010 at the White House was from a New Orleans synagogue hit by Hurricane Katrina.
Quote of the Day:
To all the families, first responders, to the community of Newtown, clergy, guests - Scripture tells us: "…do not lose heart. Though outwardly we are wasting away…inwardly we are being renewed day by day. For our light and momentary troubles are achieving for us an eternal glory that far outweighs them all. So we fix our eyes not on what is seen, but on what is unseen, since what is seen is temporary, but what is unseen is eternal. For we know that if the earthly tent we live in is destroyed, we have a building from God, an eternal house in heaven, not built by human hands."...

... Here in Newtown, I come to offer the love and prayers of a nation. I am very mindful that mere words cannot match the depths of your sorrow, nor can they heal your wounded hearts. I can only hope it helps for you to know that you're not alone in your grief; that our world too has been torn apart; that all across this land of ours, we have wept with you, we've pulled our children tight. And you must know that whatever measure of comfort we can provide, we will provide; whatever portion of sadness that we can share with you to ease this heavy load, we will gladly bear it. Newtown - you are not alone.
– – President Barack Obama at the vigil in Newtown, Connecticut honoring the victims of the Sandy Hook Elementary shooting.
Join the conversation…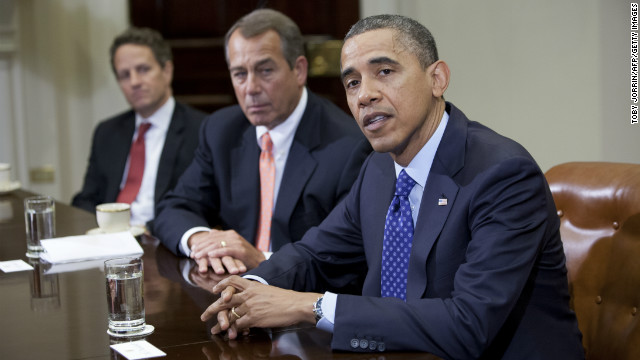 CNN: My Take: Fiscal cliff presents false choice between compassion, good economics
Sister Simone Campbell, Executive Director of the Catholic social justice lobby NETWORK and leader of the "Nuns on the Bus" says that when it comes to matters regarding the fiscal cliff Americans are "confronted with arguments framed as a hard, false choice between sound economic policies and social programs, between fiscal realities and compassionate acts."