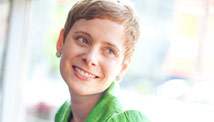 Editor's note: Margaret Feinberg is a popular speaker and author of numerous books, including "Wonderstruck: Awaken to the Nearness of God," which releases on Christmas Day. Follow her on Twitter @mafeinberg.
By Margaret Feinberg, Special to CNN
Why, God, why? Why do you allow the horror of the shooting at Sandy Hook Elementary School?
Why do you allow the loss, pain, terror, heartache and death? Why do you allow evil to triumph and innocence to be stripped away? Is this kind of evil stoppable? And do we have some role to play?
In the wake of so many unanswered questions, what kinds of questions do we really need to be asking? Are you cajoling us to ask how we can prevent this from happening again? Is the answer found in gun regulations, better security or deeper changes in our own hearts and lives?
Does preventing these kinds of crimes actually begin with us? If we had more compassion on those on the margins - those who wrestle with the demons of mental illness and social exile, who may be pondering violent acts at this very moment - can we prevent this horror from happening again?
My Take: Obama's Newtown remarks show pastor-in-chief
Are you prompting us to search our own lives and hearts to identify who we need to recognize that we've overlooked? In our families? Neighborhoods? Schools? Workplaces? Communities? Retirement homes?
Who are the kids and adults being shoved to the sidelines of life on whom we need to extend compassion? Where have our arms been too short, our hearts too closed to embrace?
Is this a potent reminder that our call is to be more sensitive to those who feel unloved, marginalized, shunned from our society? Are you awakening us to the fact that we all play a role in these matters?
Follow the CNN Belief Blog on Twitter
Have we helped create troubled souls like Arizona gunman Jared Loughner, Colorado gunman James Holmes and now Connecticut gunman Adam Lanza through our failure to extend kindness to those who need it most?
What are the words we need to learn to say not just with our mouths but our actions? Are you challenging us to express, "I love you!";  "You matter!"; "You're good at that!"; "We're glad you're here!";  "Want to join us?" or something more?
Will you grace us with the courage to extend a love we do not have on our own?
Why does it seem that before we can change, we need to encounter you? Will you give us eyes to see those who feel invisible, ears to hear their cries for help and hearts broken for victims who prey on victims?
CNN's Belief Blog: The faith angles behind the biggest stories
How can we reflect you and your love during this difficult time? Will you pour out your grace, strength and love on those who have lost so much? Will you wrap your arms around them? Will you be with them in a tangible way?
Will you give them unexplainable peace? Will you do something miraculous? Will you unleash your redemption and restoration in this situation? Will you take prayers we've offered this week and make them habits of our hearts?
Will you do what only you can do, and take our breaths away again? Will you astound us with the wonder of who you are in the midst of that which makes no sense? Will you draw us all closer to you and to each other through this time?
In the wake of your love, will you teach us what better questions we need to ask and how we need to respond? Will you help us, oh Lord? Will you let it be so? Amen.

The opinions expressed in this commentary are solely those of Margaret Feinberg.