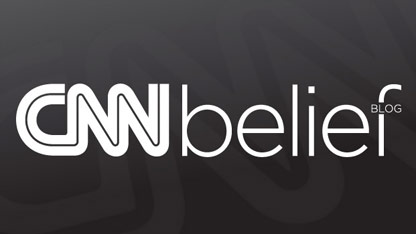 By Arielle Hawkins, CNN
Here's the Belief Blog's morning rundown of the top faith-angle stories from around the United States and around the world. Click the headlines for the full stories.
From the Blog: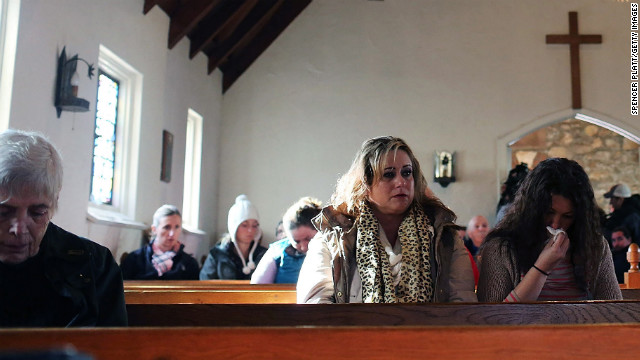 People attend a prayer service in Newtown on Saturday to reflect.
CNN: My Take: Praying for questions about Newtown that go beyond 'Why, God?'
Margaret Feinberg, a popular speaker and author of numerous books, stops asking why the tragic shooting in Newtown, Connecticut happened and starts asking God how to prevent a similar tragedy from happening.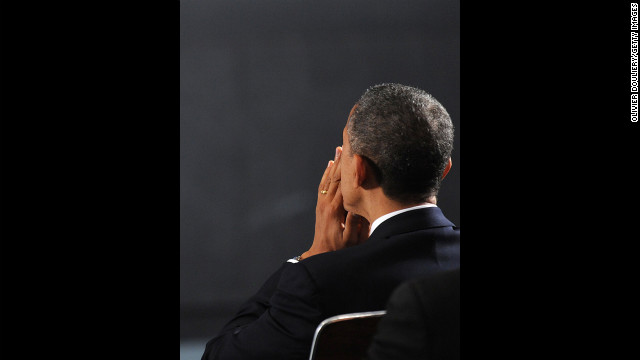 CNN: My Take: Obama's Newtown remarks show presidents as pastors in chief
Stephen Prothero, an author and Boston University religion scholar, says President Barack Obama was "a pastor among pastors" as he recited scripture and inspirational quotes to comfort the people of Newtown at Sunday's interfaith memorial service.
Tweet of the Day:
[tweet https://twitter.com/RickWarren/status/280827597477277697%5D
Photos of the Day:

Photo credit: NARINDER NANU/AFP/Getty Images
Contestants display traditional Sikh wedding groom attire during the Mr. Singh International Turban Pride 2012 Fashion Show in Amritsar late December 16, 2012. A total of 26 contestants participated in the event in the northern Indian city.
Enlightening Reads:
The Pew Forum on Religion and Public Life: The Global Religious Landscape
Worldwide, more than eight-in-ten people identify with a religious group. A comprehensive demographic study of more than 230 countries and territories conducted by the Pew Research Center's Forum on Religion & Public Life estimates that there are 5.8 billion religiously affiliated adults and children around the globe, representing 84% of the 2010 world population of 6.9 billion. The demographic study – based on analysis of more than 2,500 censuses, surveys and population registers – finds 2.2 billion Christians (32% of the world's population), 1.6 billion Muslims (23%), 1 billion Hindus (15%), nearly 500 million Buddhists (7%) and 14 million Jews (0.2%) around the world as of 2010.
Religion News Service: Fred Phelps' son condemns Westboro's plan to picket Newtown funerals
The estranged son of a Kansas pastor famous for protesting the funerals of soldiers and AIDS victims has condemned his family's plans to picket the funerals of the 26 people — including 20 children — who were killed when a gunman stormed a Connecticut elementary school. In the wake of Friday's massacre in Newtown, Conn., members of Westboro Baptist Church in Topeka, Kan., posted Twitter messages saying they would picket outside Sandy Hook Elementary School in Newtown. The messages provided no information on the time of the planned picketing. Church members also released a video titled "God Sent the Shooter," in which members state that the shootings were God's retribution for gay marriage.
The Guardian: Female bishop row deepens as priest refuses promotion in protest
The Church of England's split over female bishops has deepened after a traditionalist clergyman announced he was not taking up his post as a bishop following protests over his opposition to women in the ministry. Father Philip North, who is team rector at the parish of Old St Pancras in north London, said that local reservations over his appointment — and the divisions exacerbated by last month's General Synod vote against female bishops — meant it would be impossible for him to be "a focus for unity" as bishop of Whitby.
Catholic News Agency: Domino's founder sues over contraception mandate
Tom Monaghan, the founder and former owner of Domino's Pizza, is suing the federal government over a controversial mandate that requires him to violate his Catholic faith in his business decisions. The lawsuit described the contraception mandate as "an unprecedented despoiling of religious rights" that both "attacks and desecrates a foremost tenet of the Catholic Church."
The Washington Post: In wake of Newtown massacre, love more important than explanations
What is most needed in the wake of the Newtown massacre? How do we explain what happened, to ourselves and to our children? Where was God when 20 children and six adults were being gunned down? How should we react as a nation in light of these horrific events? These and similar questions are the ones I have been asked almost nonstop for the past 48 hours. Many of us feel that we are drowning in pain and confusion about Friday's events, and that is why we lose sight of what is really most needed at this moment. This moment demands compassion and love more than it does analysis and explanation.
Quote of the Day
I assure the families of the victims, especially those who lost a child, of my closeness in prayer. May the God of consolation touch their hearts and ease their pain.
- Pope Benedict XVI offered his condolences and prayers to the people of Newtown, Connecticut.
Join the conversation…
CNN: Massacre of children leaves many asking, 'Where's God?'
As he waited with parents who feared that their kids were among the 20 children killed at a Connecticut elementary school on Friday, Rabbi Shaul Praver said the main thing he could do for parents was to merely be present. "It's a terrible thing, families waiting to find out if their children made it out alive," said Praver, who leads a synagogue in Newtown, Connecticut, and was among nine clergy gathered with parents at a firehouse near Sandy Hook Elementary School, where the shooting occurred. "They're going to need a lot of help," Praver said of those who are close to the dead.