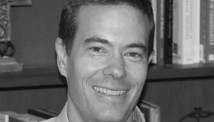 Editor's note: Adam C. English is author of "The Saint Who Would Be Santa Claus: The True Life and Trials of St. Nicholas of Myra" (Baylor University Press, 2012) and associate professor of religion at Campbell University.
By Adam C. English, Special to CNN

Four years ago, I embarked on a quest to discover the truth about Santa Claus and the original St. Nicholas. My search took me many places, sending me finally across the Atlantic to Bari, on Italy's Adriatic coast.
The old town of Bari is a brambly, medieval maze of streets and alleyways that cross and crisscross. It is said that the city was intentionally constructed in a topsy-turvy way so that anyone trying to raid it would get swallowed and lost in its labyrinth. If you keep wandering, though, eventually you pop out onto a plaza and see the Basilica di San Nicola.
And there, in a gray tomb, lies the "real" Santa Claus. The basilica housing that tomb dates to the 11th century. You can go into the basilica and pray, rest or just gawk, but the real show lies below.