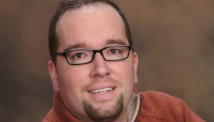 Editor's note: Daniel Darling is a pastor, author and speaker in the Chicago area. His latest book is "Real: Owning Your Christian Faith." He tweets at @dandarling.
By Daniel Darling, Special to CNN
(CNN) - The Bible doesn't clearly express an opinion on the possession of guns, but many evangelicals defend the unlimited distribution of firearms with the same fervor that they defend biblical orthodoxy. According to a recent Public Religion Research Institute survey, 8% of white evangelical Protestants favor tighter gun laws.
But in the wake of yet another deadly school shooting, it's time for evangelicals to contribute to the national discussion beyond: "It's not guns that kill people, it's people that kill people."
In fairness to gun enthusiasts, no reasonable observer could pin the blame for the Sandy Hook Elementary School shooting solely on the lack of effective gun laws. Even President Barack Obama and other influential voices have called for a balanced approach that looks not only at guns but also at mental illness, violent video games and a culture of fatherlessness that produces young troubled men. And the research about the effectiveness of gun controls laws seems mixed at best.
Still evangelicals should not defend the use, proliferation and availability of assault weapons with as much vigor as they defend their faith. In spite of some who insist the Second Amendment is drawn from the Bible, there is no clear-cut Christian position on gun control.
CNN's Belief Blog: The faith angles behind the biggest stories
On one level, the Bible affirms the government's first and most basic job to protect its citizens, especially the most vulnerable, our children. Romans 13 reminds us that government is "God's servant for our good." The Bible also gives high priority to the welfare of children.
At times, the Bible seems to affirm the right to self-defense. Even when Jesus famously told Peter to put down his sword during Jesus' arrest in the Garden of Gethsemane, he didn't tell Peter to destroy the sword but put it in its rightful place.
On the other hand, the Scripture is pretty clear that Christians should not only oppose violence but should be advocates for the sanctity of human life. This doesn't simply apply to abortion but to any unlawful taking of human life. Advocating for life also includes taking care of children's and others' well-being after they are born. Each life is created in the image of God; therefore, death is the work of the evil one (1 John 3:15). The Apostle Paul labels death God's final enemy. Christians are also called to be "peacemakers" and not lovers of violence.
Given the lack of a straightforward biblical imperative for or against guns, faithful followers of Christ should be more flexible in their opinions on this issue.
Why can't we support sensible restrictions, such as a ban on military-style combat weapons? These weapons seem to serve no purpose other than the glorification of violence. If we take seriously the command to protect our children, we'll avoid the risk of these weapons getting into the hands of unstable people. Sure, a ban won't eliminate all weapons, especially those purchased illegally, but it may reduce the chance of another Sandy Hook massacre.
Massacre of children leaves many asking, 'Where's God?'
We also should also advocate making it harder for people to acquire guns, even sensible weapons purchased for self-defense or hunting. Gun ownership should be a privilege earned by good behavior and conferred only on the most trustworthy of our citizens. I think we can do this without disrespecting the Second Amendment, which besides guaranteeing the right to bear arms calls for this right to be "well-regulated." As blogger Marty Duren says, "While the Second Amendment provides the right to keep and bear ("carry") arms, it does not necessitate the right to own any armament the mind of man can create."
New gun laws won't prevent every future crime, but perhaps a few common-sense regulations would help destroy a culture of violence that so tempts young troubled men.
Some will argue that new restrictions only hurt those who are already law-abiding. This may be so. But as Christians called to care for the common good of our communities, we should be willing to endure the inconvenience if it saves one child from death.  Since 9/11, we have all endured more hassle at the airport to prevent even one terrorist from killing our fellow citizens.
Follow the CNN Belief Blog on Twitter
Followers of Christ know that it is ultimately not the gun that kills, but evil that resides in every human heart. And yet it is precisely this belief in total depravity that might inform our views on gun control. In a fallen world, the most vulnerable among us need protection from those who cannot or will not discern right from wrong. (Ironically, this is the focus of the Christian anti-abortion argument.) Let's not put instruments of death so close to hands that would do evil.
At the end of the day, living out our faith requires that we do more than simply react in a defensive posture but engage in this important debate. We can protect the cherished right to bear arms in self-defense and still make sure unnecessary and violent weapons are not sold on our store shelves and online and are not accessible by those in our communities who would use them to commit acts of aggression and murder.
Furthermore, an unwillingness to entertain common-sense restrictions casts the evangelical faith in an unnecessarily unfavorable light. It may cause some to think we love our guns more than our neighbors.
There are many things about which Christians should be unyielding; the right to own a killing machine should not be one of them.
The opinions expressed in this commentary are solely those of Daniel Darling.