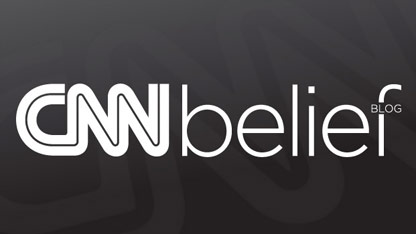 By Arielle Hawkins, CNN
Here's the Belief Blog's morning rundown of the top faith-angle stories from around the United States and around the world. Click the headlines for the full stories.
From the Blog: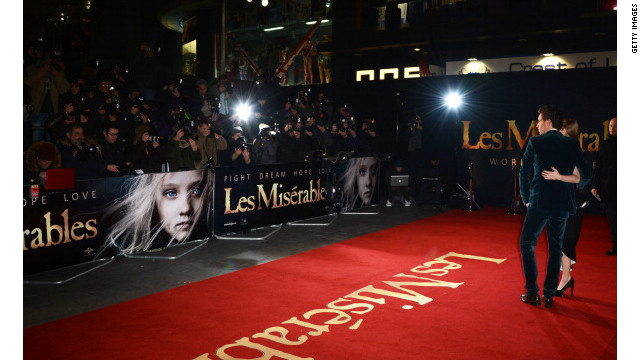 CNN: Targeting 'Les Miserables' to Christians pays off at the box office
In spite of tepid reviews from some film critics, "Les Miserables" is booming at the box office, and that financial success can in part be traced to a group of its biggest boosters: Christians, particularly evangelicals whom NBC Universal went after with a microtargeted marketing strategy. The story in "Les Miserables" is heavy with Christian themes of grace, mercy and redemption. The line everyone seems to remember is "to love another person is to see the face of God."
CNN: 'Jesus Wife' fragment gets more testing, delays article
One of the most anticipated articles in religion circles will be absent from the pages of the January edition of the Harvard Theological Review. Harvard Divinity School professor Karen King's final article on the "Jesus wife" fragment did not make the scholarly journal because further testing on the Coptic papyrus fragment has not been finished.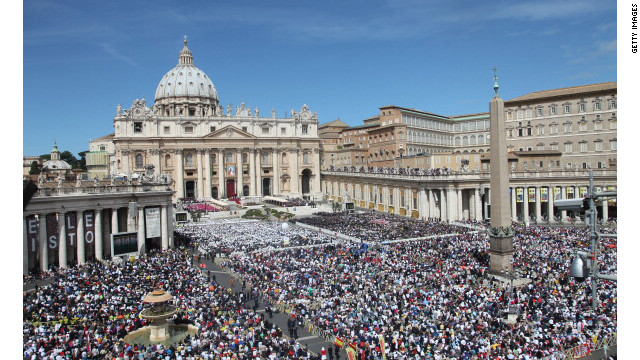 St. Peter's Square at the Vatican.
Financial Times: Crisis of faith over Vatican cash machines
A stand-off between two titans of finance, the Bank of Italy and the Vatican, has forced tourists to abandon their visits to the Sistine Chapel – unless they have cash in their pockets. Italy's central bank has blocked all electronic payments through cash machines and by credit cards in Vatican City following the world's smallest state's failure to fully comply with international anti-money laundering rules.
Tweet of the Day:
[tweet https://twitter.com/MuslimIQ/status/287058794503106560%5D
Photos of the Day: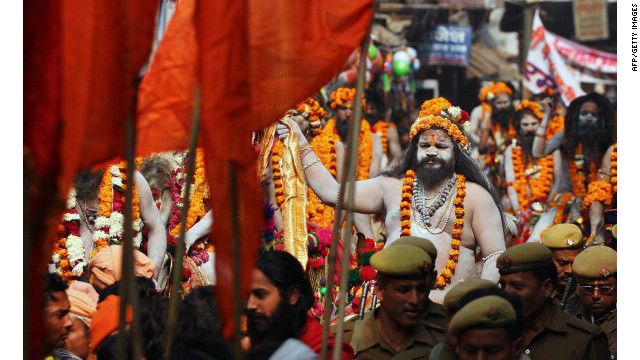 Indian Hindu Saddhus (holy men) participate in a religion procession as the first 'royal entry' for the Kumbh Mela at Sangam in Allahabad on January 3, 2013. The Kumbh Mela, which is scheduled to take place in the northern Indian city in January and February 2013, is the world's largest gathering of people for a religious purpose and millions of people gather for this auspicious occasion.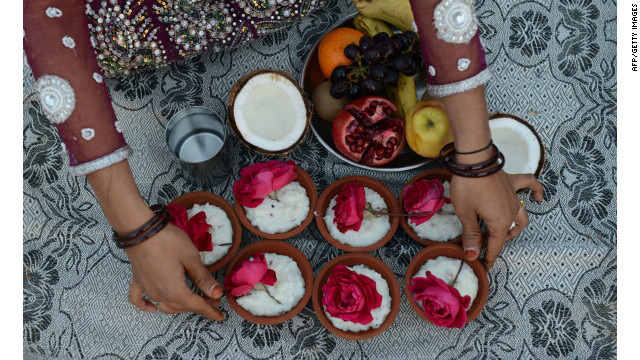 Indian Muslims prepare kheer, a traditional rice pudding dessert, for devotees observing 'Muhorram Ka Chalisa', which marks forty days after Moharram, on the banks of the Sabarmati river in Ahmedabad on January 3, 2013. Thousands of Muslims thronged the Sabarmati river bank near Khanpur Gate in Ahmedabad to mark the occasion.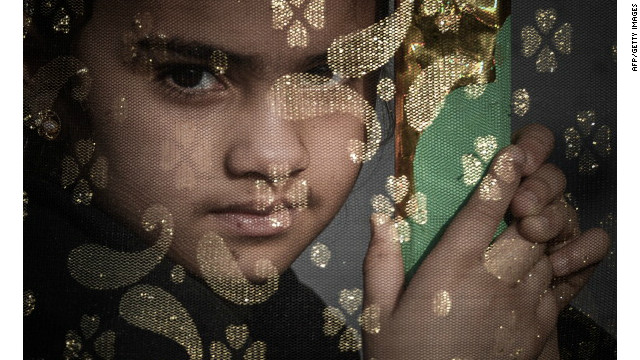 A Bahraini Shiite Muslims girl watches the Arbaeen religious festival from a window in the village of Sanabis, west of Manama, on January 3, 2013. Arbaeen marks the 40th day after Ashura, commemorating the seventh century killing of Prophet Mohammed's grandson, Imam Hussein.
Enlightening Reads:
Religion News Service: Faith leaders want Americans to pray for collegiality
At a time when the ideals of compromise and collegiality seem like a distant dream in the nation's capital, an unusually diverse coalition of religious leaders is asking Americans to pray for civility. "Through daily prayer, we are calling on the 'better angels of our nature' needed to sustain our nation and solve problems," said the Rev. Peg Chemberlin, immediate past president of the National Council of Churches and one of the faith leaders taking part in "18 days of Prayer for the Nation." Prayers begin Thursday (Jan. 3), the first day of the new Congress, and end on Jan. 21, the day of President Obama's second inauguration.
Catholic News Agency: Catholic dorms to debut at two secular universities
The Newman Student Housing Fund is working to establish faith-based dormitories on two college campuses, housing students starting the fall semester of 2013. "We're just putting people together in a dorm who are faith-based, and want to keep their faith through college," Matt Zerrusen, president of Newman Student Housing Fund, told CNA Jan. 2. "We're just putting them in an environment to succeed." Florida Institute of Technology and Texas A&M University – Kingsville, both secular universities, will offer student housing coupled with campus ministry for Catholics next academic year.
Haaretz: Muslim Brotherhood deputy chief calls for the return of Jews to Egypt
Dr. Essam al-Erian, deputy chief of the Brotherhood's Freedom and Justice Party, called on Thursday for Egyptian Jews who immigrated to Israel to return home. In an interview with Egyptian network Dream TV interview, al-Erian said: "Why did Gamal Abdel Nasser have to expel them from Egypt? They consequently participated in occupying Arab lands." He added that Egypt has no right to prevent the return of any Egyptian, and that the Jews could have their property back. This way, he said, "they will make room for the Palestinians, since the Palestinians' right of return is indisputable and no one can cancel it."
NYT: Children, Choosing Their Religion
The fastest-growing religious affiliation in the United States is no religion at all. That has meant an increase in parents raising their children outside of the community provided by a church or synagogue. In "Losing Our Religion," Katherine Ozment (raised Protestant, but with a husband raised Jewish) traces her journey through explorations of secular humanism and Unitarian Universalists to an ultimate acceptance that while she and her husband may have been successfully raised in their respective religions, their children didn't need to have the same experience. But it's a rueful acceptance — and that rue is unnecessary. There's nothing wrong with raising children outside of a religious tradition, and that upbringing doesn't preclude them from being part of a community or later finding a community of their own.
The Christian Post: The Atheist 'Church' to Host Godless Sunday Gatherings in London
Two British comedians have announced their plan to start an atheist "church," known as The Sunday Assembly, to be offered for free once a month in London." We thought it would be a shame not to enjoy the good stuff about religion, like the sense of community, just because of a theological disagreement," said Sanderson Jones, a stand-up comedian who hatched the idea for the "church" with fellow comedienne Pippa Evans.
Join the conversation…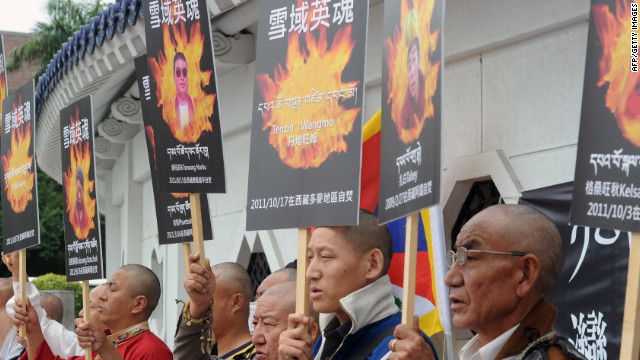 Tibetans at a protest in Taipei in 2011 display portraits of people who killed themselves by self-immolation.
CNN: My Take: Blood on Chinese hands in Tibetan self-immolations
Stephen Prothero, a Boston University religion scholar, wrote an article for the Belief Blog last summer criticizing the Dalai Lama for not speaking out against the increase in Tibetan self-immolations protesting Chinese rule. His article was recently quoted by China Daily, an English-language newspaper and a mouthpiece of the Chinese government. Prothero now clarifies his position saying: "When I criticized the Dalai Lama for his silence on the self-immolations, I should have criticized the Chinese government even more forcefully, for carrying out a policy of cultural genocide in Tibet."