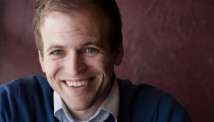 Editor's note: Johnnie Moore is the author of Dirty God (#DirtyGod). He is a professor of religion and vice president at Liberty University. Keep track of him @johnnieM .
By Johnnie Moore, Special to CNN
(CNN) - Jesus was a lot more like you than you think, and a lot less clean cut than this iconic image of him that floats around culture.
You know the image. It's the one where Jesus is walking like he's floating in robes of pristine white followed by birds singing some holy little ditty. He's polished, manicured, and clearly – God.
But despite the Christian belief that Jesus was both fully God and fully man, Jesus was a rather dirty God.
He was the "earthly" son of a carpenter, and life in the first-century was both more lurid and unfinished than our collective religious memory seems to recall.