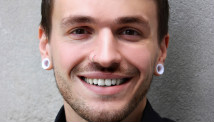 Editor's note: Chris Stedman is the author of "Faitheist: How an Atheist Found Common Ground with the Religious" and the assistant humanist chaplain at Harvard. You can follow him on Twitter at @ChrisDStedman.
By Chris Stedman, Special to CNN
(CNN)—This year, Congress welcomed the first Buddhist senator and first Hindu elected to either chamber of Congress, and the Pew Forum noted that this "gradual increase in religious diversity … mirrors trends in the country as a whole."
But Pew also noted one glaring deficiency: Religious "nones" were largely left outside the halls of Congress, despite one in five Americans now saying they don't affiliate with a religion.
There is, however, one newly elected "none" — but she seems to think "atheist" is a dirty word.
Rep. Kyrsten Sinema, D-Arizona, was sworn in a few days ago without a Bible, and she is the first member of Congress to openly describe her religious affiliation as "none." Although 10 other members don't specify a religious affiliation — up from six members in the previous Congress — Sinema is the only to officially declare "none."
This has gotten Sinema a fair amount of attention from the media. Many identified her as an atheist during her congressional campaign, and after she won, sources touted her as a nontheist. Even this past weekend, Politico declared in a headline: "Non-believers on rise in Congress."
Follow the CNN Belief Blog on Twitter
But there's a slight issue: Sinema doesn't actually appears to be a nonbeliever. In response to news stories identifying her as an atheist, her campaign released this statement shortly after her victory: "(Rep. Sinema) believes the terms non-theist, atheist or non-believer are not befitting of her life's work or personal character."
As a nontheist, atheist and nonbeliever (take your pick), I find this statement deeply problematic.
It is perfectly fine, of course, if Sinema isn't a nontheist, and it is understandable that she would want to clarify misinformation about her personal beliefs. But to say that these terms are "not befitting of her life's work or personal character" is offensive because it implies there is something unbefitting about the lives and characters of atheists or nonbelievers.
Christmas exposes atheist divide on dealing with religion
Try substituting a religious group of your choice in place of atheist if you don't agree: "[Rep. Sinema] believes the term Muslim is not befitting of her life's work or personal character." Does that sound right? It shouldn't.
Of course, many do view Muslims as unfit for political office. In that respect, political opponents have regularly misidentified President Obama as a Muslim. Many have defended the president from such attacks by noting that Obama is a Christian.
But former Republican Secretary of State Colin Powell rightly pointed out the pernicious underlying message such a defense sends:
The correct answer is: He is not a Muslim; he's a Christian. He's always been a Christian. But the really right answer is, 'What if he is? Is there something wrong with being a Muslim in this country?' The answer is 'No, that's not America.' Is there something wrong with some 7-year-old Muslim-American kid believing that he or she could be president?
Just as Muslim is used as a political smear, politicians seem to avoid "atheist."
This is probably because the American electorate views both Muslims and atheists more unfavorably than they do other groups: According to a Gallup poll released in June, only 58% of Americans would vote for a "generally well-qualified" Muslim candidate, and only 54% would vote for an atheist. (This is the first time that number has been above 50% for an atheist candidate.)  By contrast, 91% would vote for a Jewish candidate, 94% for a Catholic and 80% for a Mormon.
There seems to be a greater general tolerance for, or blindness to, comments that marginalize or diminish atheists than those aimed at other groups.
CNN's Belief Blog: The faith angles behind the biggest stories
Prominent individuals like Powell rightfully decry anti-Muslim fear-mongering in politics, but few speak out against those who wield accusations of atheism as a political weapon.
Whether people don't see it or simply aren't bothered isn't clear, but it remains a problem.
I respect Sinema's right to self-identify as she chooses, and I don't wish to speculate about her religious beliefs. But while I celebrate that she is comfortable enough to openly identify as bisexual, I find her response to being labeled an atheist troubling.
Why not instead say that she's not an atheist, but so what if she was?
The 113th Congress is rich with diversity. As an interfaith activist, I am glad to see the religious composition of Congress more closely reflect the diversity of America. As a queer person, I'm glad that LGBT Americans are seeing greater representation in Washington.
But as a proud atheist and humanist, I'm disheartened that the only member of Congress who openly identifies as nonreligious has forcefully distanced herself from atheism in a way that puts down those of us who do not believe in God.
We are Americans of good character, too.
The opinions expressed in this commentary are solely those of Chris Stedman.