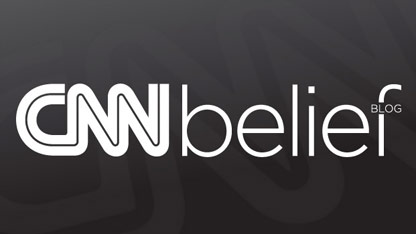 By Arielle Hawkins, CNN
Here's the Belief Blog's morning rundown of the top faith-angle stories from around the United States and around the world. Click the headlines for the full stories.
From the Blog:
CNN: Giglio bows out of inauguration over sermon on gays
In the face of withering criticism over a sermon he apparently delivered on homosexuality in the 1990s, the Rev. Louie Giglio has withdrawn from giving the benediction at President Barack Obama's inauguration. Giglio informed inauguration officials Thursday morning of his decision to withdraw from the ceremony, an inauguration official told CNN.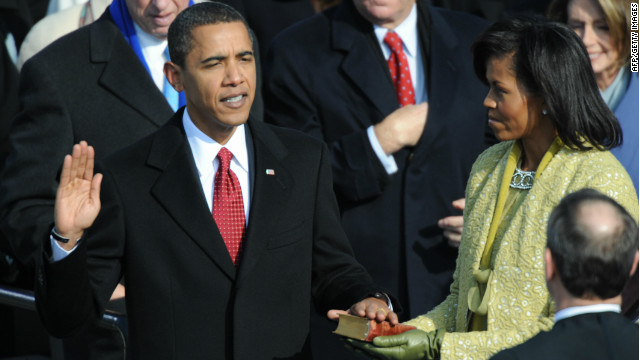 CNN: Obama to swear-in on a stack of historic Bibles
What do the 16th president, a civil rights leader, and Michelle Obama's grandmother have in common? Their Bibles will be used in the second inauguration of President Barack Obama. The Presidential Inaugural Committee (PIC) made the announcement on Thursday that Obama will take the oath of office on the Robinson family Bible on Sunday and on the Abraham Lincoln and Martin Luther King, Jr. Bibles on Monday.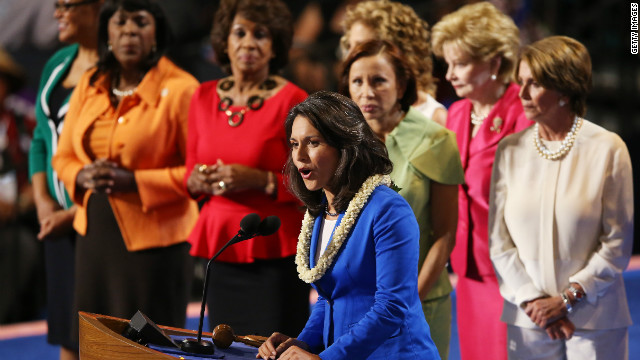 CNN: Expectations high for first Hindu member of Congress
Just days after Democratic Rep. Tulsi Gabbard of Hawaii was sworn in as the first Hindu member of Congress, Hindu American advocacy groups made it clear that they hope Gabbard will help represent the nation's wider Hindu community, on top of her Hawaiian constituents. Groups like the Hindu American Foundation and the Hare Krishna Society have lists of priorities they plan to present to Gabbard, making clear that expectations are high for the groundbreaking congresswoman.
CNN: Bucking previous trends, survey finds growth of the religiously unaffiliated slowing
After years of marked growth, the size of Americans who identify with no religion slowed in 2012, according to a study released Thursday. Since 2008, the percentage of Americans who identify as religious "nones" has grown from 14.6% to 17.8% in 2012, according to the Gallup survey. That number, which grew nearly one percentage point every year from 2008 to 2011, grew only 0.3% last year – from 17.5% in 2011 to 17.8% in 2012 – making it the smallest increase over the past five years. This study contrasts with headlines from previous studies on religious "nones," including a 2012 study by the Pew Forum on Religion and Public Life that found the group was the fastest growing "religious" group in America and that one in five Americans now identify with no religion.
Tweet of the Day:
[tweet https://twitter.com/HuffPostRelig/status/289484392072617984%5D
Photos of the Day: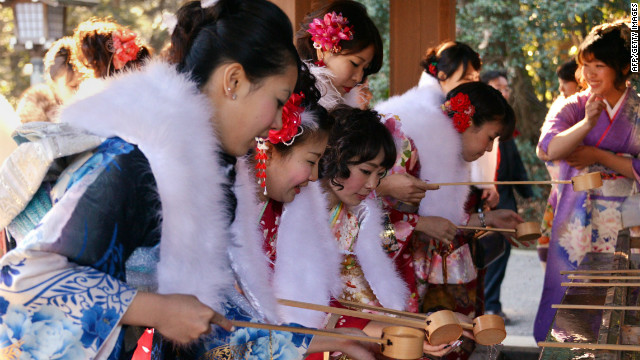 Mantu Das, 6, dressed as Hindu god Lord Shiva takes a nap at the Gangasagar temporary camp in Kolkata on January 10, 2013. Sadhus and Hindu pilgrims began to gather in Kolkata on their way to the annual Hindu holy festival Gangasagar Mela, where an expected hundred thousand Hindu pilgrims will gather at the Gangasagar to take a dip in the ocean at the confluence of the River Ganges and the Bay of Bengal, on the occasion of Makar Sankranti, a holy day of the Hindu calendar considered to be of great religious significance in Hindu mythology.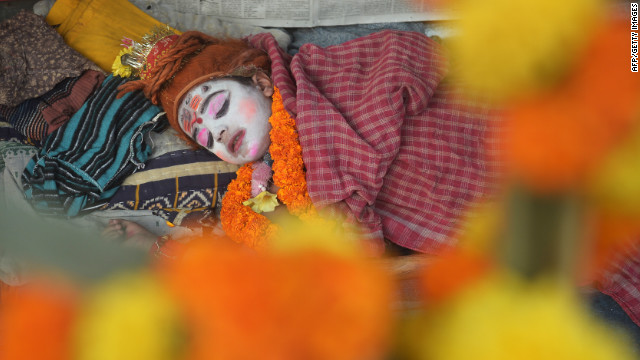 Twenty-year-old female tour guides dressed in traditional kimonos wash their mouths and hands at Tokyo's Meiji Shrine before attending a purification ceremony with a Shinto priest to celebrate Japan's Coming of Age Day on January 11, 2013. Since tour guides will be busy working on Japan's national holiday Coming-of-Age Day on January 14, the company had a ceremony for them ahead of time. Young people turning 20 are officially recognized as adults in Japan.
Enlightening Reads:
Salon: Who Obama should pick to replace Giglio
With Rev. Louie Giglio bowing out of giving the benediction at President Obama's second inaugural after his anti-gay sermons came to light, the question turns to who should be selected in his stead. A spokesperson for the Presidential Inaugural Committee confirmed that "there will be an effort to replace him," but declined to specify who it might be. With so little time left, we thought we'd offer some suggestions.
New York Times: Echoes of Prayer and People
After decades of photographing sacred sites around the world, Kenro Izu embarked on a personal photographic pilgrimage. He now does classic portraits of the faithful whose prayers and rituals give a special life to these holy places.
Religion News Service: Hungry Jews in America? Kosher food pantries report growing need
A 2011 survey of Jewish New Yorkers revealed that Jewish poverty has risen in the past decade and increased at a faster rate than poverty among other groups. One in five of the 1.7 million Jews in the New York area — the largest Jewish community in the nation — now live in poverty or near poverty. The study's authors noted the proliferation of fervently Orthodox families — who, more than less observant Jews, shoulder the expense of Jewish schools and keeping kosher. For those Jews who do keep kosher — about 21 percent of the 5.3 million American Jews overall, according to the most recent National Jewish Population Survey — hard times mean particularly scant options for feeding a family, which, among the most religious Jews, tend to be large. That's where kosher food pantries come in, to serve a clientele with very specific and relatively expensive dietary needs.
Reuters: Israeli party pulls "What, you're not Jewish?" TV ad after Russian complaints
Complaints by Russian-speaking immigrants prompted an ultra-Orthodox party in Israel to pull a TV commercial plugging their election campaign which shows a man recoiling in horror at discovering his bride is not Jewish.
NYT: Monks in California Breathe Life Into a Monastery From Spain
The rebirth of a medieval Cistercian monastery building here on a patch of rural Northern California land was, of course, improbable. William Randolph Hearst, the newspaper tycoon, brought the dismantled Santa Maria de Óvila monastery from Spain but failed to restore it. The City of San Francisco, after some fitful starts at bringing the monastery back to life, left its stones languishing for decades in Golden Gate Park. The Great Depression, World War II and lethargy got in the way. But an aging and shrinking order of Cistercian monks have accomplished what great men and cities could not: the reconstruction of Santa Maria de Óvila's most architecturally significant building, a 12th-century Gothic chapter house.
Reuters: Leading African Anglicans denounce Church of England's gay bishop rule
Senior African Anglican leaders have lined up to denounce the Church of England's decision to allow celibate gay bishops, warning it would only widen the divisions within the worldwide Anglican Communion. Archbishop Nicholas Okoh of Nigeria, effectively the largest province in the Communion, said such reforms "could very well shatter whatever hopes we had for healing and reconciliation within our beloved Communion."
Join the conversation…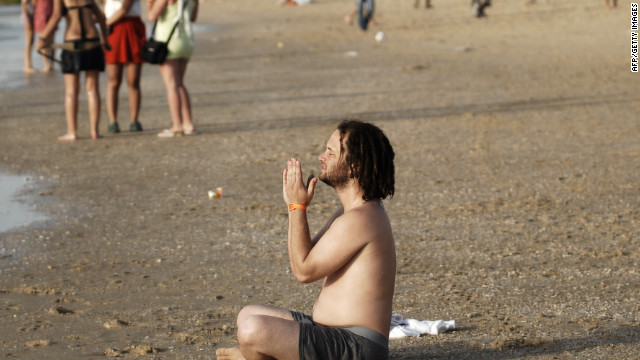 CNN: The spiritual but not religious likely to face mental health issues, drug use, study says
Can being spiritual but not religious lead to mental health issues? The answer is yes, according to a recent study. The study, published in the January edition of the British Journal of Psychiatry, says spiritual but not religious people, as opposed to people who are religious, agnostic or atheist, were more likely to develop a "mental disorder," "be dependent on drugs" and "have abnormal eating attitudes," like bulimia and anorexia.