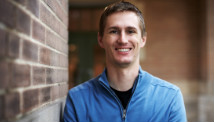 Editor's Note: Matthew Lee Anderson is the Lead Writer at Mere Orthodoxy and the author of Earthen Vessels:  Why our Bodies Matter to our Faith.  He is studying for an M.Phil. at Oxford University.
By Matthew Lee Anderson, Special to CNN
(CNN) – The news that Louie Giglio is no longer going to give the benediction at President Obama's inauguration sent shock waves around the conservative Christian world.
Conservative Christians are right to be concerned about what these events mean for their welcome in the public square. But as Christians we shouldn't be surprised nor even overly upset. Given the history of our founder, such marginalization is what we can expect.
Giglio is a pastor and runs the Passion Conferences, where some 60,000 college students gather to hear teaching and participate in activist causes.  Giglio has been one of the leading voices in the surge of evangelical opposition to human trafficking, which was originally why Obama picked him.
Over a decade ago, Giglio gave a sermon that prompted gay and lesbian advocates to denounce him as "anti-gay."  Controversy ensued, a petition was started to replace him, and Thursday he announced he was no longer going to attend so as to not be a distraction.
Follow the CNN Belief Blog on Twitter
Giglio's sermon on homosexuality was in an entirely different league than Charles Worley's, who momentarily became famous last year for ludicrously suggesting that gays and lesbians should be fenced off.
Indeed, Giglio's defenders have been quick to point out that his position on the question comfortably fits the main currents of what Christianity has always taught about homosexuality, and does so with a gracious, cordial tone.
Which is why the news that he was no longer speaking was so stunning to many conservative Christians.
Russell Moore, a leading Southern Baptist voice, suggested that the decision represented the establishment of a new "state church," one that is hostile to traditional Christian teachings about sexuality. Albert Mohler denounced the new "moral McCarthyism," suggesting that there is nowhere for conservatives to hide given the social pressure to conform to the new sexual orthodoxy.
They are right to be concerned.
Inaugurations are rare moments of unity in the American political order.  They express something about who we are and what kind of people we want to be, together.
That doesn't mean that every demographic needs to be on stage. But pushing a traditional Christian position outside the boundaries of acceptability inevitably makes those who hold it more concerned that their freedom to speak will be curtailed in other ways.
In such moments, conservative Christians have been ready and quick to demonstrate their ample supply of passion for the truth.
The last imbroglio about homosexuality in our country was the Chick-Fil-A affair, which resulted in long lines of socially conservative people cheerfully waiting to eat their chicken sandwiches.  This time, the response has already been more strictly rhetorical, but just as swift and as strongly worded.  Russell Moore's website crashed because of the massive amount of traffic, he wrote.
It is somewhat ironic that Giglio, the founder of Passion, stepped so quietly from the stage given the cacophony all around him.  His statement was gracious without changing his stance.  It did not denounce the White House or those seeking to dismiss him.
In fact, this sort of political dispassion is precisely what we could all use a lot more of, and conservative Christians have better reasons than most to lead the way.
In a political environment where passions are at their highest, every word and action takes on a heightened significance, which makes our communications with each other much more fragile.  Every aspect of our public figures' lives is scrutinized with a moral rigor that we rarely apply to ourselves.
Preachers stand at a unique disadvantage in this regard: Sermons have been recorded and broadcast from the earliest moment possible. But if any of us were recorded with that regularity on the issue some 20 or 30 years ago, I suspect infelicities would be easy to find.  Hostilities toward gays and lesbians weren't limited to the devoutly religious in American history, after all.  Among imperfect people, those intent not on exchanging reasons for their positions, but delegitimizing their opponents, will always have material to work with.
But when one of their leaders is pushed aside again, religious conservatives might consider instead meeting our rejection with something nearer indifference, rather than angry denunciation.
In the Bible, St. Paul suggests that as Christians "our citizenship is in heaven."  While we can and should be loyal Americans, our concern for justice must primarily be a concern for justice for others.  Our desire for our own justice is often deferred until heaven.
When we don't receive justice ourselves, that is our opportunity to model the sort of political engagement Jesus enacted at his trial and on the cross.  The Gospel of Matthew suggests that when asked to defend himself, he said nothing (27:11-14).  His next words would be a cry of forgiveness, a cry that is as powerful as any he could utter.
Conservative Christians should not confuse my suggestion of a political dispassion with inactivity or a lack of involvement, with accepting "defeat" in the culture wars.  I am saying nothing of the kind.
Let Christians give their sermons, and let them be recorded and scrutinized.  Let us proclaim the Christian teaching about sin and salvation with respect to sexuality.
CNN's Belief Blog: The faith angles behind the biggest stories
But when our positions are not recognized publicly or welcomed at the inauguration, let us also remember that we were lucky to have ever had the opportunity to be present in such moments at all.  Christians have often been on the margins of societies rather than at the center.
By taking this approach, conservative Christians can model for our American political order precisely the sort of patient longsuffering that is required for justice to take root not merely in our legal code, but in our social structures.  And we can hold out the promise of reasonable discourse and communication with those who do not see the world as we do.  Which if this grand American experiment of religious freedom is to endure, we all need a lot more of.
The opinions expressed in this commentary are solely those of Matthew Lee Anderson.