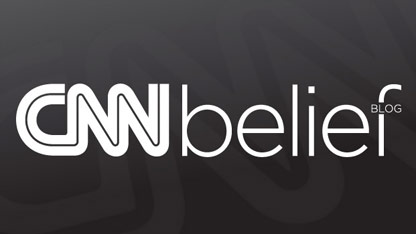 By Arielle Hawkins , CNN
Here's the Belief Blog's morning rundown of the top faith-angle stories from around the United States and around the world. Click the headlines for the full stories.
From the Blog: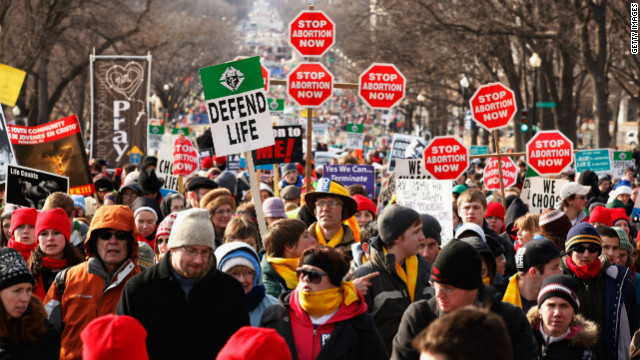 CNN: Survey: Few religious groups want Roe v. Wade overturned despite belief abortion morally wrong
Forty years after the Supreme Court protected abortion rights in Roe v. Wade, a new survey finds that white evangelicals remain the only major religious group that supports overturning the landmark ruling, even though most such groups find abortion morally wrong.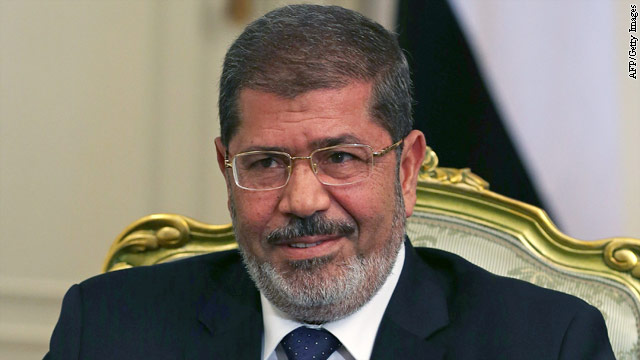 CNN: As U.S. senators visit, Egypt's president says remarks were not anti-Semitic
Egypt's president says comments he made more than two years ago that are being criticized as anti-Semitic were taken out of context, Egypt's official news agency reported Wednesday. President Mohamed Morsy said the statements, made in 2010, were about Israeli aggression against Palestinians in Gaza, not about the Jewish people, according to a statement published in Egypt News.
Tweet of the Day:
[tweet https://twitter.com/CatholicNewsSvc/status/291746057212264448%5D
Photos of the Day: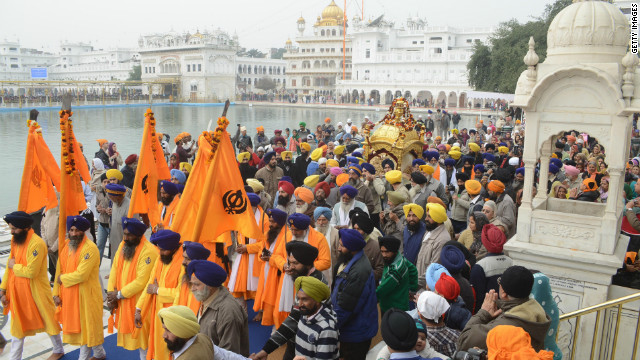 Indian Sikh devotees carry the Guru Granth Sahib (Sikh Holy Book) on a palanquin during a procession from The Sri Akal Takhat at The Golden Temple in Amritsar on January 17, 2013. The procession took place on the eve of the 348th Birth Anniversary of tenth Sikh Guru Gobind Singh.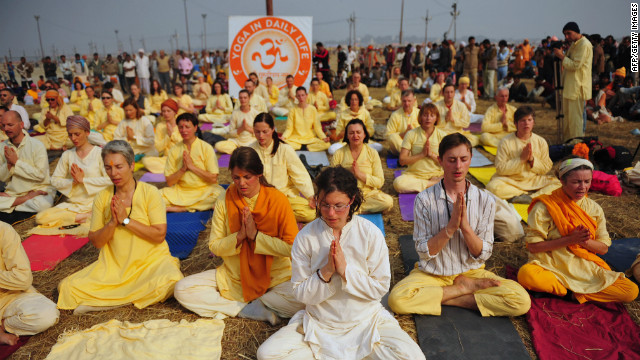 Foreign devotees participate in a session of yoga on the banks of the Sangam during the Kumbh Mela Festival in Allahabad on January 16, 2013. The Kumbh Mela in the Indian town of Allahabad will see up to 100 million worshippers gather over the next 55 days to take a ritual bath in the holy waters, believed to cleanse sins and bestow blessings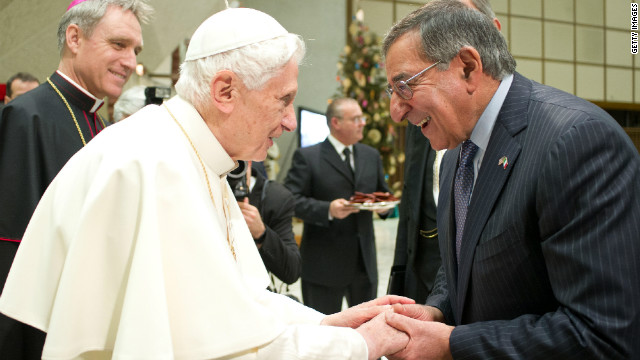 Pope Benedict XVI meets with US Defence Secretary Leon Panetta at the end of the General Audience at the Paul VI Hall on January 16, 2013 in Vatican City, Vatican. Panetta, a Catholic, will meet with defense ministers as part of his week long trip to Europe.
Enlightening Reads:
Washington Post: Leon Panetta to Pope Benedict: 'Pray for me'
Defense Secretary Leon E. Panetta took a break Wednesday from war planning and leading the world's most powerful military to pay his respects to Pope Benedict XVI, a champion of peace. Panetta, an observant Catholic who proudly wears his Italian American heritage on his sleeve, beamed as he sat in a front row reserved for VIPs during the pope's weekly general audience in a Vatican auditorium.
The Guardian: Horsemeat-in-burgers scandal prompts food hygiene fears
Religious leaders have expressed concern at DNA from horses and pigs being found in frozen beef burgers. Jewish leaders warned such incidents must not happen again, while the Muslim Council of Britain said it was worried by the whole issue of mis-description of food. John Benjamin, the chief executive of the Board of Deputies of British Jews, said: "Observant Jews would only eat certain types of meat, and even then only if the animal had been killed in accordance with the laws of kosher food production.
New York Times: At a Climate Protest, Science and Religion
Science and religion went hand-in-hand on Tuesday as leaders from both worlds gathered in front of the White House to protest what they cast as government inaction on climate change.
Religion News Service: Vatican criticizes European religious freedom ruling
The Vatican on Wednesday (Jan. 16) criticized a ruling from the European Court of Human Rights that affirms employers' right to limit the expression of religious beliefs in the workplace when it conflicts with equality laws. In an interview with Vatican Radio, Archbishop Dominique Mamberti, the Vatican's foreign minister, said that on "morally controversial subjects, such as abortion or homosexuality," people have the right to defend their freedom of conscience.
Quote of the Day:
Because of the protections guaranteed by our Constitution, each of us has the right to practice our faith openly and as we choose. As a free country, our story has been shaped by every language and enriched by every culture. We are a nation of Christians and Muslims, Jews and Hindus, Sikhs and non-believers. Our patchwork heritage is a strength we owe to our religious freedom.

Americans of every faith have molded the character of our Nation. They were pilgrims who sought refuge from persecution; pioneers who pursued brighter horizons; protesters who fought for abolition, women's suffrage, and civil rights. Each generation has seen people of different faiths join together to advance peace, justice, and dignity for all.
- An excerpt from the proclamation signed by the President today regarding Religious Freedom Day.
Join the conversation…
CNN iReport: Why I Raise My Children Without God
Deborah Mitchell, a mother of two teenagers in Texas, blogs about raising her children without religion. An avid reader of the Belief Blog, she said she shared this essay on CNN iReport because 'I just felt there is not a voice out there for women/moms like me. I think people misunderstand or are fearful of people who don't believe in God.'