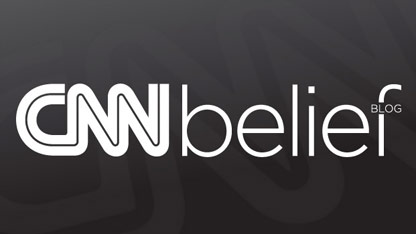 By Arielle Hawkins, CNN
Here's the Belief Blog's morning rundown of the top faith-angle stories from around the United States and around the world. Click the headlines for the full stories.
From the Blog: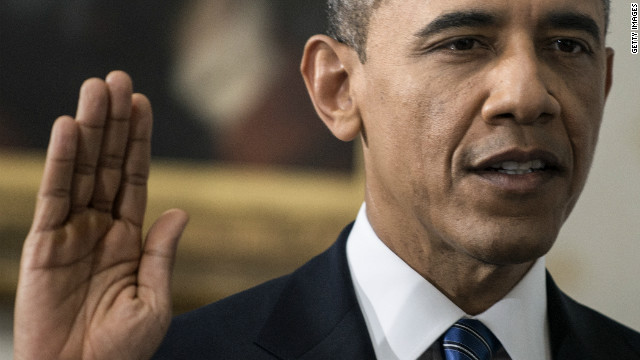 CNN: Obama ends oath with 'So help me God'
At his request, President Barack Obama is ending his inaugural oath with: "So help me God." Those four words are not legally or constitutionally required, unlike other federal oaths that invoke them as standard procedure. Historians have wrangled over whether George Washington established precedent by adding the phrase on his own during his first Inaugural acceptance, but the Library of Congress website states he did.
CNN: Godless mom strikes a chord with parents
Deborah Mitchell, a mother of two teenagers in Texas who feels "immersed in Christianity," started a blog about raising her children without religion because she felt frustrated and marginalized. She didn't want to feel so alone, she says. This week, she gained a whole new audience and the reassurance that she's not alone. Her essay on CNN iReport, "Why I Raise My Children Without God," drew 650,000 page views, the second highest for an iReport, and the most comments of any submission on the citizen journalism platform.
Tweet of the Day:
[tweet https://twitter.com/Pontifex/status/292954627085840384%5D
Belief on TV:
Photos of the Day: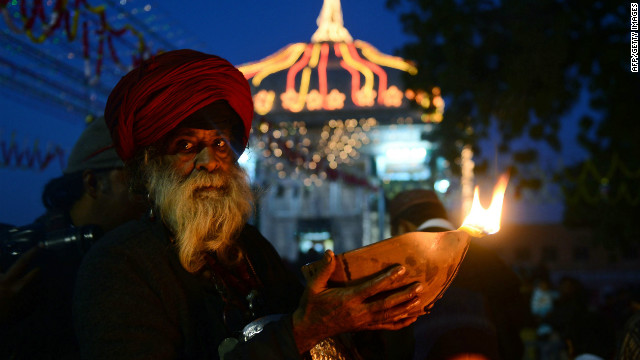 A Pakistani Muslim devotee holds an earthen lamp at the shrine of saint Mian Mir Sahib during the 389th death anniversary of the saint in Lahore on January 20, 2013. The famous saint was equally popular among the Muslim and Sikh religions, as Mian Mir went to Amritsar in December 1588 to lay the foundation stone of Sikh's holiest Golden Temple, which is commonly known as Sri Harminder Sahib.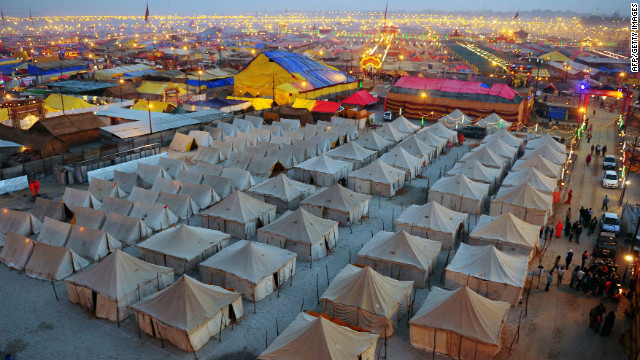 Temporary tents for devotees are pictured at dusk at Sangam, the confluence of the Rivers Ganges, Yamuna and mythical Saraswati, during the Maha Kumbh Mela in Allahabad on January 20, 2013.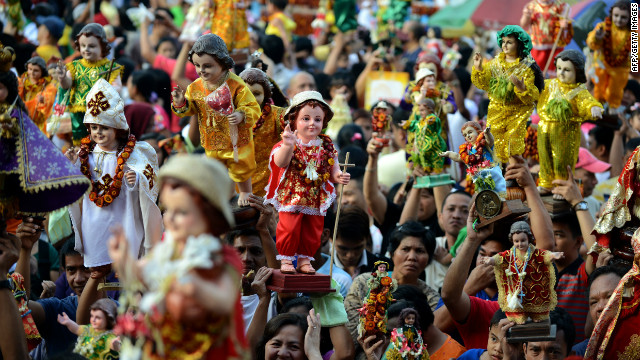 Philipino catholic devotees display statues of the infant Jesus during the annual festival of Santo Nino at the Santo Nino Church in Manila on January 20, 2013. Hundreds of Filipino devotees joined the religious festival.
Enlightening Reads:
Reuters: After abuse scandal, Pope Benedict appoints new head of the Irish Catholic Church
Pope Benedict on Friday appointed the new head of the Roman Catholic Church in Ireland to succeed Cardinal Sean Brady, whose tenure has been plagued by scandal over the sexual abuse of children on the predominantly Roman Catholic island. The Vatican said Monsignor Eamon Martin, 51, had been named "coadjutor" archbishop of Armagh, meaning he will automatically succeed Brady when he retires next year.
The Guardian: Air cadets rewrite their oath to remove God from pledge
One of the UK's largest and most respected youth organizations will no longer compel its new members to take a religious oath. In a move that delighted the British Humanist Association (BHA), the Air Cadet Organisation, which was formed in 1938 and played a key role in the second world war, is to offer future cadets the option of a non-religious oath. The decision follows a campaign by the BHA and the United Kingdom Armed Forces Humanist Association (UKAFHA), after they had argued that the organization needed to recognize that many of its recruits were non-believers.
Catholic News Agency: MLK was Christ-inspired, says head Knight of Peter Claver
Martin Luther King Day is a time to promote racial harmony in America and honor the slain civil rights leader who was "inspired by the teachings of Christ," says the head of the Knights of Peter Claver. "Considering that so many 'church-going folks' were supporting segregation and Jim Crow laws during the civil rights movement, it is wonderful that King dedicated his life to employing Christ's teachings to resist and counter the very social sins of prejudice, racial discrimination and segregation," Supreme Knight F. DeKarlos Blackmon told CNA Jan. 18.
The Jerusalem Post: US calls on Iran to release American-Iranian pastor
The US government on Friday urged Iran to release American-Iranian pastor Saeed Abedini from Tehran's notorious Evin Prison. The 32-year-old father of two young children is believed to have been arrested because of his Christian beliefs, and may face the death penalty. His trial begins in Tehran on Monday before Judge Pir-Abassi, the so-called "hanging judge."
Quote of the Day:
We honor the legacy of a Jewish community that 'prayed with its feet' as it walked with Dr. King, an African American, in pursuit of civil rights. Help us to feel the reassurance of Your presence as we continue forward in pursuit of civil rights and justice for all humankind. Remind us, that as we struggle against continued manifestations of anti-Semitism, Dr. King, in his struggle against racism 
and bigotry of all kinds, clearly declared his opposition to anti-Semitism 'because it is immoral and 
self-destructive.' Indeed, in the words of Rabbi Abraham Joshua Heschel, a partner with Dr. King in 
the civil rights movement, 'while some are guilty all are responsible.'
- excerpt from a new prayer for Shabbat services preceding Martin Luther King Jr. Day, authored by the Foundation for Ethnic Understanding, which aims to strengthen ties between Jews and other ethnic and racial groups.
Opinion of the Day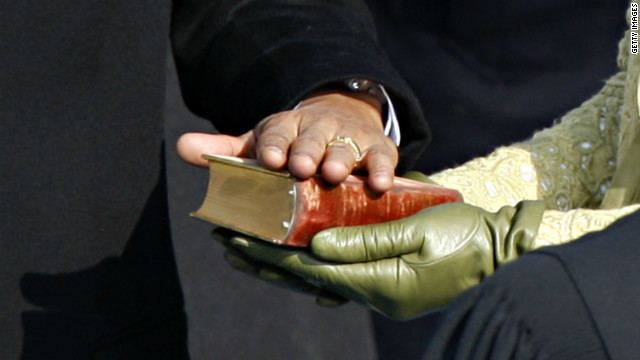 CNN: My Take: An almost chosen nation
Joseph Loconte, Ph.D., author of The Searchers: A Quest for Faith in the Valley of Doubt, explains the irony behind President Barack Obama's decision to use Bibles previously owned by President Abraham Lincoln and Dr. Martin Luther King Jr. when he is sworn in at inauguration.
Join the conversation…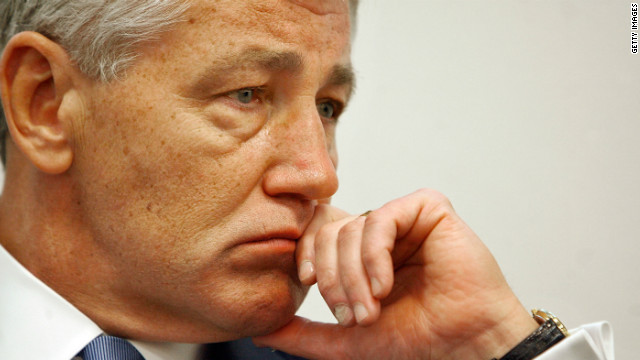 CNN: My Take: 'What would George Washington do' about Chuck Hagel?
Stephen Prothero, Boston University religion scholar and author of The American Bible: How Our Words Unite, Divide, and Define a Nation , asks himself "What would George Washington do?" when considering accusations that President Obama's nominee for secretary of defense, former Sen. Chuck Hagel, is anti-semitic.