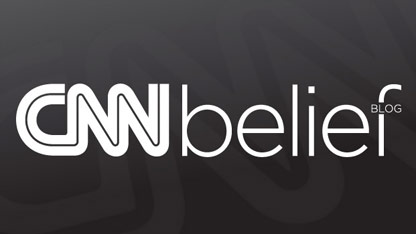 By Arielle Hawkins, CNN
Here's the Belief Blog's morning rundown of the top faith-angle stories from around the United States and around the world. Click the headlines for the full stories.
From the Blog: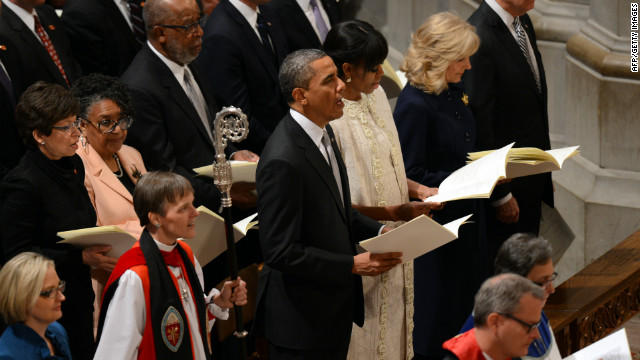 CNN: Obama thanked for living in 'glass house' at National Prayer Service
On the day following his ceremonial inauguration, President Barack Obama received warm praise Tuesday while attending an interfaith prayer service at the National Cathedral. Rev. Adam Hamilton, senior pastor at the United Methodist Church of the Resurrection in Kansas, said Americans should "more often" give thanks to Obama and those who serve in higher elected office.
CNN: Group: U.S. pastor is shut out of his trial in Iran
An American Christian pastor being tried in Iran for his religious beliefs was "shut out" of his own trial Tuesday, a religious group said. The attorney for Saeed Abedini also was kept from appearing in the Iranian court, said the American Center for Law and Justice. Abedini, who was born in Iran and now lives in Idaho, has been jailed since September, the group said.
Tweet of the Day:
[tweet https://twitter.com/RickWarren/status/293901713822339072%5D
Belief on TV:
Photo of the Day: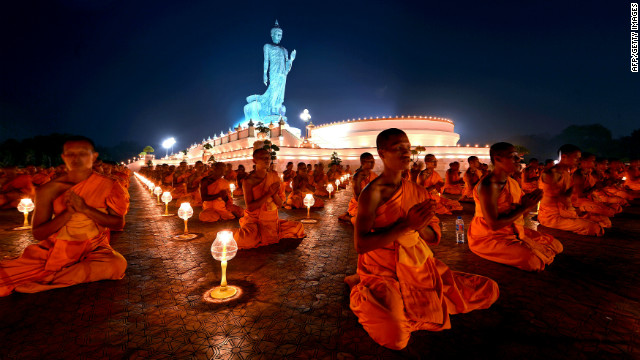 Thai and foreign Buddhist monks light candles while chanting at Buddhamonthon in Nakorn Pathom province on January 22, 2013. 1,128 Buddhist monks from Dhammakaya temple lit candles in homage of Lord Buddha.
Enlightening Reads:
BBC: Homophobic 'vigilante' video appears online
A video has appeared online showing men shouting homophobic abuse at another man in east London, telling him to "get out of here" as "it is a Muslim area". Last week, the East London Mosque condemned men shown in another video posted on the internet claiming to be "patrolling" Whitechapel.
Los Angeles Times: Clergy abuse victims: 'We demand justice'
Standing a few feet outside the doors of the Los Angeles Archdiocese headquarters, clergy abuse victims who settled with the church in a landmark $660-million settlement called for the release of the documents it agreed to make public in 2007. The demands come in the wake of internal Catholic church records released Monday in a separate claim. Those memos, written in 1986 and 1987 by Archbishop Roger M. Mahony and Msgr. Thomas J. Curry, then the archdiocese's chief advisor on sex abuse cases, displayed a concerted effort by officials to shield abusers from police.
New York Times: Therapist Sentenced to 103 Years for Child Sexual Abuse
An unlicensed therapist and respected member of an ultra-Orthodox Jewish community in Brooklyn was sentenced on Tuesday to 103 years in prison for repeatedly sexually abusing a young woman, beginning the attacks when she was 12.
JTA: Likud leads, but rise of Yesh Atid, Jewish Home bode bumpy road ahead for Netanyahu
His party shrunk, his opponents grew and his challengers multiplied. But with the results in, it seems Benjamin Netanyahu survived the Knesset elections on Jan. 22 to serve another term as prime minister. A political newcomer, Naftali Bennett, is likely to push Netanyahu to the right on security issues. His Jewish Home party, a successor to the National Religious Party, quadrupled its representation from three to 12 seats.Together with the Sephardic Orthodox Shas party and the haredi Orthodox United Torah Judaism, the right-wing Knesset bloc will hold 62 of the Knesset's 120 seats – a slim majority.
BBC: Why are there seven days in a week?
The popularity of the seven-day week – and its prominence in modern calendars – can be traced to its adoption by the Romans. They named the days of the week after the pagan gods of Rome, the Sun and the Moon. Roman Emperor Constantine formally adopted the seven-day week in AD 321, it had been in use informally since the first century BC. A Christian convert Constantine made Sunday – the Christian Sabbath – the first day of the week, and Saturday – the Jewish day of rest – as the last.
Quotes of the Day:
God has given you a unique gift, Mr. President. Unlike any other president that we've had, you have the ability to cast vision and inspire people. You should have been a preacher.
- Rev. Adam Hamilton – Sr. Pastor at United Methodist Church of the Resurrection in
Leawood, Kansas – speaking at the National Prayer Service on Tuesday, January 22, 2013.
Let us join together in prayer. Dear God in this room stand women and men of different beliefs, different understandings of how you reveal yourself, how you reveal your will and your desire to us. Yet at this moment our nation joins with us in prayer and supplication that despite political differences within these chambers, and despite the fact that at times we may take for granted things that are unique to our American democracy, that we be united in hope and aspiration for the future of our nation… Our nation prays with us as we ask that our leaders be endowed with wisdom. That they may know at which path they should move our nation. With courage that they may go against their own for the necessary of the common good of our beloved America. With resolve that their not tired but move unrelenting toward that common good.
- excerpt from Rev. Luis Cortes Jr. prayer at the Inaugural Luncheon on January 21, 2013. Rev. Cortes Jr. is the President of Esperanza USA, the largest Hispanic faith-based community-development corporation in the country.
Join the conversation…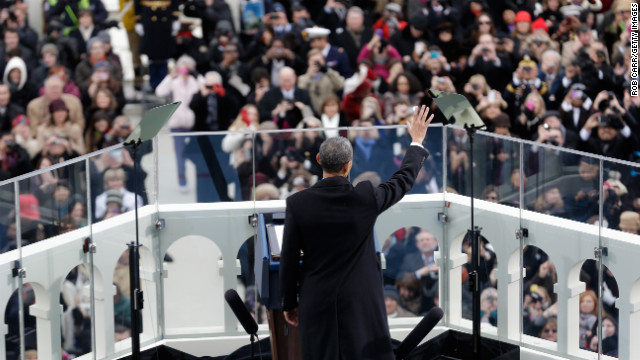 My Take: Obama delivers Lincoln's Third Inaugural
Stephen Prothero, a Boston University religion scholar and author of "The American Bible: How Our Words Unite, Divide, and Define a Nation," labeled President Barack Obama's second inauguration as "Lincoln's Third Inaugural" becuase "the words of our 44th president were animated throughout by the vision of our 16th."