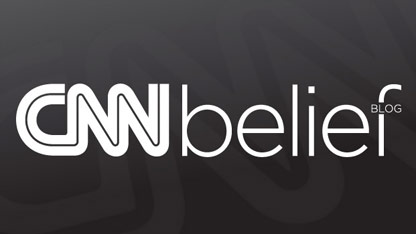 By Arielle Hawkins, CNN
Here's the Belief Blog's morning rundown of the top faith-angle stories from around the United States and around the world. Click the headlines for the full stories.
From the Blog: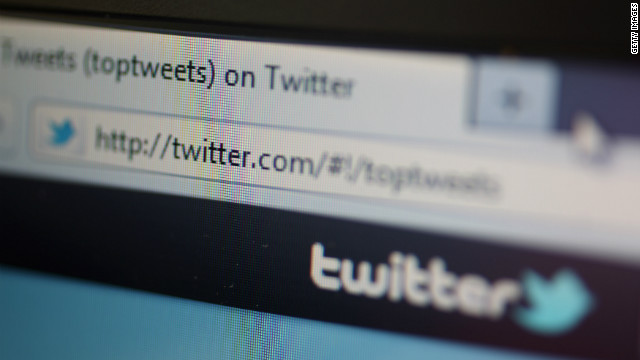 CNN:Twitter must identify racist, anti-Semitic posters, French court says
For months now, the French-language twittersphere has lit up with a rash of racist, homophobic, and anti-Semitic tweets using the hashtags #UnBonJuif (a good Jew), #SiMonFilsEstGay (if my son is gay), and #SiMaFilleRamèneUnNoir (if my daughter brings home a black guy). Last fall, under pressure from French advocacy group Union of Jewish Students (UEJF), Twitter agreed to remove some offensive tweets. In October 2012, at Berlin's request, Twitter also suspended a German neo-Nazi account based in the city of Hanover, the first time the company had responded to such a government request.
Tweet of the Day:
[tweet https://twitter.com/MarsHill/status/294672214308032513%5D
Photos of the Day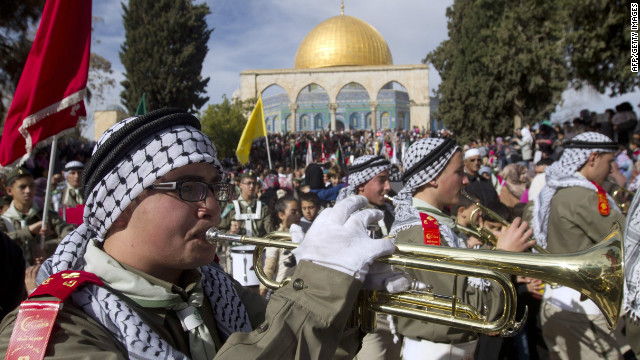 Palestinian scouts parade playing music during a ceremony commemorating the birth of Prophet Mohammed, known in Arabic as 'al-Mawlid al-Nabawi'outside the Dome of the Rock the Al-Aqsa mosque compound, Islam's third holiest site, in the old city of Jerusalem on January 24, 2013.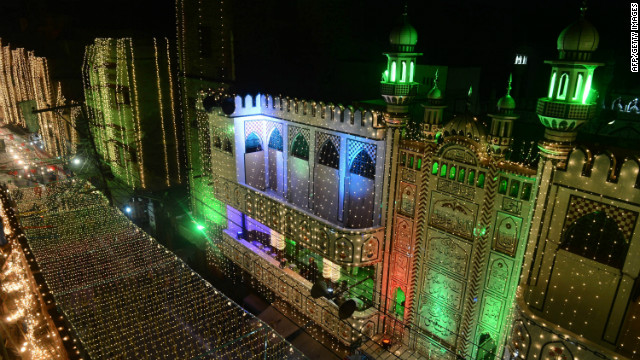 Pakistani mosque is illuminated along a street to mark the Eid Milad-un-Nabi, Birth of the Prophet in Lahore on January 24, 2013. Pakistani Muslims will celebrate the birth of the Prophet Mohammed on January 25.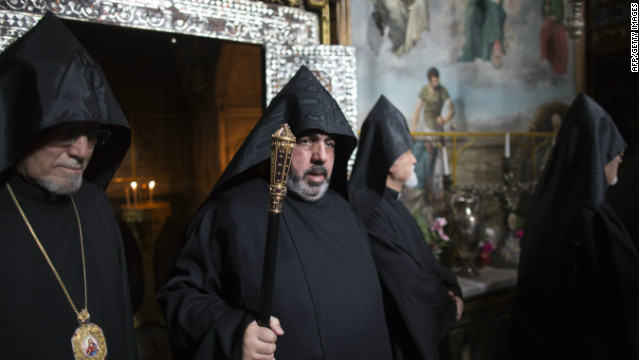 Archbishop Nurhan Manougian, 65, the new elected Armenian patriarch of Jerusalem walks at the Armenian Church in Jerusalem's old city on January 24 2013. Archbishop Nurhan Manougian has been elected the 97th Armenian Orthodox patriarch of Jerusalem, one of the five custodians of Christian religious sites in the Holy Land, sources told AFP.
Enlightening Reads:
The Colorado Independent: In malpractice case, Catholic hospital argues fetuses aren't people
Lori Stodghill was seven-months pregnant with twin boys and feeling sick when she arrived at St. Thomas More hospital in 2006. She passed out as she was being wheeled into an examination room. Medical staff tried to resuscitate her but, as became clear only later, a main artery feeding her lungs was clogged and the clog led to a massive heart attack. The patient died at the hospital less than an hour after she arrived and her twins died in her womb. In the aftermath of the tragedy, Stodghill's husband Jeremy, a prison guard, filed a wrongful-death lawsuit. But when it came to mounting a defense in the Stodghill case, Catholic Health's lawyers effectively turned the Church directives on their head. Catholic organizations have for decades fought to change federal and state laws that fail to protect "unborn persons," and Catholic Health's lawyers in this case had the chance to set precedent bolstering anti-abortion legal arguments. Instead, they are arguing state law protects doctors from liability concerning unborn fetuses on grounds that those fetuses are not persons with legal rights.
Huffington Post: Catholic Bishops To Investigate Catholic Hospital Group That Argued In Lawsuit That Fetuses Are Not People
The bishops of Colorado are vowing to undertake a "full review" of the "policies and practices" a Catholic health nonprofit that has argued in medical malpractice lawsuit against it for the death two unborn children that fetuses are not people. Catholic social teaching says that fetuses are people - the argument is part of the church's strong pro-life and anti-abortion positions.
Religion News Service: S.C. Episcopal diocese claims a victory in secession struggle
The breakaway Episcopal Diocese of South Carolina has won the latest round in its fight to secede from the national church. A South Carolina judge on Wednesday (Jan. 23) issued a temporary restraining order that prevents the national church from using the name or seal of the diocese, which espouses a more traditional theology and disapproves of the national church's acceptance of same-sex marriage and gay bishops.
New York Times: Dalai Lama Stresses Science and Secularism in Jaipur
For the Dalai Lama, whose interest in science took root 30 years ago, spiritualism and science are not incompatible. He recounted his conversations with modern scientists in which he said he had seen many ways in which Buddhism and modern science overlapped. For example, he said, look at the Buddhist theory of impermanence, the idea that the physical world is changing by the second, which was later proved by quantum physics in the movement of atoms. "What modern science was proving, Bharat already found out 2,000 years ago," he said, using the Hindi word for India.
Religion News Service: Publishers are in seventh heaven with near-death memoirs
Do people really see a light at the end of a tunnel when they have a near-death experience? And could that be heaven up ahead? That light is shining brighter than ever these days. Heaven is hot. Hotter even than that other place. Just ask any bookseller in America. Folks have been going to heaven with amazing regularity lately. They look around — one even sat on Jesus' lap — then come back to report on the trip. It's a lucrative journey.
Quote of the Day:
We need to trust in the fact that the basic human desire to love and to be loved, and to find meaning and truth - a desire which God himself has placed in the heart of every man and woman - keeps our contemporaries ever open to ... the 'kindly light' of faith.
- Pope Benedict XVI in his message for World Communications Day
Join the conversation…
CNN: Response by the Church of Scientology to 'Going Clear'
In response to CNN's request for comment on its story about Lawrence Wright's book "Going Clear: Scientology, Hollywood & the Prison of Belief," the network received several letters from the Church of Scientology and its attorneys. Given the sensitive nature of the material in the book and the Church of Scientology's detailed response to CNN, CNN is making the church's responses available in full. The e-mail addresses and telephone numbers of individuals have been redacted.