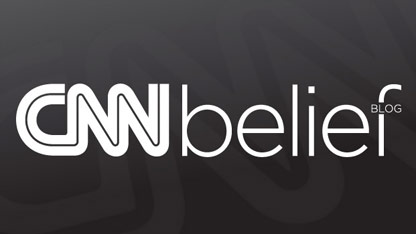 By Arielle Hawkins, CNN
Here's the Belief Blog's morning rundown of the top faith-angle stories from around the United States and around the world. Click the headlines for the full stories.
From the Blog: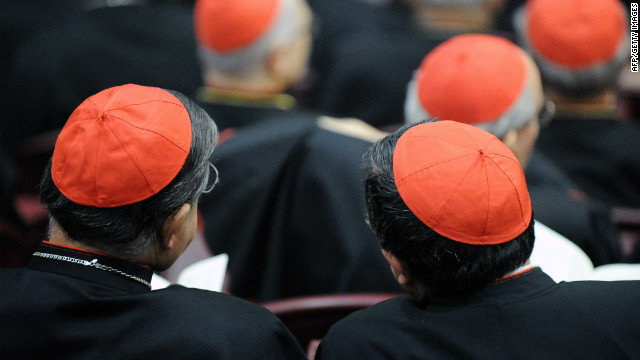 CNN: Catholic Bishops not satisfied with Obama's contraception compromise
The U.S. Conference of Catholic Bishops does not support the Obama administration's revised proposal for providing insurance coverage for contraception, saying it falls short of addressing concerns about religious freedom.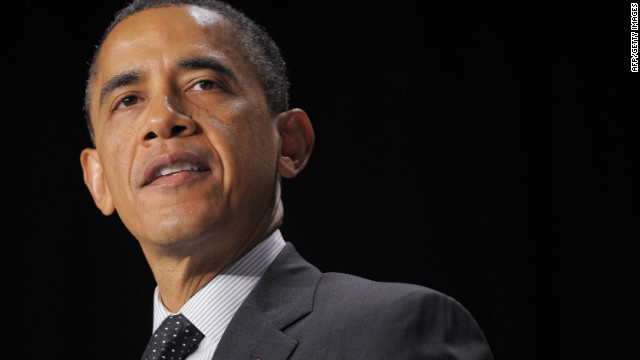 President Barack Obama at the National Prayer Breakfast Thursday, February 07, 2013.
CNN: Picking up a bagel instead of a partisan fight
Translation headsets squawked in four languages at the early morning breakfast in Washington, mixing in with the sounds of stirred coffee and clinking china in the immense ballroom at the Washington Hilton. For the 61st time, the president came to pray with the U.S. Senate and House prayer groups at the National Prayer Breakfast. It is an event that is equal parts prayer and politics, where members of both parties laud one another about a temporary political truce, lay down their partisan ammunition, and pause to pray together.
CNN: Religion, readability and the presidency: a historic combination
Employing faith, whether calling for nationwide prayer or healing the nation by quoting scripture, is a presidential tradition as old as the office itself. The nation's first president, George Washington, was also the first to call for a National Day of Prayer, one of "fasting, humiliation and prayer" to "acknowledge the gracious interpositions of Providence." President Barack Obama continued this tradition on Thursday when he attended the National Prayer Breakfast, a longstanding Washington event that has hosted every president since Dwight Eisenhower.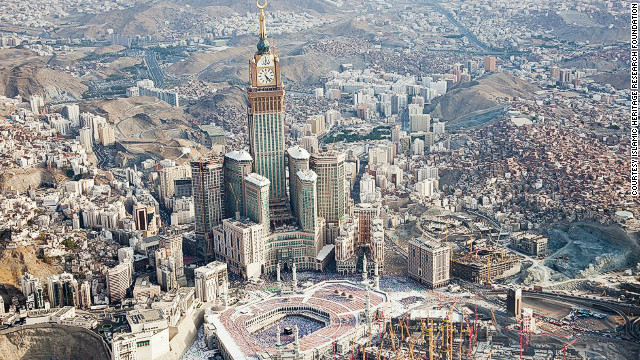 CNN: Mecca redevelopment sparks heritage concerns
An Ottoman-era portico in Mecca's Grand Mosque has become the latest battleground in a conflict between those who want to preserve the city's architectural heritage and Saudi authorities pushing for redevelopment. The 17th century portico - one of the oldest parts of the Grand Mosque, Islam's holiest - is being removed by Mecca authorities as part of an expansion project to create more space for soaring numbers of pilgrims.
CNN: Lutheran pastor apologizes for praying in Newtown vigil
A Lutheran pastor has apologized after being chastised by his denomination's leader for offering a prayer at an interfaith vigil for the victims of the school shooting in Newtown, Connecticut. Pastor Rob Morris, who leads the Christ the King Lutheran Church in Newtown, violated the Lutheran Church-Missouri Synod's rule against taking part in joint worship services, said the synod's president, Pastor Matthew C. Harrison.
Belief on TV:
Photos of the Day: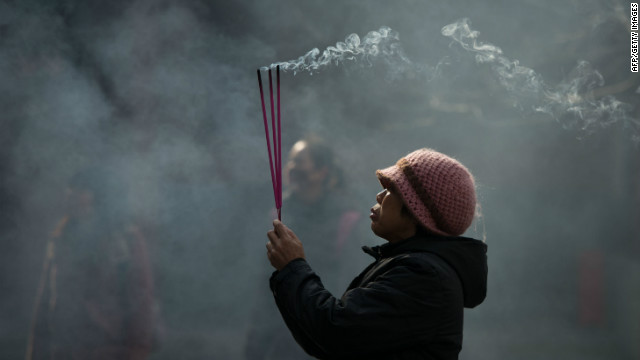 A worshipper burns incense while offering prayers at the Yonghegong lama temple in Beijing on February 8, 2013. China is preparing to welcome the lunar new year, or spring festival, which falls on February 10.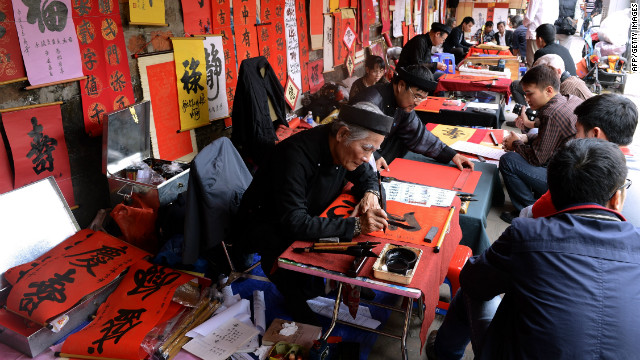 Calligraphers write down best wishes for the lunar New Year or Tet in Vietnamese, for customers outside the Temple of Literature in downtown Hanoi on February 8, 2013. Vietnamese will have from this week-end a nine-day long Tet holiday, the longest ever lunar New Year holiday provided by the Vietnamese government.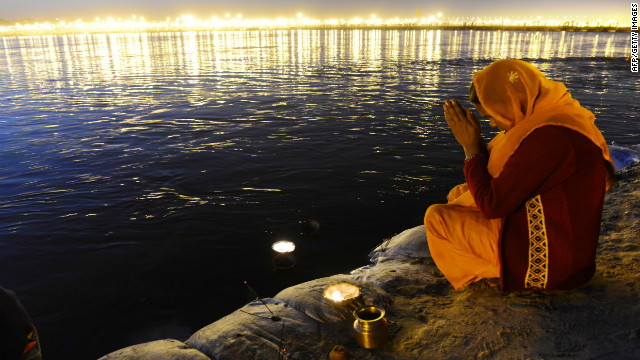 A Hindu woman prays on the shore of the confluence of the Yomuna and the Ganges river at the Sangam during the Maha Kumbh festival in Allahabad on February 7, 2013. The Kumbh Mela in the town of Allahabad will see up to 100 million worshippers gather over 55 days to take a ritual bath in the holy waters, believed to cleanse sins and bestow blessings.
Enlightening Reads:
Washington Post: Obama adviser Joshua DuBois to leave Office of Faith-based and Neighborhood Partnerships
President Obama announced Thursday at the National Prayer Breakfast that Joshua DuBois, head of his Office of Faith-based and Neighborhood Partnerships would be leaving the post, effective Friday. DuBois was 26 when he was chosen by the president to serve as director. Obama has often mentioned the inspiration he finds in DuBois' daily Scripture e-mails, making the faith-based office director an informal spiritual adviser to the president.
BBC: Timbuktu's art of saving its manuscripts
Since Islamist militants were driven out of urban centres in northern Mali by French-led forces, there have been conflicting reports about the documents in Timbuktu, some of which date back to the 10th Century. However, the majority of the manuscripts in the new South African-funded institute appear to have been protected.
Religion News Service: Fasting like an Old Testament prophet gains followers during Lent
Amy Lester has followed Jesus for decades, but her keen appreciation for his sacrifice on the cross came only recently when she started eating like the prophet Daniel. During Lent, which starts Wednesday (Feb. 13), the 40-year-old mother of two keeps a type of Daniel Fast, which involves eating only food from seeds (vegetables, fruits, unleavened grains), drinking only water and practicing daily devotions. Devotees say the Daniel Fast brings them closer to God by enhancing self-control, purging bad habits and improving health. It bears echoes of ancient tradition. Forgoing meat, dairy and sweeteners for a season makes the Daniel Fast resemble Orthodox Lent, which restricts consumption of meat, dairy, and oils in the run-up to Easter.
The Guardian: Church of England's house of bishops to allow female clergy into meetings
The house of bishops of the Church of England, which makes up a third of the General Synod, has decided to allow senior female clergy to attend and speak at its meetings until women are legally permitted to become bishops.
Catholic News Agency: Vatican official rejects claims that he endorsed same-sex unions
Archbishop Vincenzo Paglia, president of the Pontifical Council for the Family, denounced media assertions that his recent comments show Vatican support for homosexual unions. The archbishop said he was "very surprised" by reports claiming that some of his recent statements signaled an "openness" on the part of the Church to same-sex unions.
The Guardian: Churches and synagogues 'priced out of civil partnership ceremonies'
Religious institutions in the United Kingdom have been priced out of offering civil partnership ceremonies by high licensing fees, according to Unitarian ministers and liberal rabbis. Councils are charging churches and synagogues up to 16 times more for a three-year license to hold civil partnership ceremonies than for a permanent license to conduct marriages, Guardian research has revealed.
Quote of the Day:
I know that all Americans, men and women of different faiths, and yes those of no faith that they can name are nevertheless joined together in common purpose, believing in something that is bigger than ourselves and the ideals that lie at the heart of our nation's founding that as a people we are bound together. And so this morning let us summon the common resolve that comes from our faith. Let us pray to God that we may be worthy of the many blessings he has bestowed upon our nation. Let us retain that humility not just during this hour but for every hour. And let me suggest that those of us with the most power and influence need to be the most humble.
- President Barack Obama at the National Prayer Breakfast on February 7, 2013.
Opinion of the Day:
CNN: My take: Science, faith communities unite to protect millions from disease
Dagfinn Høybråten is a vice president of the Norwegian Parliament and chairman of the GAVI Alliance Board. GAVI is a public-private partnership that works with governments, vaccine producers, faith-based organizations and others to expand access to vaccines and immunization. Høybråten writes that "faith and science are also coming together around the world to promote healing and equality in the form of access to vaccines."
Join the conversation…
CNN: Boy Scout leaders to vote on ending ban against gay membership
The polarizing debate over whether Boy Scouts of America should allow gay members could culminate with a vote on a new policy Wednesday. But no matter which way the vote goes, activists on both sides aren't going to be satisfied. The controversy pits leaders of religious groups that sponsor about 1 million Boy Scouts against activists who want the organization to end its ban on openly gay Scouts and Scout leaders.