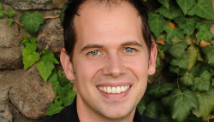 Editor's note: John S. Dickerson is author of the book "The Great Evangelical Recession: 6 Factors that Will Crash the American Church ... and How to Prepare" and senior pastor of Cornerstone in Prescott, Arizona. Follow him on Facebook or Twitter @JohnSDickerson
By John S. Dickerson, Special to CNN
Last week a high-profile American writer and news personality asked me a painful question: "Hey pastor, can a Christian tweet hate?"
It was not a hypothetical question. He was asking because some of his 1.3 million Twitter followers claim to be "Christian," and some of the meanest, most perverse hate-tweets he receives come from these self-proclaimed Christians.
We've all seen folks, Christian and otherwise, lose their cool in a Facebook face-off or in the comment section under a controversial news story. But as I scrolled through the "Christian" hate tweets to this news personality, I was baffled and ashamed by these so-called followers of Christ. One user describes himself not merely as Christian but as "sharing God's message of Grace with everyone I encounter." The messenger of Grace recently tweeted that he doesn't merely hate this news personality, he despises and loathes him.
These are the moments when it's embarrassing to be a Christian. I'm not embarrassed to believe the extravagant claims of Christianity: that Christ was born to a virgin, died for our sins, physically rose from the grave and is returning to rule the world. But I am embarrassed to be associated with some of the people who claim his name.
I have written in the past about the bad reputation that Christians have in America. Some argue that it comes from misrepresentation by the media. Others argue that "all who live godly will suffer persecution," and that's why we Christians have a poor reputation. Maybe there's some truth to those claims, but we Christians have to acknowledge another reason why we are perceived as hateful: because many of our number are.
More and more, I see hateful Christians chalking up their disrepute to "persecution." God tells us otherwise. In 1 Peter 4 we're told, "If you are insulted because of the name of Christ, you are blessed. …" And that's the truth; sometimes we are insulted for proclaiming the good news of salvation in Christ. But listen to what follows: "If you suffer, however, it should not be as a murderer or thief or any other kind of criminal, or even as a meddler."
The Apostle Peter is more or less saying: If you suffer for sharing the good news of Christ, great, you're blessed. But if you suffer just because you're being a criminal or acting like an idiot, then don't blame it on Christ.
Some 2,000 years ago, Peter knew so-called Christians would be criminals and "meddlers." He knew some would claim, "Wow, I'm really suffering for Jesus," when they are really just suffering for being jerks.
The word "meddler" means busybody: someone who inserts himself into matters that are not his own. Might this include some people involved in the Twitter, Facebook and "comments" showdowns of our day?
So yes, "all who live godly will suffer persecution." But let's not be jerks, get persecuted and then blame it on Christ. American Christianity, with its past position of cultural superiority, gave birth to some self-righteous and condescending so-called Christians. These folks may be culturally Christian, but they know little of Christ and his actual message of humility and repentance. I am convinced that, if Jesus Christ were here walking among us, he would have nothing to do with those who claim his name and consistently spew hate.
Theologians and academics will argue about that last sentence. Isn't Jesus "a friend of sinners?" Yes. Doesn't Jesus' grace wash away the sins of those who trust in him? Yes. Wouldn't that include the sin of "hate tweet"? Yes.
In seminaries and churches, we tend to engage in obscure questions about theology. For example, "Is it possible for someone to truly trust Christ and spend their entire life tweeting hate?"
Maybe so. But Jesus didn't engage in such esoteric abstractions. He taught simple truth with clarity, authority and practicality. On controversial issues—"Are hate tweeters true Christians?"—I find myself drawn to the simple words of Scripture. Theologians will argue and debate, but God's word is simple and clear.
"Anyone who claims to be in the light but hates his brother is still in the darkness." (1 John 2:9,11)
"With the tongue we praise our Lord and father, and with it we curse men, who have been made in God's likeness. Out of the same mouth come praise and cursing. My brothers, this should not be." (James 3:9,10)
"If anyone says, 'I love God,' yet hates his brother, he is a liar. For anyone who does not love his brother, whom he has seen, cannot love God, whom he has not seen." (1 John 4:20)
Jesus put it this way in Matthew 12:34-36: "For out of the overflow of the heart the mouth speaks. The good man brings good things out of the good stored up in him, and the evil man brings evil things out of the evil stored up in him. But I tell you that men will have to give account on the day of judgment for every careless word they have spoken."
If we will give account for every careless word spoken, might we also give account for every careless comment typed or tweeted?
Christians aren't the only ones hurling hateful blows on the Web. But we are the only ones who claim to follow the life and teachings of Jesus Christ. So let's be nice.
The opinions expressed in this commentary are solely those of John S. Dickerson.