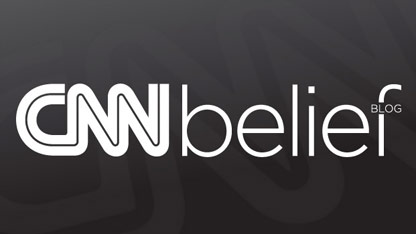 By Arielle Hawkins, CNN
Here's the Belief Blog's morning rundown of the top faith-angle stories from around the United States and around the world. Click the headlines for the full stories.
From the Blog: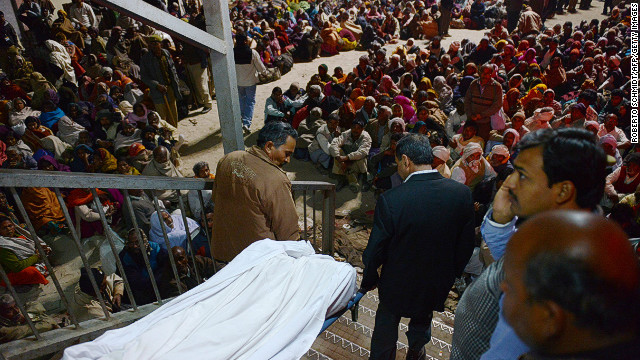 CNN: 36 killed in stampede at Indian rail station near huge Hindu festival
A railroad station crush left 36 people dead Sunday among tens of millions of Hindu pilgrims flocking to the banks of the Ganges River for the world's largest religious gathering, authorities reported. The stampede occurred about 7 p.m. after someone fell from a platform bridge in Allahabad, the scene of this year's Kumbh Mela festival, North-Central Railway spokesman Sandeep Mathur said.
CNN: Americans reveal their 3 favorite sins
"Lead me not into temptation. I can find it all by myself." That line, taken from the country music song "Lead Me Not," evokes smiles because it underscores a truth: The struggle against temptation is universal. A new survey, however, gets specific about the type of temptations most Americans battle against, and shows that men and women seem to wrestle with different vices.
CNN: Amish leader gets 15 years for beard attacks
A leader of a breakaway Amish community in rural eastern Ohio was sentenced Friday to 15 years in prison for forcibly cutting the beards and hair of community members. Samuel Mullet Sr., 67, and 15 followers were found guilty last year in connection with what authorities said were the religiously motivated attacks on several fellow Amish people. Mullet and others were convicted of conspiracy to violate a federal hate-crime law.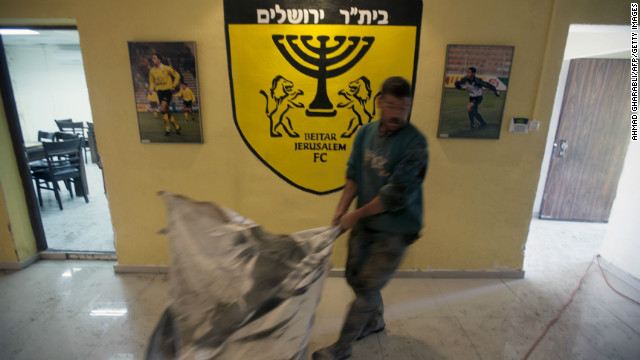 CNN: Israeli football club torched after signing Muslim players
Arsonists attacked the administrative offices of leading Israeli football club Beitar Jerusalem on Friday, police said. The attack occurred just days after the club signed two Muslim players. No one was injured in the fire, which was discovered around 5 a.m., police said. But the blaze damaged the club's trophy room.
Tweet of the Day:
[tweet https://twitter.com/JohnnieM/status/300816447867875330%5D
[tweet https://twitter.com/YAmericanMuslim/status/300753364168347648%5D
Belief on TV:
Photos of the Day: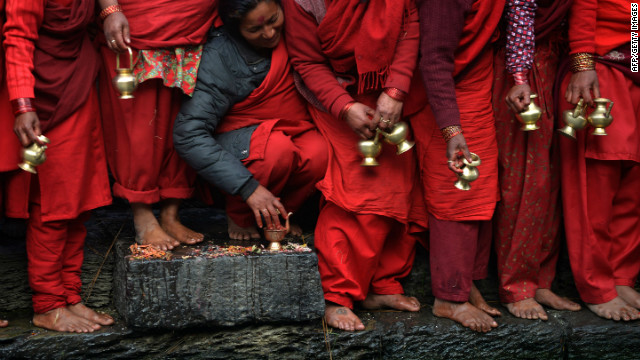 Nepalese Hindu devotees prepare to fill water pots from the holy Bagmati River at the Pashupatinath Temple during the month-long Swasthani festival in Kathmandu on February 10, 2013. Scores of married and unmarried women in the Himalayan nation are marking the month-long fast in the hope of a prosperous life and conjugal happiness.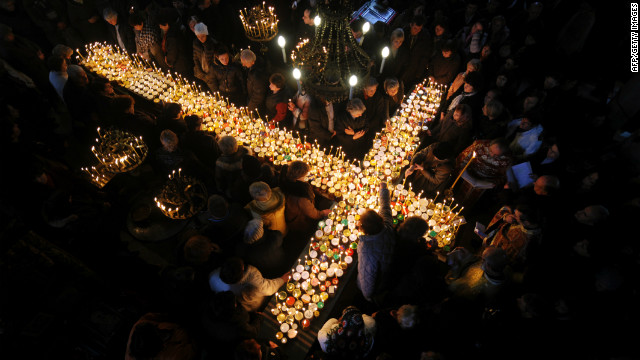 Believers pray above a cross shaped by candles placed on jars of honey in the Church of the Blessed Virgin on February 10, 2013, during a celebration in honour of St. Haralampi, protector of the beekeepers.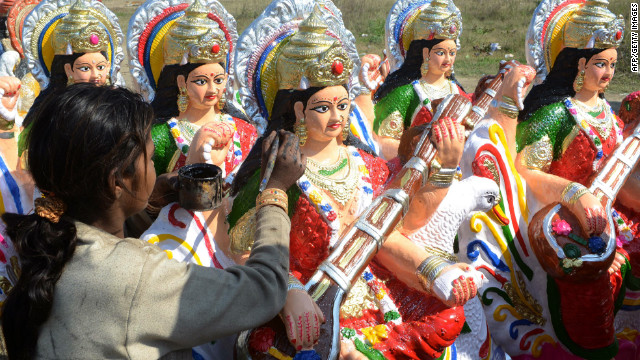 Indian artist Ghachki paints idols of the Hindu goddess Mata Saraswati on the outskirts of Amritsar on February 8, 2013. The idols are in heavy demand ahead of the forthcoming Hindu festival of Basant Panchami which falls this February 14.
Enlightening Reads:
The Guardian: Egypt court bans YouTube over Innocence of Muslims trailer
YouTube has been temporarily banned in Egypt for carrying an anti-Islamic documentary that triggered deadly riots across north Africa and the Middle East in September. In what human rights activists have called a backwards step for internet freedom, Judge Hassouna Tawfiq ordered the government to block access to the video-sharing website for 30 days after the trailer for Innocence of Muslims sparked outrage.
Reuters: Patriarch warns Syrians of reliving Lebanon's errors
The head of Lebanon's Maronite Church evoked his country's long civil war to condemn the futility of conflict, on the second day of a controversial visit to Syria's war-ravaged capital Damascus. At a Sunday mass broadcast live on Syrian state television, Patriarch Beshara al-Rai appeared to dismiss the revolt against President Bashar al-Assad's 13-year rule as not worth the bloodshed.
The Guardian: Vatican hopes secret files exonerate 'Hitler's pope'
Pius XII has long been vilified as "Hitler's pope", accused of failing publicly to condemn the genocide of Europe's Jews. Now a British author has unearthed extensive material that Vatican insiders believe will restore his reputation, revealing the part that he played in saving lives and opposing Nazism. Gordon Thomas, a Protestant, was given access to previously unpublished Vatican documents and tracked down victims, priests and others who had not told their stories before.
Reuters: Chinese give Year of the Snake a raucous, colorful welcome
Chinese welcomed the arrival of the Year of the Snake with raucous celebrations on Saturday, setting off a cacophony of firecrackers in the streets and sending fireworks blazing into the sky to bring good fortune. Celebrations carried on into the early hours of Sunday, officially the first day of the Lunar New Year.
Religion News Service: On Grammy weekend, Christian music bounces back
Many experts say thanks to artists like TobyMac and Lecrae, the contemporary Christian music industry is experiencing a revival, with strong sales, record-breaking tours, and new success in the mainstream charts.
Quote of the Day:
Music, and especially singing, is the closest to ibadat (worship) and meditation. This can also transport you into another world, meaning it can connect you to God, to Allah in a direct, beautiful, easier manner… this is what Sufism is all about.
- Vilayat Khan, one of India's most popular Sufi singers
Opinion of the Day:
CNN: My take: A word to Christians – Be nice
John S. Dickerson is author of the book "The Great Evangelical Recession: 6 Factors that Will Crash the American Church ... and How to Prepare" and senior pastor of Cornerstone in Prescott, Arizona. Dickerson writes: "we Christians have to acknowledge another reason why we are perceived as hateful: because many of our number are."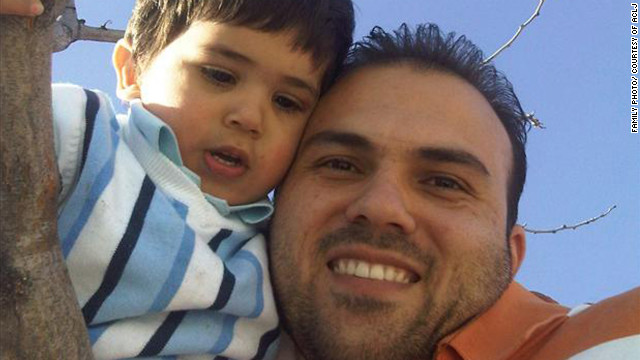 CNN: My take: What would Mohammed do about U.S. pastor in Iran?
Qasim Rashid, national spokesman for the Ahmadiyya Muslim Community USA, discusses Saeed Abedini, the American Christian pastor tried for his religious beliefs and sentenced to eight years in prison in Iran. Rashid writes that: "If Iran's purpose was to protect what it thinks is Islam, it has failed."
Join the conversation…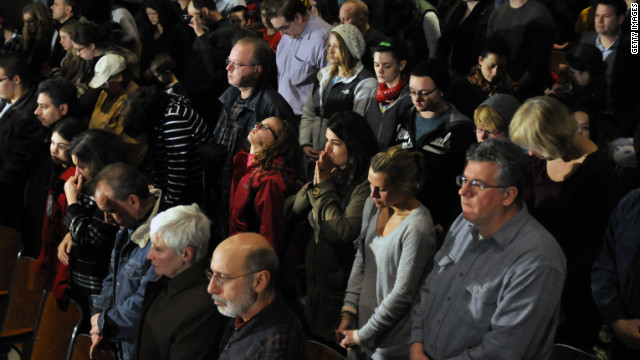 People pray at the interfaith vigil in honor of the victims of the Sandy Hook Elementary School shooting in Newtown, Connecticut.
CNN: Lutheran pastor apologizes for praying in Newtown vigil
A Lutheran pastor has apologized after being chastised by his denomination's leader for offering a prayer at an interfaith vigil for the victims of the school shooting in Newtown, Connecticut. Pastor Rob Morris, who leads the Christ the King Lutheran Church in Newtown, violated the Lutheran Church-Missouri Synod's rule against taking part in joint worship services, said the synod's president, Pastor Matthew C. Harrison.