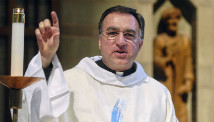 Editor's Note: The Rev. Thomas Rosica is CEO of the Salt and Light Catholic Media Foundation in Canada and president of Assumption University in Windsor, Ontario. He is serving as English language assistant to the director of the Holy See Press Office during the papal transition.
By The Rev. Thomas Rosica, C.S.B, Special to CNN

(CNN)–When my colleague and friend, the Rev. Federico Lombardi, director of the Holy See Press Office, told me to come quickly to Rome to assist him, I understood that help was needed in dealing with a deluge of media requests in the aftermath of the pope's surprise resignation announcement on February 11.
Having run a World Youth Day in Canada in 2002 and then founded, set up and led Salt and Light Catholic Television Network in Canada since 2003, I knew something about media and press relations.  Little did I know what would be awaiting me in the Caput Mundi when I arrived more than two weeks ago.  It was not a deluge but a veritable tsunami!
The most amusing questions, however, have been those that come from people who know me from back home and those who never met me until now.