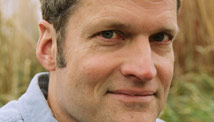 Editor's note: Stephen Prothero, a Boston University religion scholar and author of "The American Bible: How Our Words Unite, Divide, and Define a Nation," is a regular CNN Belief Blog contributor.
By Stephen Prothero, Special to CNN
(CNN) - In religious studies courses, professors often try to get their students to see the world through Hindu eyes or to walk a few miles in the shoes of a Confucian. Anthropologists refer to this as cultivating an emic (or insider) perspective. The less fancy name for it is empathy.
Barack Obama is, for better or worse, an empathetic man who has tried for years to see the world through Republican eyes even as he has pleaded for Republicans to walk a few miles in Democratic shoes. As a former community organizer, he knows that you need a little empathy all around to get anything done among people with different world views. Alas, his efforts have met with little success in gridlocked D.C.
This week, Obama took his toolbox of hope, change, trust and empathy to Israel. Addressing a group of Israeli students in Jerusalem on Thursday, he spoke of Iran and of America's unwavering support for Israel. He even fended off a heckler, joking, "We actually arranged for that, because it made me feel at home."
But the heart of the speech, which was interrupted repeatedly by hearty applause, came when our Empathy President spoke — twice — of empathy.
Follow the CNN Belief Blog on Twitter
After referring to the necessity of a just and secure peace, and conceding that "Israel has faced Palestinian factions who turn to terror, leaders who missed historic opportunities," he challenged his Israeli listeners to experience the world as Palestinians do. "Put yourself in their shoes," he said. "Look at the world through their eyes":
It is not fair that a Palestinian child cannot grow up in a state of their own, living their entire lives with the presence of a foreign army that controls the movements not just of those young people but their parents, their grandparents, every single day. It's not just when settler violence against Palestinians goes unpunished. It's not right to prevent Palestinians from farming their lands or restricting a student's ability to move around the West Bank or displace Palestinian families from their homes. Neither occupation nor expulsion is the answer. Just as Israelis built a state in their homeland, Palestinians have a right to be a free people in their own land.
Turning away from his script, Obama then spoke of Palestinian youth he had met earlier that day. "They weren't that different from my daughters," he said. "They weren't that different from your daughters or sons."
Later in the one-hour speech, Obama harked back to his famous 2009 Cairo address to the Muslim world:
Four years ago, I stood in Cairo in front of an audience of young people. Politically, religiously, they must seem a world away. But the things they want, they're not so different from what the young people here want. The ability to make their own decisions, to get an education and a good job, to worship God in their own way, to get married, to raise a family. The same is true of the young people in Gaza ...
"That is where peace begins," he continued, "not just in the plans of leaders but in the hearts of people."
Obama has been praised for taking his message directly to the Israeli people, much like he has been trying to take his domestic message in recent weeks directly to the American people. And while some have described this Jerusalem speech as one of his best ever, others have demurred, arguing that, abroad as well as home, Obama has to deliver more than mere rhetoric.
Nonetheless, the president should be praised for getting to the heart of the matter on Thursday in Jerusalem. What he said will fully please neither Prime Minister Benjamin Netanyahu nor Palestinian Authority President Mahmoud Abbas. And it is unlikely that any of his well-chosen words brought us any closer to peace in the Middle East.
But Obama is correct to point out that, as long as both sides continue to see things merely from their own parochial perspectives, neither real peace nor real security will be possible.
CNN's Belief Blog: The faith angles behind the biggest stories
Secretary of State John Kerry is now being charged with jump-starting, yet again, the peace process by attending to growing settlements, the fate of Jerusalem and other hot-button issues. But what is really needed here is a shift of perspective that recognizes antagonists (on both sides) as human beings with aspirations for their children and their children's children.
Is it too much to hope that this is what the Israeli students who listened to this speech were applauding?
The opinions expressed in this commentary are solely those of Stephen Prothero.