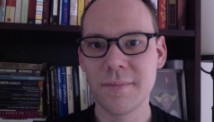 Editor's note: Brian Spadora lives and writes in New Jersey, where he attends Seton Hall University School of Law. Follow him on Twitter at @brianspadora.
By Brian Spadora, Special to CNN
(CNN) - Like many Catholics my age, I am Catholic in name only. I went to Mass every week as a kid and attended a Jesuit high school and college. My wife and I married in a Catholic church, and both of our children were baptized. But I haven't been a churchgoer since I became too old for my mother to coerce me into a pew.
I haven't even made the effort to attend Mass twice a year like "Christmas and Easter Catholics." For my entire adult life, my Catholic faith has been a sort of cultural vestige, like the Italian, Irish and Slovak ethnic heritage from which I'm generations removed.
Despite this, this month I decided I am returning to the church. This turn of events is not quite as miraculous as the multiplication of loaves and fishes, but it's pretty surprising. It began, innocently enough, with a half-serious promise to my devout Catholic mother.
When Pope Benedict XVI announced last month that he would step down from the papacy on February 28, I emailed my mother, "If they choose a Jesuit pope, I promise to go to Mass at least once every month."
My irreligious lifestyle felt safe. There had never been a Jesuit pope, and the oddsmakers didn't include any Jesuits among their favorites to succeed Pope Benedict. I didn't give the promise too much thought; it was somewhere between wishful thinking and "when pigs fly."
Follow the CNN Belief Blog on Twitter
Then, along with the rest of the world, I heard the announcement that Cardinal Jorge Mario Bergoglio of Argentina became Pope Francis, the 266th pope – and the first Jesuit.
I was in the car when I heard the news, and I literally cheered aloud. While I had long ago left the church behind, my regard for the Jesuit order never wavered.
The elevation of a Jesuit to the papacy is enough to do what years of prodding by my own mother couldn't.
I owe nearly everything I value in my life to Jesuit education. I entered St. Peter's Preparatory School in Jersey City, New Jersey, in 1990 as a rambunctious 14-year-old with authority issues. My four years there upended all my conceptions of religion. St. Peter's, or "the Prep" as we alums call it, taught me how to be an adult, a friend and a Christian. The Jesuits taught me how to love.
During my junior year, a group of friends and I participated in the school's retreat program. We spent a weekend with faculty retreat leaders in an old house on the Jersey shore, cooking meals together, laughing and praying. We spoke openly about our joys and our pain, as well. We learned that each of us carried within him a burden that could be lightened only by friendship. Our retreat leaders didn't need to tell us that relieving the burdens of others was the purpose of Christianity. Instead, they lived that example.
Where my previous religious education had prescribed belief, my Jesuit education encouraged thought. Religion was no longer something that stipulated obedience but a practice that demanded action. The Jesuit leadership of the Prep encouraged us students to be, in the words of former Jesuit Superior General Father Pedro Arrupe, "men for others."
We were fortunate to attend a school like the Prep, and it wasn't enough to study hard and get good grades. We had an obligation – to ourselves and to God – to serve one another and our communities. The relationships I made during those years remain the strongest in my life, including with my wife, whom I met when we were 17, while she attended the Prep's sister school.
This teaching was firmly in line with the teachings of St. Ignatius of Loyola, who founded the Society of Jesus, as the Jesuits are formally known, in 1540. St. Ignatius had been a Basque soldier, as well as something of a ladies' man, until his conversion while convalescing after a cannonball shattered his leg. In his writings, most notably in his "Spiritual Exercises," St. Ignatius espoused a theology based on loving deeds rather than loving thoughts or words. St. Ignatius calls us not merely to worship Christ but to imitate him.
As a teenager, I naturally fell far short of the standard my Jesuit teachers had called me to, and I continue to fall short as an adult.
I grew alienated from the church due to what I perceive to be inflexibility on issues like contraception, homosexuality and the role of women in the church, but I continued to look to the example of service the Jesuits set through institutions like the Jesuit Refugee Service.
In times of crisis, I've turned to contemporary Jesuit writers, particularly Father James Martin. Although I left the church, the Jesuits never left me.
I've remained close to the Prep and the Jesuits whose instruction was so valuable to me. When my son, William, was baptized in 2008, the ceremony was held in the Prep's chapel. The school's president, Father Robert Reiser, once my teacher and now a treasured friend, was the priest. My closest high school friend, Michael Zakhar, was the godfather. My wife, Tara, and I chose William's first name together, but she allowed me to choose his middle name: Ignatius.
CNN's Belief Blog: The faith angles behind the biggest stories
Now there is no longer the church I left and the Jesuits I embrace but a church led by a Jesuit.
I know the church won't transform immediately into the type of institution I'd like it to me. It would be unreasonable and selfish for me to expect otherwise.
As a cardinal, Francis expressed conservative views like his opposition to adoptions by homosexuals, a view with which I disagree assiduously. On the other hand, he admonished an audience of Argentinian priests for forgetting the church's obligations to society's most vulnerable.
"Jesus teaches us another way," he said. "Go out. Go out and share your testimony; go out and interact with your brothers; go out and share; go out and ask. Become the Word in body as well as spirit."
Francis seems intent on refocusing the church toward its duties to serve those in need.
So on Good Friday, I'll be returning to the church with hope that Francis' example will inspire me - and Catholics in general - as his fellow Jesuits have always inspired me.
I'm keeping my word to my mother and returning to Mass, where I will pray for the strength to follow the example of St. Ignatius, loving others not in word only but in deed.
The opinions expressed are solely those of Brian Spadora.