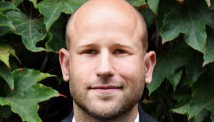 Editor's note: Greg M. Epstein is the Humanist chaplain at Harvard University and author of the New York Times best-seller "Good Without God." He directs the Humanist Community Project, a national think tank helping to study and build communities for the nonreligious.
By Greg M. Epstein, Special to CNN
Cambridge, Massachusetts (CNN) — After two days of holding back my own feelings to focus on the needs of a community in mourning, what finally split my heart in two was scrolling through the list of donations to the fund-raising page for Celeste and Sydney Corcoran, a mother and daughter among the tragically injured at the Boston Marathon.
Celeste, the mother, has volunteered for my congregation. She's basically an aunt to a senior member of our staff. So I cried for the two-sidedness: A member of our community lost her legs below the knees, and nearly lost her daughter. And, in one day, nearly 4,000 people donated more than $250,000 to support them. They seemed to be saying, through their gifts, "Please do this for me too if anything should ever happen to me or my family."
AC360: Mother lost legs, daughter nearly died in bombing
As a chaplain, I'm struggling to make sense of this tragedy just like any other member of the clergy. And like faith communities across the country, the thousands of people I work with are doing what needs to be done when tragedy strikes close to home. We're offering one another comfort. We're calling around to the point of exhaustion, trying to figure out who needs help and how we can provide it.
The only difference is, we are a community of atheists — a congregation of Humanists. FULL POST