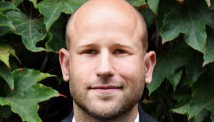 Editor's note: Greg M. Epstein is the Humanist chaplain at Harvard University and author of the New York Times best-seller "Good Without God." He directs the Humanist Community Project, a national think tank helping to study and build communities for the nonreligious.
By Greg M. Epstein, Special to CNN
Cambridge, Massachusetts (CNN) — After two days of holding back my own feelings to focus on the needs of a community in mourning, what finally split my heart in two was scrolling through the list of donations to the fund-raising page for Celeste and Sydney Corcoran, a mother and daughter among the tragically injured at the Boston Marathon.
Celeste, the mother, has volunteered for my congregation. She's basically an aunt to a senior member of our staff. So I cried for the two-sidedness: A member of our community lost her legs below the knees, and nearly lost her daughter. And, in one day, nearly 4,000 people donated more than $250,000 to support them. They seemed to be saying, through their gifts, "Please do this for me too if anything should ever happen to me or my family."
AC360: Mother lost legs, daughter nearly died in bombing
As a chaplain, I'm struggling to make sense of this tragedy just like any other member of the clergy. And like faith communities across the country, the thousands of people I work with are doing what needs to be done when tragedy strikes close to home. We're offering one another comfort. We're calling around to the point of exhaustion, trying to figure out who needs help and how we can provide it.
The only difference is, we are a community of atheists — a congregation of Humanists.
You've probably read the statistics: With 18% of the nation's population now nonreligious, America is less religious today than ever before. This especially applies to young Americans, up to a third of whom now have no religion. That number may be closer to half on many of the college campuses throughout Boston, like the one where I work.
What you may not have noticed, however, is that in addition to the religiously unaffiliated, or "nones" as sociologists have taken to calling them, a new and very significant group of Americans has been emerging — the nonreligiously affiliated. Relatively quietly, many thousands of mostly young Americans who identify as atheists and agnostics have been coming together to form civically active, thoughtful secular community groups that now dot nearly our whole nation.
Sometimes you hear about the debates these groups hold with religious leaders. But while Richard Dawkins and the like are eloquent and controversial speakers on behalf of atheism, most such debates are actually organized by religious organizations. The vast majority of what Humanist and secular communities do is positive, uncontroversial and entirely American. We serve. We meet throughout the year. We help one another raise good kids. We celebrate life, and we grieve death.
So I don't relish the opportunity — or the need — to say that right now, our community is grieving too, just like any other Boston-area congregation. Boston, in fact, is home to one of the biggest secular/Humanist/atheist/nonreligious communities in the world. (Sure, we don't know what to call ourselves. But then again neither does the LGBT — or is it GLBT? — or LGBTQ? — community, and that hasn't stopped them from thriving.) We meet every week. We're getting ready to open up a large community center. We sponsor service programs where we invite interfaith groups to help us package thousands of meals for hungry kids. You can even join us this Sunday: We'll be marking our losses together in a memorial gathering.
What is so disappointing to see people do, then, is blame the horrific and traumatizing events of this Monday on the godless, or on godlessness, as way too many on Twitter and elsewhere have been doing. As one young woman in our community said to me, "It's hard enough to deal with senseless grief, but when people write things like 'Why do people have to be so godless to want to kill innocent people?' it makes me feel like I'm not safe either, like we're being singled out for prejudice."
Obviously when people say "I'll pray for you" or "May God grant you strength," they're only expressing their own sincere convictions. But while not everyone holds those same beliefs, we all want to be acknowledged in a way that feels right to us.
And when political leaders like Gov. Deval Patrick or President Obama try to make sense of these moments by assembling interfaith services, it is admirable — far better for a politician to bring different religions together than to only recognize one religion's view of loss as valid. But for goodness' sake, must the nonreligious continue to be excluded from such gatherings? I've seen Humanists knock on the door recently at the interfaith celebrations of political conventions, or after tragedies like Hurricane Sandy or Newtown. We wanted to help and were turned away. I hope this is where people realize: We are part of the community too. We care and want to offer our support just as much as anyone. We, too, are in shock and grief.
Secular people place our faith in the human ability to value life over death. We believe in committing ourselves to love and care and help as indiscriminately as possible, because that is what makes our lives worthwhile. We try our best, despite our doubt, to ensure that the good will that comes from tragedy will ultimately exceed the bad.
All that said, I don't have a clue what Celeste's beliefs are, and I don't care. I just hope she and Sydney and everyone else injured get well. After all, would you believe for a second that every Christian pastor knows whether or not every visitor to his or her congregation truly believes in the Ascension? Nor should they. The point of a congregation, to me, is just to care about the people in it, and better yet, to help bring people together to care about one another. Our community is including everyone, religious or not, in our thoughts and hopes at this tough time. It would mean a lot to us if others do the same.