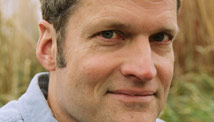 Editor's note: Stephen Prothero, a Boston University religion scholar and author of "The American Bible: How Our Words Unite, Divide, and Define a Nation," is a regular CNN Belief Blog contributor.
By Stephen Prothero, Special to CNN
At the interfaith prayer service held in today for the victims of the Boston marathon bombing (including Lu Lingzi, a graduate student at Boston University, where I teach), President Barack Obama was once again called upon to play the pastor-in-chief at a moment of national tragedy.
In his speech, Obama did a lot of cheering for the home town, praising Boston as "the perfect state of grace." He recalled his time as a law student at Harvard. He cheered on the Red Sox, the Celtics, the Patriots, and the Bruins. And he repeatedly referred to Bostonians as a gritty people who would not give in to terrorism in the 21st century any more than they bowed to the British in the 18th.
As I listened to the speech, however, I couldn't help hearing echoes of President Ronald Reagan.
After the 2012 election, and particularly after Obama's second inauguration, many pundits started to refer to him as the "Liberal Reagan." Just as Reagan made it OK to be conservative in the 1980s, Obama now seemed poised to make it OK to be liberal. He seemed less worried about failure and more comfortable with his convictions. I see this "Liberal Reagan" in Obama's outrage at the Senate's rejection on Wednesday of even the most milquetoast gun control legislation.
But I heard Reagan himself in Obama's speech at the interfaith prayer service.
Reagan's success as a president turned on his optimism and his resolve. In a sense, these two rhetorical notes are at odds. Optimism can be seen as soft, even wishy-washy. Who but a fool (or a liberal) can be optimistic in the face of communism or terrorism or a difficult Congress? The other is hard and unbending: the resolve to face up to communists or terrorists or Democrats at home whose policies seem designed to drive American society to the brink of extinction.
Yet together optimism and resolve served Reagan well, transforming him into one of our most popular presidents, despite the often polarizing positions he took on domestic and foreign policies alike.
The heart of Obama's speech today came about halfway in when he quoted from the second letter of Timothy in the Christian Bible: "God has not given us a spirit of fear and timidity, but of power, love and self-discipline" (2 Timothy 1:7).
Obama then praised "doctors and nurses, police and firefighters and EMTs and guardsmen" for running toward the explosions. "That's discipline," he said. He praised "exhausted runners" who themselves became first responders, tending to the wounds of spectators. "That's real power," he said. And "when Bostonians carry victims in their arms, deliver water and blankets, line up to give blood, open their homes to total strangers, give them rides back to reunite with their families, that's love."
Obama next pivoted to the perpetrators themselves, addressing them directly (and to much applause):
That's the message we send to those who carried this out and anyone who would do harm to our people. Yes, we will find you. And yes, you will face justice. We will find you. We will hold you accountable.
Obama's speech was a celebration of the spirit of the city of Boston and the resilience of the American people. It was an optimistic speech, and a speech of high resolve.
As Obama turned his attention to the injured, he combined these two Reaganesque notes, looking forward to a better future when those who lost their legs will, through faith and hard work, learn to run again. Your city, your commonwealth, and your country are with you, the president said. "We will all be with you as you learn to stand and walk and, yes, run again. Of that I have no doubt. You will run again."
Obama then spoke of the resolve of his fellow Americans, and promised that this time next year the Boston Marathon would be run yet again to even louder cheers. But what caught me up was his hope, and his conviction. Yes, "the Democrats' Reagan" was addressing the people of Boston and the American people. But he was also addressing himself, steeling his own resolve, vowing to "run with endurance the race" that is set before him, and resolving to do so with hope and conviction.
The opinions expressed in this commentary are solely those of Stephen Prothero.