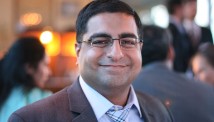 Editor's note: Hussein Rashid is a native New York Muslim. He teaches at Hofstra University in the Department of Religion. He is an associate editor at Religion Dispatches, a term member on the Council on Foreign Relations and fellow at the Institute for Social Policy and Understanding. 
By Hussein Rashid, Special to CNN
Dzhokhar Tsarnaev, one of the Boston Marathon bomb suspects, reportedly wrote that "an attack against one Muslim is an attack against all" on the wall of the boat in which he was hiding from police last month. Variations of this refrain seem to be common among angry young Muslim men, especially those who are attracted to violence. However, such a view ignores history, religious thinking and contemporary reality. It should be seen as a crass advertising slogan rather than a declaration of belief.
Tsarnaev's quote seems to be based on the idea of a global Muslim community, called the ummah, that has always been aspirational. The Tsarnaev brothers clearly felt that they were being marginalized, and the fact that they did not belong to an American Muslim community further reinforced that belief. So the brothers turned to the idea of the ummah, a historical fiction that has not existed in practice in all of Muslim history. Muslims are too varied to connect to one way of being a community.
What we are witnessing in Syria, what we saw in Egypt or in Iran during the Green Revolution, is that Muslims kill other Muslims for political gain, and the idea of the ummah is broken. There is no sense from the brothers that they would have been able to understand or choose sides in these conflicts.
Suspect: Boston bombing was payback for hits on Muslims 
However, the slogan worked its magic, allowing them to see aspiration as reality and one that they could achieve. Unfortunately, their nemesis became America, including the millions of Muslims living in America.
There is no universal, binding legal command for all Muslims to support each other at all times. Even if there were, throughout Islamic history, it has been observed in its breach rather than in practice.
Prophet Mohammed's son-in-law, Ali, was assassinated while praying, and Mohammed's favorite grandson, Husayn, was murdered after being denied food and water for days. Both of these acts were committed by people who considered themselves Muslim.
Even in the modern period, we see al Qaeda slaughtering thousands upon thousands of Muslims. Tsarnaev may have felt aggrieved by attacks on Muslims, but he sided with a group that wantonly kills other Muslims. He believed the false assumption, shared by extremists and Islamophobes, that one cannot be American and Muslim.
Within Islamic thought, there is not a sense that everything a Muslim does is automatically good. In fact, the Quran calls on believers to compete with people in doing good in the world, and that competition is expressly not limited to Muslims but to all people.
There is also a sense that Muslims must work toward a more just society by encouraging good works and discouraging bad ones and help others to do the same. This last premise is one that seems to have been exercised by the community of the Islamic Society of Boston, which attempted to correct the elder Tsarnaev brother's misreading of Islamic tradition.
Protesting government policies that reduce justice and harm people is an obligation by virtue of being American and Muslim, and it is a right. However, to protest the death of civilians by killing civilians shows a lack of commitment to justice and only a desire for power.
The American Muslim community has a rich history of demanding and working toward justice, including Malcolm X, Muhammad Ali, Lupe Fiasco and Mos Def. Individuals like Manar Waheed of South Asian Americans Leading Together and Muneer Panjwani of Do Something are actively building a more equitable and just society in America, and they are competing with others to do good.
Tsarnaev may believe that an attack against one Muslim is an attack against all, but he must then question where he sees himself, because on that day in Boston, he attacked Muslims, too. He may have accepted a slogan as faith, but to do so, he had to willfully forget all the varieties of ways one can be Muslim.
For me, and many other American Muslims, faith is believing that you can affect positive change in the world and being willing to commit to do the hard work necessary to build with other people.
Timeline: Boston attack, aftermath
The opinions expressed in this commentary are solely those of Hussein Rashid.