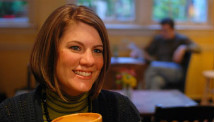 Editor's Note: Rachel Held Evans is the author of "Evolving in Monkey Town" and "A Year of Biblical Womanhood." She blogs at rachelheldevans.com
By Rachel Held Evans, Special to CNN
(CNN) - There's a misconception among many faithful folks that religious convictions, by their very nature, are set in stone.
People who change their minds are called flip-floppers or backsliders, accused of capitulating to culture and "conforming to the world."
But some of the most recognizable names in the Christian story experienced changes of heart: Paul, Augustine, Martin Luther, C.S. Lewis and Madeleine L'Engle.
In my own life, questions and doubts have served as refining fires that keep my faith hot and alive and bubbling where certainty would only freeze it on the spot.
I've changed my mind about a lot of things—the age of the Earth, the reality of climate change, the value of women in church leadership, the equal failings of both the Republican and Democratic platforms to embody the teachings of Jesus.
Like a lot of evangelicals, I grew up in a religious environment that vilified LGBT people.
I remember attending a Christian conference in which liberals were derisively referred to as FOGS (friends-of-gays). I laughed along with the speaker, albeit nervously, dismissing the voice in my head reminding me that Jesus was ridiculed for his choice of friends, too.
Today, I am honored to be the friend of many LGBT people, and I celebrated along with them as Exodus International closed its doors and as the Supreme Court ruled the Defense of Marriage Act unconstitutional.
I know sometimes it seems like evangelical Christians are unyielding and unwilling to change, but as I scrolled through my Facebook feed this week, I saw a mixture of responses from my Christian friends — some joyful and some dismayed.
I noticed that several friends who had been at that very same conference so many years ago boasted red equal signs as their profile pictures.
In his book "Velvet Elvis," Rob Bell writes:
"Times change. God doesn't, but times do. We learn and grow, and the world around us shifts, and the Christian faith is alive only when it is listening, morphing, innovating, letting go of whatever has gotten in the way of Jesus and embracing whatever will help us be more and more the people God wants us to be."
A person of conviction is not one who is unyielding to change, but one whose beliefs evolve based on new information, new movements of the Spirit, new biblical insights and, yes, new friends.
There's a story in the New Testament about a Roman centurion named Cornelius, whose fear of God and care for the poor was widely known among the people.
After receiving a vision from God, Cornelius sends for the apostle Peter, who agrees to meet with him, even though it was forbidden for a Jew to associate with a Gentile.
Peter, an observant Jew, had been wrestling with the idea of including Gentiles in the church. But when he encounters the sincere faith of Cornelius, he is moved to declare, "I now realize how true it is that God does not show favoritism but accepts from every nation the one who fears him and does what is right!"
He tells the skeptical people who have gathered outside, "God has shown me that I should not call anyone impure or unclean."
Peter changed his mind, and the church would never be the same.
Despite deeply held religious convictions regarding circumcision and dietary restrictions, he led the way in opening the doors of the church to all who would enter, regardless of ethnicity, gender, socioeconomic status or religious background.
We can learn a lot from Peter — not only from his inclusiveness, but also from his willingness to change his mind.
Like Peter, God has shown me that I should not call anyone impure or unclean. And that I should not think so highly of myself as to assume I've got this faith thing all figured out.
The opinions expressed in this commentary are solely those of Rachel Held Evans.