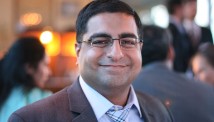 Opinion by Hussein Rashid, special to CNN
(CNN) - During Ramadan, the holy month of fasting for Muslims, there is a night that I look forward to every year.
This night is called Laylat ul-Qadr, which translates as the "Night of Power" or the "Night of Destiny."
It is the night when Muslims believe that the Prophet Muhammed received the first revelation of the Quran. He was in a cave, praying, when he hears the angelic voice of Gabriel speaking to him, bearing him a revelation from God.
CNN's Peter Bergen thinks that this night has symbolic meaning for al Qaeda, and perhaps it does.
Bergen speculated that the holy night might be the reason behind the recent uptick in al Qaeda's activity and the corresponding closure of U.S. embassies in Africa and the Middle East. I remain unconvinced of the causal link that Bergen tries to establish.
READ MORE: Drone strikes kill militants in Yemen; Americans urged to leave
More importantly, such links between Islamic holy days and militancy allow al Qaeda to continue to define what Islam is. For them, Islam is not a religion with spirituality, but is a political movement, where the holiest of days are simply calendar markers to run campaigns.
The Quran asks of believers, "What is Laylat ul-Qadr?" While older translations favored "power" or "destiny," newer translations of the Quran simply keep qadr.
To me, Laylat ul-Qadr emphasizes the divine wonder and awe that Muslims should feel, and it offers an opportunity, as Ramadan winds down, to commit oneself to the best of intentions and actions.
It reminds us, as believers, that it is a night when God's power is immanent, and that we can choose our destiny. The one word encapsulates the relationship between Creator and created, and the multiple meanings of the word is part of the deliciousness that I savor.
In that moment when the Quran is revealed, God's power is made apparent to Prophet Muhammad. We, as Muslims, understand the sanctified and holy nature of Muhammad, to be able to receive this revelation.
We also recognize his humanity, as he reacts with disbelief and awe. As Muslims, we stay up all night in prayer on Laylat ul-Qadr, to recreate that experience of Prophet Muhammad. While we cannot receive revelation, we hope to achieve that proximity to God.
Despite the important nature of this night, there is no consensus as to its exact date.
Tradition holds that it is an odd numbered night during the last ten days of Ramadan. For example, my community of Shiah Muslims – holds that it is the 23rd night of Ramadan.
Other communities will select the 19th or 21st. Some people will stay in prayer every odd numbered date during those ten nights to make sure they honor the occasion.
Because of this lack of specificity, and because of the traditional practices associated with Laylat ul-Qadr, I remain unconvinced of Bergen's data correlation.
However, it is plausible, as I can imagine al Qaeda saying qadr means "power," and arrogating the divine attribute for themselves. I am not willing to cede that ground to them.
​There is a beauty and spirituality in Islam that attractions hundreds of million people the world over. When I choose my destiny, al Qaeda will have no part in it, nor in defining my faith.
Hussein Rashid teaches at Hofstra University in the Department of Religion. He is an associate editor at Religion Dispatches, a term member on the Council on Foreign Relations and fellow at the Institute for Social Policy and Understanding. The views expressed in this column belong to Rashid.