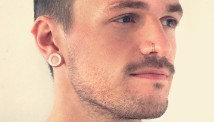 Opinion by Chris Stedman, special to CNN
[twitter-follow screen_name='ChrisDStedman']
(CNN) - To some, Oprah Winfrey appears to have an almost godlike status. Her talents are well recognized, and her endorsement can turn almost any product into an overnight bestseller.
This godlike perception is fitting, since in recent years Winfrey's work has increasingly emphasized spirituality, including programs like her own "Super Soul Sunday."
But what happens when an atheist enters the mix?
A few days ago Winfrey interviewed long-distance swimmer Diana Nyad on Super Soul Sunday. Nyad identified herself as an atheist who experiences awe and wonder at the natural world and humanity.
Nyad, 64, who swam from Cuba to Key West last month, said "I can stand at the beach's edge with the most devout Christian, Jew, Buddhist, go on down the line, and weep with the beauty of this universe and be moved by all of humanity — all the billions of people who have lived before us, who have loved and hurt."
Winfrey responded, "Well I don't call you an atheist then."
Winfrey went on, "I think if you believe in the awe and the wonder and the mystery then that is what God is… It's not a bearded guy in the sky."
Nyad clarified that she doesn't use the word God because it implies a "presence… a creator or an overseer."
Winfrey's response may have been well intended, but it erased Nyad's atheist identity and suggested something entirely untrue and, to many atheists like me, offensive: that atheists don't experience awe and wonder.
MORE ON CNN: Diana Nyad completes historic Cuba-to-Florida swim
The exchange between Winfrey and Nyad reminds me of a conversation I once had with a Catholic scholar.
The professor once asked me: "When I talk about God, I mean love and justice and reconciliation, not a man in the sky. You talk about love and justice and reconciliation. Why can't you just call that God?"
I replied: "Why must you call that God? Why not just call it what it is: love and justice and reconciliation?"
Though we started off with this disagreement, we came to better understand one another's points of view through patient, honest dialogue.
Conversations like that are greatly needed today, as atheists are broadly misunderstood.
MORE ON CNN: Behold, the six types of atheists
When I visit college and university campuses around the United States, I frequently ask students what words are commonly associated with atheists. Their responses nearly always include words like "negative," "selfish," "nihilistic" and "closed-minded."
When I ask how many of them actually have a relationship with an atheist, few raise their hands.
Relationships can be transformative. The Pew Research Center found that among the 14% of Americans who changed their mind from opposing same-sex marriage to supporting it in the last decade, the top reason given was having "friends, family, acquaintances who are gay/lesbian."
Knowing someone of a different identity can increase understanding. This has been true for me as a queer person and as an atheist. I have met people who initially think I can't actually be an atheist when they learn that I experience awe and am committed to service and social justice.
But when I explain that atheism is central to my worldview — that I am in awe of the natural world and that I believe it is up to human beings, instead of a divine force, to strive to address our problems — they often better understand my views, even if we don't agree.
While theists can learn by listening to atheists more, atheists themselves can foster greater understanding by not just emphasizing the "no" of atheism — our disagreement over the existence of any gods — but also the "yes" of atheism and secular humanism, which recognizes the amazing potential within human beings.
Carl Sagan, the agnostic astronomer and author, would have agreed with Nyad's claim that you can be an atheist, agnostic or nonreligious person and consider yourself "spiritual."
As Sagan wrote in "The Demon-Haunted World,":
"When we recognize our place in an immensity of light‐years and in the passage of ages, when we grasp the intricacy, beauty and subtlety of life, then that soaring feeling, that sense of elation and humility combined, is surely spiritual."
Nyad told Winfrey that she feels a similar sense of awe:
"I think you can be an atheist who doesn't believe in an overarching being who created all of this and sees over it," she said. "But there's spirituality because we human beings, and we animals, and maybe even we plants, but certainly the ocean and the moon and the stars, we all live with something that is cherished and we feel the treasure of it."
MORE ON CNN:  'Atheist' isn't a dirty word, congresswoman
I experience that same awe when I see people of different beliefs coming together across lines of religious difference to recognize that we are all human — that we all love and hurt.
Perhaps Winfrey, who could use her influence to shatter stereotypes about atheists rather than reinforce them, would have benefited from listening to Nyad just a bit more closely and from talking to more atheists about awe and wonder.
I know many who would be up to the task.
Chris Stedman is the assistant humanist chaplain at Harvard University, coordinator of humanist life for the Yale Humanist Community and author of Faitheist: How an Atheist Found Common Ground with the Religious.