Opinion by Joshua DuBois, Special to CNN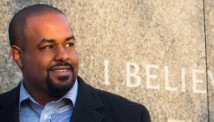 Washington (CNN) - One thing is for sure: I didn't feel ready to send morning devotionals to the next President of the United States.
I was a young staffer, 25 years old, on Barack Obama's 2008 campaign. I had known Obama for a few years, and at the time worked as faith outreach director for his campaign.
In addition to my professional role reaching out to the faith community, I also personally prayed for Obama by myself each day. I had been an associate pastor at a small Pentecostal church in Boston, and my Christian faith was, and is, the guiding force of my life.
But I wasn't some famous mega-church pastor or internationally known cleric. I went to public policy school, not seminary, and although I loved Scripture and history and could write a bit, I was still learning more about Jesus every day.
But one day I felt a tug at my spirit, a sense that this young candidate needed some support. Not Secret Service protection or policy advice or political strategy - he had plenty of that. I thought he needed some folks who were caring for his spirit, his soul.