Opinion by Joshua DuBois, Special to CNN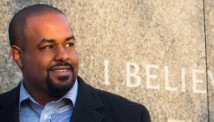 Washington (CNN) - One thing is for sure: I didn't feel ready to send morning devotionals to the next President of the United States.
I was a young staffer, 25 years old, on Barack Obama's 2008 campaign. I had known Obama for a few years, and at the time worked as faith outreach director for his campaign.
In addition to my professional role reaching out to the faith community, I also personally prayed for Obama by myself each day. I had been an associate pastor at a small Pentecostal church in Boston, and my Christian faith was, and is, the guiding force of my life.
But I wasn't some famous mega-church pastor or internationally known cleric. I went to public policy school, not seminary, and although I loved Scripture and history and could write a bit, I was still learning more about Jesus every day.
But one day I felt a tug at my spirit, a sense that this young candidate needed some support. Not Secret Service protection or policy advice or political strategy - he had plenty of that. I thought he needed some folks who were caring for his spirit, his soul.
So I wrote an e-mail and sent it to Obama's personal BlackBerry, a meditation on the 23rd Psalm. It was about finding restoration and rest even when trouble brews.
I didn't know how he would respond. But in just a few minutes, he got back to me and said the message helped him, and he'd like me to continue each day.
We kept this quiet practice for years, spanning the campaign and the White House. But one day in a round table with religion reporters before his visit with then-Pope Benedict XVI, Obama reflected on what these devotionals meant to him.
"One last little note of sustenance, a little note is, is that Joshua does a wonderful service for me and he actually sends me a devotional on my BlackBerry every morning," Obama told the reporters, "which is actually something that he started doing I think when I was really having a tough time during the campaign.
"And it was just such a wonderful practice that we've continued it ever since. So every morning I get something to reflect on, which I very much appreciate."
MORE ON CNN: What's next for President Obama's 'pastor-in-chief'
I wasn't always sure which meditations the President liked best, but he would tell me on occasion in the West Wing hallway, "I really enjoyed that one today," or when I missed a day or two, he'd notice that as well. And his former personal assistant, Reggie Love, would call me to make sure I started sending them again.
The President seemed particularly to appreciate the devotionals that wove together culture with Scripture, and he is a fan of history and jazz, so I came back to these sources regularly.
He's pretty private about his spiritual life, but here are a few of the devotionals that, knowing what I know about the President, were likely to be among his favorites:
1. One devotional tied together King David, the Hebrew monarch and psalm writer and Nina Simone, the great jazz singer. Both musicians had an uncanny ability to write joyful lyrics even in the middle of the dark melodies and situations.
The devotional concluded with a point I thought might be music to the Obama's ears.
"Nina Simone and David remind us of one unimpeachable fact: whatever situation we face, the lyrics we sing today are completely up to us. We can choose to shout above the din outside our window and sing louder than the ominous noise approaching our lives."
2. Another devotional reflected on rejoicing even amid tough times, using the lesson of the late British Prime Minister David Lloyd George, who led a beleaguered Britain from 1916-1922.
George was faced with an economic crisis, the Irish Liberation movement and World War I all at the same time. Still, he once declared with a smile, "I find that a change of nuisance is as good as a vacation."
This reminded me of a verse on joy in suffering in 1st Peter, which I shared with the President. "In all this you greatly rejoice, though now for a little while you may have had to suffer grief in all kinds of trials."
MORE ON CNN: In Obama's first term, an evolving Christian faith
3. Another meditation began, "Johnny Cash was a glutton for redemption."
Growing up in Tennessee, I became a big fan of the "Man in Black," and this devotional reflected on the need to run toward grace, as Cash, a sinner and saint par excellence, did so often.
We often have a tendency to hide our sin in the dark, instead of bringing it to God's feet. Cash was remarkably candid about his shortcomings, and his daily need for grace - that's something from which we can all learn.
4. And another favorite expounded on the example that Eleanor Roosevelt set for us on humility.
"I'm glad I never feel important - it does complicate life," she was known to say.
In the way she lived her life, Roosevelt echoed the words of Paul's letter to the Philippians: "Do nothing from rivalry or conceit, but in humility count others more significant than yourselves." Humility paves a pathway to relationships with others, while pride always tends to get in the way.
5. Most of the devotionals weren't about tough times or political figures at all.
They were simply about how to appreciate the character and nature of God, and grow closer to him each day, even among people who'd like nothing more than to see us fail.
One day, I decided to include this quote from James Baldwin, the great 20th-century writer, who said, "I imagine one of the reasons people cling to their hates so stubbornly is because they sense, once hate is gone, they will be forced to deal with pain."
The devotional concluded with a prayer of forgiveness for those who had wronged us, and a request that God would help heal any underlying pain.
There were many more - thousands over the years - and I've tried to capture the best of them in my new book, "The President's Devotional."
While Obama's day-to-day life is certainly unique, at a deeper level, I imagine that the joys and challenges he meets aren't too different from our own.
Like us, he wants to how to love God and those around us and how to start each day with real, lasting peace.
I hope my devotionals, which I still send to the President every day, have helped him find a little oasis of spiritual peace in his e-mail inbox, and I hope they'll do the same for others as well.
Joshua DuBois is author of "The President's Devotional: The Daily Readings that Inspired President Obama" and former head of the White House faith-based initiative. You can find more about him on his website, www.joshuadubois.com.